Za-Za OG Feminized Seeds from Herbies Seeds
Description
Perfect For: Lovers of Kush-Fueled Bliss
Purge all your troubles in a melting pot of euphoria
Forget about depression and stress
Medicate without getting tired or drowsy
Za-Za OG Smoke Review
If we were to suddenly lose all but one variety of cannabis in the world, many users would say, "Let that one be a Kush." And Za-Za OG is a top-tier representative of this special weed family.
Za-Za OG Effect
As soon as you start puffing away, Za-Za OG will show you she means business. If you're a novice smoker, stop and let the high settle in before taking another toke. This weed is gentle but super strong, so when you get to cloud nine, you may find out that you've lost all ability to function.
Smoke it in moderation, and Za-Za OG will be your best companion throughout the day. It's widely used by medical patients, mostly for stress-related issues, anxiety, and depression, but also as a potent painkiller and muscle relaxant, or to help with ADD/ADHD and migraines.
Za-Za OG Flavor
You'll find in Za-Za OG all that you love about Kush: the smell of diesel fuel and citrus fruit, sometimes with hints of berries, and a rich yet smooth earthy taste.
Za-Za OG Grow Info: Appearance and Grow Tips
The presence of 70% Indica genes means that the formidable growth potential of an OG is tempered in this hybrid, so she doesn't grow very big. Nor does she take too much time to flower. Indoors, you may count on heights of about 90-160cm (3-5 feet) and a flowering time of only 50-60 days. A great number of branches and bud sites ensures above-average yields of 600-800g/m² (2-2.5 oz/ft²).
Outdoors, Za-Za OG grows bigger but never turns into a gigantic tree. Something like 110-180cm, or 4-6 feet, is quite manageable for most gardens, even stealthy ones if you get creative with training. Depending on your climate and skills, you can bring in up to 1600-1800g/plant (3.5-4lb). This treasure trove of stinky, sticky goodness will be ready by the middle of October.
Za-Za OG is a forgiving and rewarding cultivar, but you can assist her vigorous growth by following these tips:
Expect a tangle of branches and prune the weaker and lower ones.
Use SCROG to spread your plant over a great area and provide support for buds.
Don't be afraid to defoliate for better light penetration and air circulation.
Remove the lowest bud sites that are in the shadow or too far from the light.
Outdoors, perform multiple toppings to get a low-profile bush.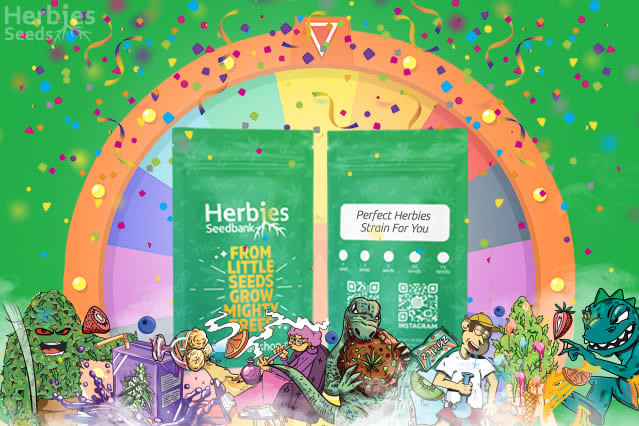 What Herbies Seed Is Right For You?
Za-Za OG Seeds
Buy Za-Za OG genetics in the form of feminized seeds so that you'll only get bud-producing female plants and no males in your garden. The hybrid nature of this strain ensures the viability of these seeds and vigorous growth from the start.
Characteristics
*Herbies sells cannabis seeds exclusively as souvenirs that aren't meant for cultivation or germination. Customers should be aware that the germination of cannabis seeds is illegal in most countries. Herbies sells cannabis seeds exclusively for collecting and preservation for future generations. We advise customers to check with their local laws before germination, as Herbies does not accept responsibility for the illegal use of our products.
No reviews on this product yet.
Be the first one to share your opinion - it may help someone to make their choice!
Add review