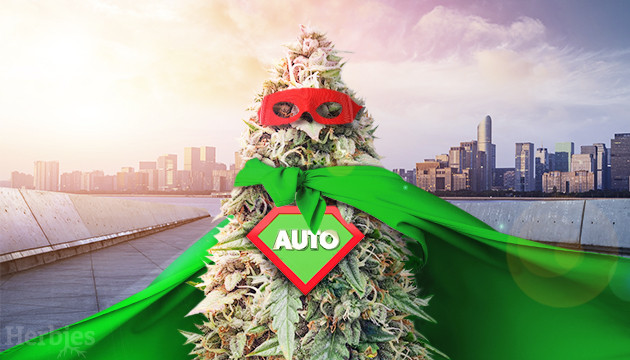 Super autoflower seeds are the crowning achievement of auto breeding to date. While original autoflowers were bred for their small size, fast life cycle, and ability to flower under any light schedule, the best super autoflower strains are all that minus the small size.
Thus, a super autoflower will bring you bigger yields without the hassle of monitoring the plant's size and light schedules and making a (sometimes hard) decision of when the plant is big enough to induce flowering.
What Are Super Autoflower Seeds?
The first autos on the market were notoriously small which, was a tradeoff of their incredible speed of under 10 weeks from seed to harvest. Naturally, small size also meant puny harvests.
The first autoflowers couldn't compete with their traditional photoperiod counterparts in terms of potency and taste, either. To be honest, they were kinda weak and bland. However, breeders kept improving on all these characteristics, and modern autoflowering varieties are all that you could want from a great cultivar and a premium smoke.
Nowadays, there are very short and compact but high-yielding autos that also have 20+% THC and smell and taste amazing. There are also much bigger and even more productive cultivars called super autoflower strains. Just like any other auto, they start to flower automatically, but this usually happens after a longer veg phase, so super autoflowering seeds have more time to grow bigger and develop more bud sites.
If you choose to buy super autoflower seeds, this will mean a slightly longer grow cycle (although not necessarily) and definitely bigger yields. As for the quality of the smoke, it'll be as good as in any auto and practically on par with traditional photoperiod varieties.
Best Super Autoflower Seeds
Among the many super autoflower seeds for sale, the following are the worthiest of your attention.
Gorilla Glue Auto
As gorilla is the largest of apes, so Gorilla Glue Auto is a giant among autos – not so much in height as in the final weight on the scales. The colas are huge, closely stacked, and super dense, and the gluey character of this autoflower manifests itself in an incredible amount of resin. As you might expect, the smoke is intensely delicious and also very complex – the taste will run through a palette of coffee, cream, and earth, keeping you guessing until the last toke. The high can either stimulate you or glue you to the couch depending on the dosage.
Monster Bruce Banner Auto
With the word 'monster' in her very name, you can expect a colossal size from Monster Bruce Banner Auto. While a height of up to 4 feet (100-120cm) indoors and yields of 550g/m² (1.8oz/ft²) are only about average, this is a huge cultivar outdoors, where it's able to bring in up to 700g (24.7oz). The buds are also of premium quality and feature a zesty smell of citrus, pine, and fuel and a smooth, earthy taste. The level of THC in this hybrid is around 25%, ensuring an intense Sativa rush that, after a while, transitions into a calm mellow stone.
Godzilla Cookies Auto
Among other super autoflower weed seeds, Godzilla Cookies Auto is a towering deadly monster. She boasts enormous colas bursting with 27% THC and a rich terpene mix of sweet cookies and warm diesel exhaust. After just 11 weeks plus two or three more to give these connoisseur-quality buds enough time to properly cure, you'll get a smoke that fills you with tingling euphoria. It will make you want to talk and laugh – a perfect weekend strain for laidback social gatherings.
Gelato Auto
If asked to define Gelato Auto in one word, we'd say 'potent' – although 'big' and 'high-yielding' would be appropriate as well. Plants like this are seldom the fastest, but our Gelato is: she can rush through her cycle in 60-65 days from seed, achieving her record-breaking productivity thanks to her unusual vigor from day one. Thanks to her 27% THC, this autoflower is vying for the title of the most powerful, and if all this weren't enough, her terpene profile is a delectable blend of sweet, creamy, and fruity flavors reminiscent of ice cream.
Auto Xtreme
A collaboration of two of the world's top breeders – Dutch Passion and Dinafem – Auto Xtreme was meant to take to the max every feature that growers want in their weed. She's an XL yielder, packing up to 26% THC and smelling strong and fruity with peppery notes. This dominant Sativa will take up to 12 weeks from sprout, but you can count on 400-500g/m² (1.3-1.6oz/ft²) indoors and equally generous yields outdoors.
Wild Thailand Ryder
Original Thai landraces take forever to flower, but by crossing this exotic Sativa with a choice Ruderalis plant, the breeders of Wild Thailand Ryder managed to create a cultivar that produces the same tropical smoke in just 75-80 days from seed. Even this short time is enough for her to reach 150cm (5ft), so make sure you have the space to reap a correspondingly bountiful harvest! The buds will smell nothing like your generic weed, but instead floral, spicy, and fruity, and the high will redefine for you the meaning of euphoria.
Forbidden Runtz Auto
When choosing between a super autoflower vs. an autoflower, why not pick a cultivar that can be both? Forbidden Runtz Auto can grow quite tall or be trained to a squat and wide bush depending on your setup requirements. Either way, the yields will be enormous and the quality worthy of filling top-shelf jars in any legal weed boutique. These multicolored frosty sweets smell like fruit candy and taste like damp earth when smoked – a delicious way to usher in a frighteningly potent effect. With up to 26% THC, prepare for a rollercoaster ride where you first can't stop laughing and then will practically melt into your couch, perfectly relaxed and happy.
Bruce Banner Auto
Don't put yourself in a situation where you expect a Bruce Banner and get a Hulk – make sure you have enough room for this lumbering green monster. Bruce Banner Auto will reach a height of 110-150cm (about 4-5ft) and yield as much as 450-600g/m² (1.5-2oz/ft²) in a short 10-11 weeks. The Sativa-leaning high will unlock your superpowers of a tireless workaholic or an enthusiastic partygoer, as it provides megawatts of clear-headed and euphoric energy.
Where to Buy Super Autoflower Seeds
Our seed shop gives you an opportunity to buy super autoflower strains of every type. Whether you prefer a Sativa, Indica, or hybrid, we offer enough autoflowering varieties that are tall, branchy, and highly productive. Browse through the list above or do your own search through Herbies' extensive catalog while paying special attention to height and yield figures.
Herbies Head Shop expressly refuses to support the use, production, or supply of illegal substances. For more details read our Legal Disclaimer.