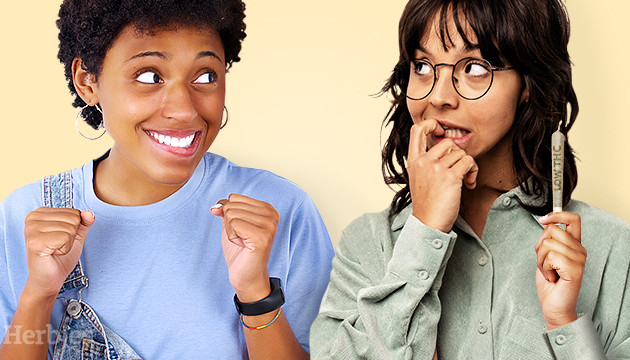 While marijuana can induce some wonderfully blissful states, she's an herb that requires respect and caution for those taking a weed break, and especially for complete beginners. Having a low weed tolerance may put you at risk of a few common side effects such as paranoia or intense couch-lock.
However, that's not to say that if you experience weed's wild side, you have to stop altogether. Low-tolerance weed strains can be your saving grace! That's why we've compiled this guide to help you better navigate the highs without diving too deep.
What Type of Strains Work Best for Those With a Low Tolerance?
At this point, you probably know at least the basics about marijuana, one of those being that THC is the awesome active ingredient in weed that makes you high when smoked. Now, you're probably thinking, "The more THC, the better," right? Well, that isn't always true – certainly not for smokers with a low weed tolerance!
The truth is that there's so much more that affects the kind of experiences you have when enjoying cannabis – most importantly, the CBD to THC ratio and Sativa to Indica ratio. If the THC content is too high with no CBD to counteract the intense effects, you're more likely to get a result you weren't prepared for. The same goes for when you're looking for a chilled bedtime strain while smoking a pure Sativa!
This is why choosing a strain to match your purpose for smoking is the best way to go. Here are the best combinations for when your weed tolerance is lower than you'd like:
Less intensity = higher CBD
Mildly energizing and uplifting = medium THC, Sativa-dominant
Nicely relaxing = Indica-dominant, higher CBD
Daytime relaxation = balanced Sativa/Indica hybrid, medium THC
Of course, these are just basic guidelines, and every strain is unique. It doesn't mean that stronger strains are off-limits either so long as you take it slow.
Tips For a More Enjoyable Experience
There are many factors that can turn a good high bad. To give yourself the best chance of enjoying some well-deserved bliss without an inkling of anxiety, keep the following in mind:
Smoke strains with lower THC (15-17%)
Aim for strains with higher CBD levels
Try a new strain slowly – one puff at a time
Stay hydrated while smoking
Don't smoke on an empty stomach
Smoke in a safe and comfortable environment
Get high with people you enjoy being around
Watch a comedy if things go south
Try to embrace it and ride the wave!
Remember, there's no rush. Take your time, even if you only take a single hit, and enjoy the results. The most important thing is that you're having a good time and reaping all the benefits of a good low-tolerance weed strain.
Top 10 Low Tolerance Weed Strains
When you have a low tolerance for weed, you can refer to this list to avoid the disappointment of a fun night turning sour. All the strains listed here are great beginner strains for smoking without compromising on effects or flavors. From simple low-THC strains to pure CBD alternatives, there's something here for everyone.
Northern Light (Royal Queen Seeds)
A popular strain making best-of cannabis lists year-round is Northern Light by Royal Queen Seeds. This impeccably bred 100% Indica is the perfect night-time, no-worries strain for a low weed tolerance.
Delivering a smoothly sedating stoned feeling, she still has a whopping 18-20% THC content but is the type to get the job done in two or fewer puffs with her 1% CBD content. Savor the sweet fruity flavors combined with the aftermath of spice and herbs to leave you satisfied in every way.
Blueberry Cheese Auto (Barney's Farm)
Blueberry Cheese Auto by Barney's Farm, aka Blue Cheese Auto, tops this list as one of the best first-timer weeds from growing to smoking. With 16% THC and a CBD percentage of almost 2%, she offers a wonderfully peaceful and uplifting, happy high.
As an 80% Indica-dominant strain with genetics to die for, she grows short and is pest-resistant, all while expressing a decadently rich cheesy, spicy, and skunky terpene profile.
CBD Lemon Auto (Herbies Seeds)
Now you can get all the medicinal benefits of smoking weed without the intensity of an edgy cerebral high. CBD Lemon Auto by Herbies Seeds is something of a miracle strain with equal parts CBD to THC, coming in at a magnificent 17% for both!
Enjoy a floaty, uplifting high without an ounce of paranoia or anxiety in sight while reaping all the pain-relieving, stress-reducing effects. Plus, each puff is complemented by a golden citrusy aroma and hints of spice to make it all nice.
Auto American Pie (Pyramid Seeds)
It's only smooth sailing with Auto American Pie by Pyramid Seeds, another ideal low tolerance weed with a comfortable THC content of 15% and CBD up to 1% to smooth it over. Her effects are blissful for both mind and body, while her flavors scream tropical paradise despite her excellent hardiness in colder climates. Throw epic parent strains in the mix and how could you say no?
Moby Dick (Green House Seeds)
Now for something a little spicier! Moby Dick by Green House Seeds is a firecracker on this list, delivering potent cerebral effects while keeping the body grounded in a relaxing buzz with 17% THC and a well-balanced Sativa-Indica ratio. You won't need a lot to feel uplifted and calm, so enjoy a few small puffs of spicy ginger smoke and savor the rich cedarwood undertones as you melt into the experience.
Colombian Gold (World of Seeds)
Possibly the strongest strain on this list but still worth trying in moderation when you have a low tolerance for weed is the ultimate Colombian Gold by World of Seeds. This golden goddess is a 100% Sativa with the pure psychedelic effects to match, yet contains only 18% THC to bring it down a touch. Topping this sweet, sweet high are the fruity aromas that linger long after your last puff.
Critical Jack Herer Auto (Delicious Seeds)
Critical Jack Herer Auto by Delicious Seeds enlightens your mind for a Sativa-dominant giggly, chatty, and energizing high that soothes into a relaxed state after the initial fun subsides. With a flavor profile including fruit and spice with undertones of pepper and coffee, alongside a THC content of 18%, this is the perfect complementary weed after your morning cuppa Joe.
Pineapple Express (G13 Labs)
Despite being the highlight of the cannabis pop culture movie industry, Pineapple Express by G13 is more than just a fictional strain that induces intense positive emotions, with the only difference being that it really does exist – and it truly is epic! Its unique pineapple and citrus flavor explosion with 18% THC makes this Indica-dominant low-tolerance weed a must-have!
BubbleGummer (Female Seeds)
With buds like balls of sugary gum, BubbleGummer by Female Seeds is a sweet, fruity favorite producing up to 19% THC and 1% CBD. As a true hybrid, this strain makes for a wonderfully balanced high for both body and mind, bringing full relaxation without the knock-out effects of some stronger strains. As you can expect, these buds truly taste like old-fashioned bubblegum!
Auto Purple (Original Sensible Seeds)
If this list was a pageant, Auto Purple by Original Sensible Seeds would be the pageant queen with her glorious bright purple sparkling buds and poised psychoactive effects. Her positive traits don't end with her looks either, as her one-of-a-kind spiced earth perfume and 16% THC bring her home the crown for a timeless first-timer weed that you'll want in your stash forever.
Been a While? Call Herbies!
If it's been some time since you've enjoyed a toke or you've never touched the green in your life, Herbies has your back with the best weed strains for low tolerance you can find. Assess your needs and pick a strain above to match them before placing your order right here on Herbies. All quality, no hassle.
Herbies Head Shop expressly refuses to support the use, production, or supply of illegal substances. For more details read our Legal Disclaimer.