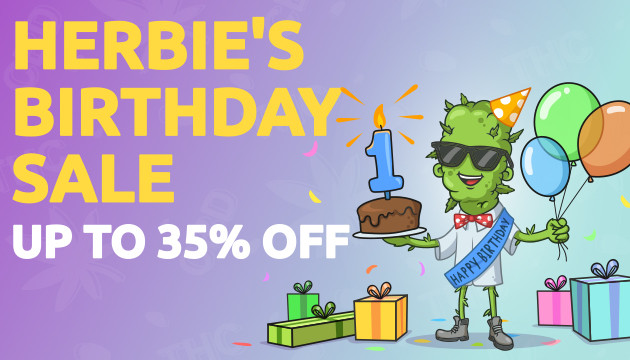 Our best bud Herbie has just arrived into this world but has already made us incredibly proud! He was born in a loving garden, went on to become Herbies' green mascot, and won over countless hearts at Canapa Mundi 2022 – and now it's time to celebrate his birthday!
For this big occasion, we're throwing a party with discounts and prizes. From 00:00, May 18 to 00:00, May 25 (PST), you can get any seed from our own seed bank, Herbies Seeds, with up to 35% off! And what's a birthday without gifts? During the same week, make a large order and participate in the birthday draw of brand-new Herbies merch:
Spend over 100 USD for a chance to become the only winner of a t-shirt + mask set
or
Spend over 200 USD for a chance to become one of the two winners who receive a sweatshirt + baseball cap set
Soon after the end of this sale, Herbie is going to draw three random names himself – and he's got a lucky hand – so don't forget to apply right here! It's important, because only those, who completed the form will be eligible for receiving a gift.
To help you make an informed decision during Herbie's Birthday Sale, we're showing all of our cards and revealing what strains have been ordered the most times. Herbies Seeds has become an instant success, and growers all over the globe are raving about our seeds. But which strains have outsold the others? Cue the drumroll: here are Herbies Seeds' top five best-selling strains.
#5: Auto Mix Pack #1
No wonder this mix has made it to the top – three distinct, easy-to-grow strains, THC levels of 23-27%, and the sweetest flavors. Just one pack and you get 15 autoflowering seeds for a uniform garden: 5x of the giggly and uplifting Purple Juice Auto, 5x of the euphoric and calming Godzilla Cookies Auto, and 5x of the creative and energetic Gelato Auto.
#4: Godzilla Glue #4
All lovers of sticky and resinous buds, feast your eyes on Godzilla Glue #4! This 29% THC beast produces tons of flavorful resin with clear hints of chocolate. Not only is it delicious, but the strain also produces dispensary-grade effects that are as calming as they are euphoric for unmatched recreational and medicinal power.
#3: Runtz Punch
Even if you're an experienced toker, Runtz Punch should be taken seriously. The wild combination of tangerine and lavender-smelling terpenes with 29% THC content makes for a heavy punch! If you can handle it, you're up for a warm and fuzzy full-body high with an intense cerebral and creative rush.
#2: Godzilla Cookies Auto
You can't expect less than perfection from a cross between Gorilla Glue and Girl Scout Cookies. Godzilla Cookies Auto has reached the top of our bestsellers list thanks to its 27% THC content and hours upon hours of intense belly laughs it provides. Godzilla Cookies Auto's creamy smoke lights up any situation, and growers love it for that.
#1: Grandmommy Purple
What other strain could reach number one if not Grandmommy Purple? This 33% THC sensation is our all-time best-seller with its signature "purple" flavor and intense, dream-like effects. Grandmommy Purple has a quick flowering time, so you won't have to wait long to enjoy using it recreationally or even medicinally for anxiety or sleep disorders.
Honorable mention: Apple Betty
We couldn't skip this one. Apple Betty, although released not that long ago, had an explosive start on the cannabis market thanks to its promising and unique properties. A true masterpiece of cannabis breeding, Apple Betty produces 28-33% THC, a trendy apple flavor, and happy psychedelic effects – a rare find on its own.
You have a whole week to celebrate Herbie's birthday with us, stock up on best-selling seeds with discounts, and participate in the birthday draw for a chance to dress yourself in Herbies merch! Don't wait too long though, and make sure to place your order while stocks still last. And remember, all other Herbies deals remain active during Herbie's Birthday Sale, which makes it even more profitable!
Happy Birthday, Herbie!
Herbies Head Shop expressly refuses to support the use, production, or supply of illegal substances. For more details read our Legal Disclaimer.