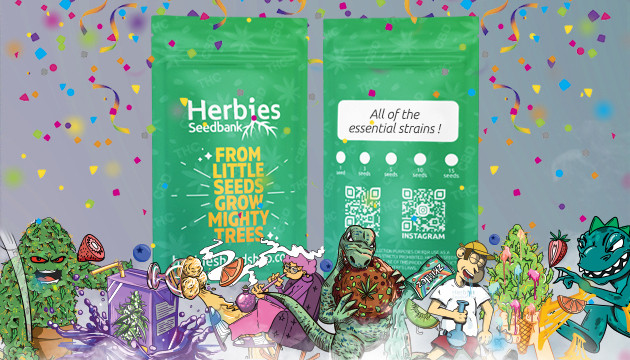 We've been hard at work over the years, researching your likes and dislikes while cooperating with top Spanish breeders to create a line for Herbies Seeds that has something for every grower. This series boasts potencies that start at 22% THC and reach an unbelievable 33%; mouthwatering and dank fruit flavors; and effects ranging from euphoria, to relaxation, to those that can't be called anything other than green therapy.
Now, we'd like to introduce our eight potent photoperiod strains, three tasty autoflowers, and three versatile Mix Packs.
Seasoned Toker? Try Herbies' Bruce Banner #3
People who smoke frequently often face a problem: they can develop a tolerance to THC. Luckily, Bruce Banner #3 from Herbies Seeds is here to break it! This potency champion comes with an astounding 29% THC level and will leave you feeling as if it's your first time smoking.
Making Concentrates? Try Herbies' Godzilla Glue #4
Herbies' Godzilla Glue #4 is another strain with a potency level of 29% THC. Another point that can't be left unmentioned is how sticky and resiny this GG#4 hybrid is! This will make for extra-flavorful smoke and top-quality concentrates – even after minimal manicuring, you'll have your hands covered in lots of fresh and potent finger hash that will make you high as a rocket.
Are You a Terpene-Head? Try Herbies' Grandmommy Purple
There's simply nothing like Grandmommy Purple, the absolute best-selling strains of Herbies. This strain's unique terpene profile is responsible for an elevated entourage effect and a signature flavor of ripe, dark grapes. Of course, flavor isn't everything Grandmommy Purple has to offer. The effects of its terpenes and potency level of up to 33% THC will put you in an ecstatic, dream-like state before you know it.
Crazy about Indica? Try Herbies' Blueberry Hill
If you're a fan of mellow and relaxing indica vibes, don't miss out on Blueberry Hill. Not only does it bring delicious blueberry and spice flavors to the table, it sports 95% indica genes! Take a toke and dive into the ultimate strain for relaxation, which will keep your worries away and your head clear.
Looking for an All-rounder? Try Herbies' DDoS #33
This one is for any grower who needs an all-around perfect strain. DDoS #33 ticks every box with its huge yields, stable genetics, balance of sweet and savory flavors, and tried-and-true happy effects. Thanks to its THC level of 29%, DDoS #33 will subdue your anxiety and stress with an almost mysteriously soothing high.
In Search of Relaxation? Try Herbies' Runtz Punch
For the days when you're beyond exhausted and just want to get stoned out of your mind, turn to Runtz Punch. The Runtz genetic has become extremely popular over the last few years, and it's known for offering a potent, therapeutic high that feels like pure bliss. After a couple tokes of this 29% THC bud, you'll dive into your own mind, free of stress and full of introspective discoveries.
Wanna Feel Creative? Try Herbies' Gelato Auto
An ideal choice for those with an artistic streak, the 26% THC Gelato Auto from Herbies Seeds is the most powerful source of creativity out there. It fills you up with both energy and focus, preparing you for hours of creative work while encouraging your brain to generate ideas at machine-gun speed.
Ready to Try Something New? Try Herbies' Purple Juice Auto
If you feel like no strain can ever surprise you anymore, Purple Juice Auto is perfect for spicing up your grow room. These 22% THC autoflowering seeds are super easy to care for, and they grow into one of the most gorgeous, head-to-toe purple strains out there. Be ready to get lots of questions about these deliciously dark buds, which can satisfy everyone with both their looks and their effects.
Growing Commercially? Try Herbies' Godzilla Cookies Auto
There are three traits that make strains great for commercial growing: bag appeal, a giggly head high, and heavy harvests that are easy to achieve. All of these are characteristics of Herbies' Godzilla Cookies Auto! With its perfect blend of indica and sativa traits, this cannabis strain is a must for commercial growers looking for hefty harvests of thick buds that never go out of fashion!
Already a Connoisseur? Have a Mimosa Shot
A stoner walks into a bar and orders a Mimosa Shot… The rest of the joke they wouldn't care about because this 30% THC strain is the one to make you feel absolutely blissful and care-free! Worthy of the top shelf of any dispensary, dark Mimosa Shot buds exude mouth-watering aromas of juicy, zesty tangerines and their effects are uplifting enough to make any day brighter!
Chasing Euphoria? Try Strawberry Amnesia
Despite the name, Strawberry Amnesia from Herbies Seeds will quickly clear your head of the fog with its cerebral high. This 75% Sativa hybrid induces child-like happiness and pure euphoria in a matter of a toke. A cherry on top is definitely the burst of berry flavors that you can savor long after the exhale. Have some Strawberry Amnesia and see your surroundings change while every little thing brings you joy like never before.
Seed Mixes from Herbies Seeds
If you can't pick one variety from Herbies' seedbank, you don't have to! Get yourself one of our mixes for a balanced garden of varied weed.
Heavy Kickers Mix: A Bunch That Delivers a Punch
We've compiled this mix of seeds specifically for growers who chase the highest highs. This one's definitely not for the faint of heart, as the minimal potency you get from this trio is 27% THC, and the maximum goes through the rough with 33% THC! Unheard of? Not at Herbies! Heavy Kickers Mix includes:
Mimosa Shot: 30% THC in a delicious citrus cocktail
Godzilla Glue #4: 27-29% THC for deep euphoric sedation
Grandmommy Purple: 28-33% THC with a fun and highly medicinal effect
Fem Mix #1: Girls Who Run the World
Feminized cannabis seeds are so sought-after for a reason - they are easy to grow and deliver amazing results. That's why we combined three of our to-notch feminized strains with the potency range of 24-29% THC into one mix for a care-free growing and care-free toking. Fem Mix #1 from Herbies Seeds includes:
Blueberry Hill: 26% THC Blueberry-flavored antidepressant
DDoS #33: An attack of euphoric 27% THC
Runtz Punch: A dream-like 29% THC cerebral experience
Auto Mix Pack #1: Easy but Mighty Harvests
Finally, if you want a taste of all our soon-to-be-legendary autoflowering strains, you'll need our Auto Mix Pack #1. Plant all three of Herbies' autos at once for a perfectly balanced garden, where every strain requires similar conditions and will mature at the same time. The Auto Mix Pack #1 is also a great choice for newbie growers who are still trying to figure out their weed preferences. Auto Mix #1 includes:
Gelato Auto: 26% THC creativity source
Purple Juice Auto: 22% THC purple treat
Godzilla Cookies Auto: 27% THC autoflowering monster
How's It Looking, Buds?
As for us, we've never been more thrilled! Herbies is proud of our very own line of seeds, and we can't wait to hear what you think of these strains. Now enjoy the attractive prices we've set, order these fresh nuts, and don't hesitate to leave your reviews! What do you think are other genetics we should master next? Let us know in the comments below!
Herbies Head Shop expressly refuses to support the use, production, or supply of illegal substances. For more details read our Legal Disclaimer.