Fem Mix Pack #1 Feminized Seeds from Herbies Seeds
Description
Perfect for: Growers who want effortless yet potent harvests
Only feminized strains
THC levels of 24-29%
Beginner-friendly with similar grow patterns
Fem Mix Pack #1 Smoke Review: Effects and Flavors
When strains possess the legendary lineage of all-time favorites such as Blueberry, Afghan, Sherbert, and Girl Scout Cookies, it should come as no surprise when their flavors, potency, and growability are simply exceptional. These three Indica-dominant yet well-balanced hybrids are the crème de la crème of modern strains and deserve every bit of the spotlight.
Blueberry Hill
The most Indica-dominant strain in the pack, Blueberry Hill induces a lovely laid-back disposition with a serene joy that washes over the body and mind. Her deep blueberry terpene profile with earthy undertones creates a dreamy flavor experience that fits seamlessly with her anti-depressant and sleep-inducing effects.
DDoS #33
The most well-balanced Indica-Sativa hybrid in the pack, DDoS #33 shocks your system into a euphorically happy state, followed by a slow onset stone that increasingly soothes and sedates your body and mind. Another strain with terpenes that delight the senses, enjoy the enchanting sweet and savory blend of lemon squares with a whisp of spice while you drift into a zone.
Runtz Punch
The most complex balance between elation and sedation, Runtz Punch inspires a wonderful creative rush while inducing a deep body relaxation that melts away your aches and pains. Her rich, creamy flavor makes for an appetizing smoke, while her mosaic of lavender and citrus terpenes fills the air with a soothing, nostalgic aroma.
Fem Mix Pack #1 Grow Info: Appearance and Grow Tips
This mix pack is all about low-maintenance strains with effortlessly great yields of potent bud to enjoy after a short wait. Blueberry Hill has the shortest flowering time with just 50-55 days while still managing to produce up to 650g/m2 (2.1oz/ft2) indoors. Following suit is Runtz Punch with a crazy harvest of up to 600g/m² (2oz/ft²) indoors, while DDoS #33 blows them both out of the water with an extraordinary yield potential of 800g/m2 (2.6oz/ft2)!
With unbelievable yields like that, could this pack get any better? For the best outcome possible, try following this grow info and see just how much bud you can harvest:
Blueberry Hill and DDoS #33 are both highly pungent strains that require a carbon filter indoors to keep your plants discreet.
Runtz Punch is quite a compact plant. That being said, be sure to grow her in a final pot of about 20-30 liters (5.2-7.9 U.S. gallons) to give her roots plenty of space to develop.
Blueberry Hill does better in drier climates, away from moisture. Try to keep the humidity in indoor spaces on the lower side and make sure your plants have ample space to breathe.
Runtz Punch is a fantastic strain for concentrates thanks to its appetizing terpene profile and excellent resin production. If you like concentrates, why not keep some of your harvest aside?
Fun fact: DDoS #33 is a beautiful plant with purple and green hues. If your plant is exposed to warm days and cold nights, get ready to watch those colors bloom into life!
Seeds in this mix come in individual packaging marked with the name of each strain.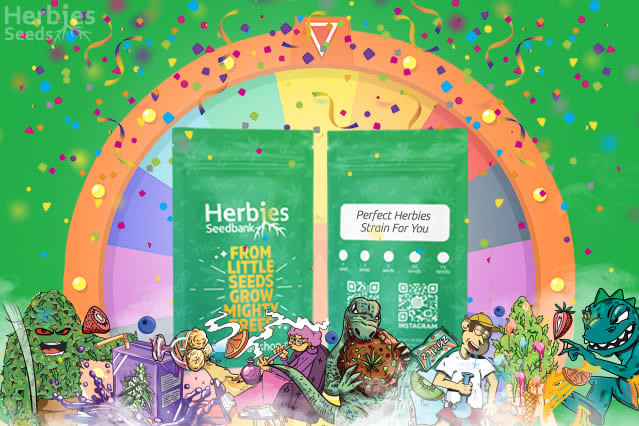 What Herbies Seed Is Right For You?
Characteristics
Brand

AKA seed bank. They create and preserve cannabis genetics, then we get them to you.

Learn more

Herbies Seeds

Type of seeds

Regular or feminized. Pick feminized if you want female plants only.

Learn more

Feminized

Type of seeds

Either autoflowering or photoperiod. Both have their pros and cons, but growing autos is easier.

Learn more

Photoperiod

Different types of seeds in package

This mix, or variety pack, has different strains inside.

Learn more

Mix

Suitable for growing

This strain is perfect for growing both indoors and outdoors.

Learn more

Indoor, Outdoor

Effect *

Each strain produces a certain effect on your body. This is what you can expect from this variety.

Learn more

Strong and delightful

% Sativa/ Indica/ Ruderalis

The ratio of Sativa/Indica/Ruderalis in this particular variety.

Learn more

Mix of Indica and Sativa seeds

THC

The main psychoactive compound in cannabis. The higher THC level, the more potent the strain.

Learn more

26 - 29 %
*Herbies sells cannabis seeds exclusively as souvenirs that aren't meant for cultivation or germination. Customers should be aware that the germination of cannabis seeds is illegal in most countries. Herbies sells cannabis seeds exclusively for collecting and preservation for future generations. We advise customers to check with their local laws before germination, as Herbies does not accept responsibility for the illegal use of our products.
No reviews on this product yet.
Be the first one to share your opinion - it may help someone to make their choice!
Add review