Heavy Kickers Mix Feminized Seeds (Herbies Seeds)
Description
Heavy Kickers Mix Information
The Heavy Kickers Mix is ideal for extreme-potency aspirants. Get ready to grow three butt-whooping strains: Godzilla Glue #4, Mimosa Shot, and Grandmommy Purple. Each one has a history of potency and unique flavors. Strains in this mix are individually labeled for the organized breeder.
These three are also a blend of both Indica and Sativa strains. No matter what you need, this pack offers tons of fun and even some medical benefits.
Heavy Kickers Mix Genetics
One reason to buy this pack is the impressive lineage these strains have. Each relies on a potent family tree responsible for its flavors and effects.
Godzilla Glue #4 is a 50/50 hybrid with three parent strains. It was bred by crossing Chem Sis, Sour Diesel, and Chocolate Thai.
Mimosa Shot comes from breeding Mimosa with Fruit Punch, two popular plants. It's an Indica-dominant strain, so wait until later to enjoy it.
Grandmommy Purple has among the most unique phenotype of all three. It combines Big Bud with Purple Urkle for its distinct flavor and potency.
Heavy Kickers Mix Flowering Time
The great thing about this mix is that you can plant these seeds together and harvest them at more or less the same time.
Godzilla Glue #4 will mature between 55 and 65 days indoors or in September outdoors.
Mimosa Shot has the same medium flowering time of around 55-65 days.
Grandmommy Purple matures in about 60-65 days of flowering indoors or in September outdoors.
Heavy Kickers Mix Yields
This mix was chosen not only for its potency but also for its ridiculous combined harvest size. Whether you prefer to grow indoors or outside, you'll see tons of buds.
Godzilla Glue #4: Up to 800g/m² (2.6oz/ft2) indoors, up to 1200g (42oz) per plant outdoors
Mimosa Shot: Up to 800g/m2 (2.6oz/ft2) indoors or up to 1.6kg (56oz) per plant outdoors
Grandmommy Purple: 500g/m2 (1.6oz/ft2) indoors and up to 550g (19.4oz) per plant outdoors
Heavy Kickers Mix Effects
Godzilla Glue #4 is a well-balanced hybrid with sky-high THC levels. As a result, it will hit even those with considerable tolerance. It activates your senses with delicious flavors and a euphoric, sedative effect.
A deliciously sweet citrus cocktail, Mimosa Shot enhances your mood in seconds, taking you swiftly to your happy place with a hard-hitting cerebral massage and a euphoric burst of energy.
Grandmommy Purple's powerfully potent Indica effects ease away any tension, calm the senses, and sweep you off to blissful sleep.
Heavy Kickers Mix Medical Properties
All three strains offer waves of euphoria, albeit in different ways. Because they all contain Indica genetics, they should all help you rest.
Enough to calm your inner raging beast, Godzilla Glue #4 sends you into deep euphoric sedation, perfect for treating sleep disorders, chronic pain, and severe anxiety. Mimosa Shot, while Indica-heavy, won't knock you out like Grandmommy Purple. A great medicinal strain for insomnia, severe anxiety, and chronic pain, there's nothing Grandmommy Purple's love can't fix!
THC and CBD Levels
Godzilla Glue #4 somehow has the lowest THC content, tapping out at 29%. Mimosa Shot leaves your mind numb with levels up to 30% THC. Grandmommy Purple offers the most THC at a whopping 33%.
The Smell and Taste of the Heavy Kickers Mix
Another great thing about this seed mix is the overwhelming flavors it offers. Each of the three strains produces a unique taste and aroma.
Godzilla Glue #4 has a terpene profile that combines chocolate, pine, and citrus. You will enjoy it for the taste first and the high second.
Mimosa Shot's terpenes lean toward the cake and dessert realm. It has vanilla, spice, and citrus fruit flavors for a refreshing session.
Grandmommy Purple has the distinctive "Purple" taste that those strains enjoy. It also has sweet notes, a gas-like pungency, and berry flavors.
Grow Tips for the Heavy Kickers Mix
Varying in height, from the tall outdoor Mimosa Shot to the short and sweet Grandmommy Purple, the Heavy Kickers Mix pack produces some of the stickiest and most trichome-coated buds in the history of marijuana. To help you grow your feminized seeds from this mix pack to their full potential, follow this helpful grow info:
Grandmommy Purple produces very pungent smells. Make sure you use a carbon filter indoors to keep your plants more discreet and your air fresh.
Godzilla Glue #4 prefers a warmer, drier climate, so try to keep your humidity below 50%-60% during the flowering window to get an impressive indoor yield.
Mimosa Shot grows very dense, big buds, so make use of low-stress training to air out branches and improve light reach for fewer parasites and a better-quality harvest.
Godzilla Glue #4 is known for its extremely sticky and resin-coated buds. If you like concentrates, be sure to keep some of this harvest aside for the most potent, knock-out products.
Order the Heavy Kickers Mix Seeds
This trio of seeds must get tried at least once. Each strain is easy to grow, even for beginners. You won't find a better combination for sale than the Heavy Kickers Mix. Order yours today online from Herbies and enjoy our 24/7 customer support, stealth shipping, and free seeds with every order.
Seeds in this mix come in individual packaging marked with the name of each strain.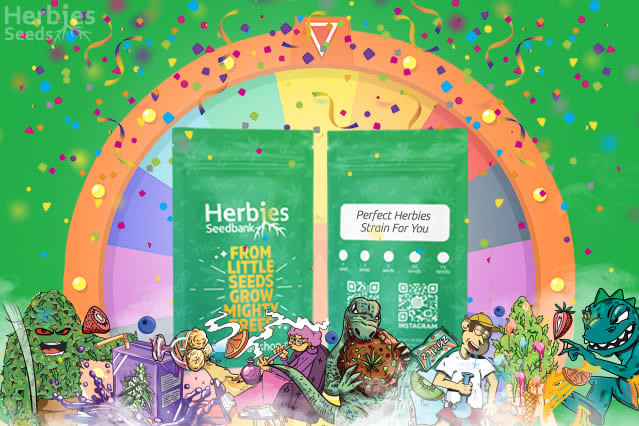 What Herbies Seed Is Right For You?
Characteristics
Brand

AKA seed bank. They create and preserve cannabis genetics, then we get them to you.

Learn more

Herbies Seeds

Type of seeds

Regular or feminized. Pick feminized if you want female plants only.

Learn more

Feminized

Type of seeds

Either autoflowering or photoperiod. Both have their pros and cons, but growing autos is easier.

Learn more

Photoperiod

Different types of seeds in package

This mix, or variety pack, has different strains inside.

Learn more

Mix

Suitable for growing

This strain is perfect for growing both indoors and outdoors.

Learn more

Indoor, Outdoor

Effect *

Each strain produces a certain effect on your body. This is what you can expect from this variety.

Learn more

THC knock-out

% Sativa/ Indica/ Ruderalis

The ratio of Sativa/Indica/Ruderalis in this particular variety.

Learn more

Mix of Indica and Sativa seeds

THC

The main psychoactive compound in cannabis. The higher THC level, the more potent the strain.

Learn more

29 - 33 %
*Herbies sells cannabis seeds exclusively as souvenirs that aren't meant for cultivation or germination. Customers should be aware that the germination of cannabis seeds is illegal in most countries. Herbies sells cannabis seeds exclusively for collecting and preservation for future generations. We advise customers to check with their local laws before germination, as Herbies does not accept responsibility for the illegal use of our products.