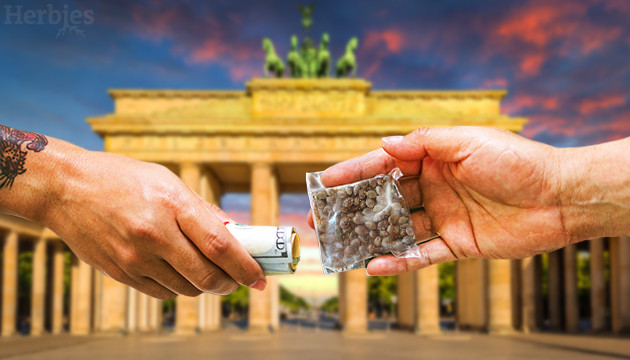 There have been some hugely interesting developments emerging from Germany over the past few weeks, with the new coalition government announcing plans to legalize the recreational use of cannabis.
And yet, in its current form, the German Narcotics Act (Betäubungsmittelgesetz) remains a tricky piece of legislation to navigate. So, we thought we would clarify a couple of things regarding the legal status of cannabis seeds in Germany, along with the expected changes to the legality of recreational weed.
What Does German Law Says about Cannabis Seeds?
The purchase of cannabis seeds in Germany is not covered by the Narcotics Act. Therefore, there are no restrictions in place for the import of cannabis seeds into the country. Cannabis seeds only take on an illegal status when used for unauthorized and illicit cultivation.
The cannabis seed itself cannot be considered a narcotic. It contains no psychoactive properties and cannot alter your conscious experience (meaning it can't get you high!). The seed must first be cultivated before it produces THC, and that is when it enters illegal status under the German Narcotics Act.
Can You Order Cannabis Seeds Online in Germany?
Yes, you can order cannabis seeds online in Germany. Although the sale of cannabis seeds within Germany is illegal, the free movement of goods within the European Union means that seeds can be purchased from other European countries.
Expected Changes to the Legality of Weed Seeds in Germany
The new coalition government, led by Social Democrat Olaf Scholz in conjunction with the Greens and Free Democrats, recently announced plans for the "controlled sale of cannabis to adults for recreational purposes in licensed shops". The move would also see the complete legalization of cannabis seeds in Germany.
Unfortunately, the government has not revealed a timeframe in which they expect the laws to be amended, although they have vowed to reassess the legislation after four years to determine its impact on society.
The Best Cannabis Seeds to Grow in Germany
Depending on which part of the country you are from, Germany experiences a temperate and marine climate. It is cold in winter, although from mid-spring through to autumn the weather is kind enough to grow many different strains of cannabis. You just need to know what to look for.
To take the guesswork out of the equation, here are five of the best cannabis strains to grow outdoors in Germany. To make things even better, all our chosen strains perform equally well indoors, making them suitable for all forms of cultivation.
Godzilla Glue #4 (Herbies Seeds)
This monster strain is gaining popularity in the cannabis growing community, producing a whopping 800g/m2 (2,6oz/ft2) indoors and 1200g (42oz) per plant outdoors. Godzilla Glue #4 is well-suited for beginner and experienced growers alike, producing buds that test at an exceptionally high 29% THC – also making it a valuable medicinal strain for anxiety and certain sleep disorders. She is a perfectly balanced 50/50 Sativa/ Indica hybrid that will offer you feelings of euphoria and relaxation. A cross between the famed strains of Chem Sis, Sour Diesel, and Chocolate Thai, this delicious strain exudes flavors of chocolate and lemon.
Wedding Cheesecake Auto (FastBuds)
Featuring 24% THC, this autoflowering delight is ideal for both indoor and outdoor cultivation in Germany. A 65% dominant Sativa hybrid, Weeding Cheesecake Auto works well as both a day and nighttime smoke. Experience an outpouring of focus and creativity, which gives way to unparalleled feelings of calm and relaxation. As you may expect from the name, the buds are delightfully sweet. Expect flavors reminiscent of cookies and cheesecake, while a certain earthiness lingers on the palate to provide balance. And to make things even better, this extremely high-yielding autoflower is ready from seed to harvest in just 63 days.
Purple Punch (Barney's Farm)
Purple Punch from Barney's Farm can be cultivated nearly anywhere on Earth and is an especially well-suited cannabis seed for Germany's climatic conditions. This versatile strain comes with excellent mold and pest resistance, capable of yielding a branch-snapping 2kg (4.4lb) per plant when grown outdoors. Indoors, you will be looking at more like 600 - 700g/m2 (2 - 2.3 oz/ft2). Sitting at 90% dominant on the Indica side of things, Purple Punch is your ideal nighttime toke. She grows gorgeous buds of neon green and deep-purple, saturated with 25% THC that is complemented with 2% CBD. The entourage effect is in full swing here, providing a deep and pain-lifting relaxation that will have you locked to your couch and sleeping like a baby.
Sweet Skunk F1 Fast Version (Sweet Seeds)
True to her name, Sweet Skunk F1 Fast Version is an exceptionally quick-to-flower strain – ready to harvest after just 6 – 7 weeks of flowering indoors, and ready by early September when grown outside. This makes her especially valuable for cultivation in Germany, particularly if the cold weather comes early this year. A 65% Indica cross between Sweet Skunk Auto and Early Skunk, this predictably skunky strain works to induce a relaxation that encompasses both the body and mind. She normally tests between 18 – 23% THC, which also includes a noteworthy 1% of CBD.
Godzilla Cookies Auto (Herbies Seeds)
It won't take you long to realize why our Godzilla Cookies Auto was named after the famous beast. She produces monstrously-large buds loaded with monstrously-high THC levels. In fact, you can expect about 27% THC to grace your slightly Indica-dominant buds. She is also one of the hardiest autoflowers on the market, performing extremely well in cold weather. It allows you to harvest multiple times in one year without worrying about the early onset of a ferocious German winter. You can expect the aromas of cookies and diesel to go with a citrusy flavor profile, complemented by a boost of uplifting and creative energy.
Should I Order Cannabis Seeds in Germany?
Providing you are ordering your seeds from a company based in Europe, like Herbies, there are absolutely no legal roadblocks to circumnavigate. Therefore, it is legal to buy cannabis seeds in Germany. And with the new German government having announced plans to legalize the recreational use of cannabis, now could be the time to stock up on the best cannabis seeds to grow in Germany!
Herbies Head Shop expressly refuses to support the use, production, or supply of illegal substances. For more details read our Legal Disclaimer.