Indica Mix Feminized Seeds from Herbies Seeds
Description
Perfect For: A Heavy-Hitting Body-Numbing Experience
A very short seed-to-bowl journey.
Super dank buds with exquisite terpene profiles.

A stone that'll make you weak in the knees and speechless.
Indica Mix Smoke Review
Modern Indicas can be so potent that they can make you lose control of your body, either wholly or just partly – but this is exactly what makes them so much fun. All three strains in our mix do this to you, but each has a special feature; Za-Za OG is stimulating when used in moderation, Philosopher's Stone causes mildly psychedelic trips, and Critical XXL makes you zone out on the couch.
Indica Mix Effect
Philosopher's Stone boasts 22-26% THC. Combined with its 1.5% CBD and complex mixture of other cannabinoids and terpenes, it fills your mind with hilarious relaxation and may distort what you hear and see, or draw intricate bright fractals when you close your eyes.
Za-Za OG has 26% THC, which is enough to drown you in a roaring torrent of euphoria. You can either keep medicating until you're unable to move or measure out your tokes to sail through your day happy, motivated, and alert.
Critical XXL is a very potent late-evening medicine. Thanks to its 24-27% THC, you can soothe your aches and pains, purge the fatigue after a long day, and spend a few hours happily dozing off in front of the TV.
Indica Mix Flavor
In Philosopher's Stone, the pungent smell of Skunk is made interesting by notes of nut, while the taste is tantalizingly fresh and sweet. The terpene profile of Za-Za OG is totally different – citrus fruit, berries, and diesel exhaust, like a big city in the tropics. Critical XXL hits you in the face with its pungent lemony and spicy aroma with elusive earthy notes.
Indica Mix Grow Info: Appearance and Grow Tips
The common theme of all three strains in our Indica Mix is their sturdy compact appearance, short flowering time, and insane resin production.
Philosopher's Stone is an inspired composition of the world's oldest commercial Indica varieties: Afghan Kush and Mazar. To make things interesting, some Skunk #1 genes were added to the mix. The resulting hybrid is a masterpiece of compactness – only 40-70cm (16-28 inches) at the time of harvest. Despite this short stature and not too long flowering time of 65–70 days, the yields are among the best in the industry at 500-700g/m² (1.6–2.3oz/ft²).
Use SOG to maximize yields.
You'll need a good carbon filter, as the smell is very strong.
Good resistance to cold and various diseases also makes Philosopher's Stone a rewarding outdoor cultivar. She finishes by the beginning of October with generous yields of up to 800-1000g (1.8-2.2lb) per plant.
Za-Za OG is a taller and more branchy strain that will benefit from bigger pots and fewer plants in the same surface area. She also responds well to training, including ScrOG. If left alone, this Indica can reach 90-160cm (3-5 feet) in height, with a towering central cola and many long side branches. The indoor production is high: 600-800g/m² (2-2.5 oz/ft²), and you can harvest fully mature buds after just 50-60 days of flowering.
Expect considerable stretching after the 12/12 flip.
Be sure to lollipop/prune lower and weaker branches.
Defoliate for better light penetration and air circulation.
Outdoors, this 75% Indica grows bushy and tall – up to 180cm (6 feet) – and will finish in the middle of October. The bud production is high at 1600-1800g (3.5-4lb).
Critical XXL is a medium-sized Indica-dominant hybrid reaching a height of 100-120 cm (3'3"-4') indoors and 120-150 cm (4-5 ft) outdoors. Thanks to its lineage, it brings in admirable yields of 500-600 g/m² (1.6-2 oz/ft²) when grown inside and 1300-1600 g (2.9-3.5 lbs) per plant in outdoor gardens. The grow cycle for indoor crops lasts just 50-55 days.
This plant enjoys an 18/6 light schedule while in veg and 12/12 in flower.
Grow your seeds in pots of at least 10 liters to give the roots enough space to grow.
Use topping and SoG to maximize yields.
Outdoors, this hardy variety will thrive at any time of year provided that the temperature doesn't go lower than 10 °C (50 °F).
Indica Mix Seeds
You should buy these seeds if you want three distinct Indica genetics in one pack. The strains are separately packed and marked to avoid any confusion.
Seeds in this mix come in individual packaging marked with the name of each strain.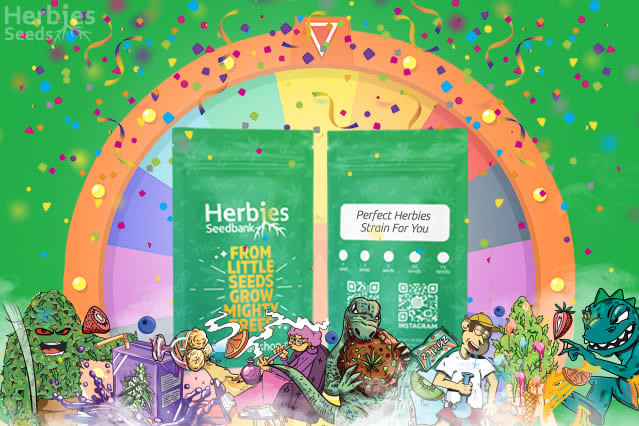 What Herbies Seed Is Right For You?
Characteristics
Brand

AKA seed bank. They create and preserve cannabis genetics, then we get them to you.

Learn more

Herbies Seeds

Type of seeds

Regular or feminized. Pick feminized if you want female plants only.

Learn more

Feminized

Type of seeds

Either autoflowering or photoperiod. Both have their pros and cons, but growing autos is easier.

Learn more

Photoperiod

Different types of seeds in package

This mix, or variety pack, has different strains inside.

Learn more

Mix

Suitable for growing

This strain is perfect for growing both indoors and outdoors.

Learn more

Outdoor, Indoor

Effect *

Each strain produces a certain effect on your body. This is what you can expect from this variety.

Learn more

Drift into blissfulness

% Sativa/ Indica/ Ruderalis

The ratio of Sativa/Indica/Ruderalis in this particular variety.

Learn more

Mix of Indica seeds

THC

The main psychoactive compound in cannabis. The higher THC level, the more potent the strain.

Learn more

21 - 26 %
*Herbies sells cannabis seeds exclusively as souvenirs that aren't meant for cultivation or germination. Customers should be aware that the germination of cannabis seeds is illegal in most countries. Herbies sells cannabis seeds exclusively for collecting and preservation for future generations. We advise customers to check with their local laws before germination, as Herbies does not accept responsibility for the illegal use of our products.
No reviews on this product yet.
Be the first one to share your opinion - it may help someone to make their choice!
Add review