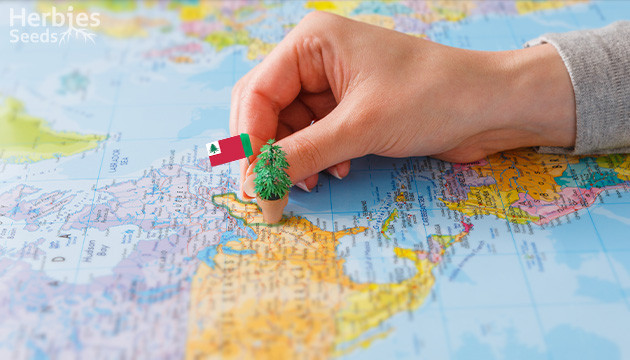 If you live in a region like New England, where growing your own medicinal cannabis is legalized, it's only natural that you'd want to get hold of some seeds and start planting ASAP! So, what if where you live isn't exactly California? Can you still grow your favorite weed strains in a region with a cooler climate?
In this article, we discuss what types of cannabis you should opt for when growing in a cooler region, plus a list of the 12 best outdoor strains for New England, bred to handle the climate with ease.
The Northeast US Climate
Depending on where in the region you live, your experience growing weed in the Northeast may vary. We all know weed plants love sunshine and warmth, but many areas don't have as much to offer in terms of an ideal climate.
For example, some states like central Massachusetts have shorter winters with warmer summers, while others like New Hampshire experience heavy rain and snowfall with longer winters. This is where choosing the best outdoor strains for the Northeast makes all the difference.
Suitable Cannabis Types for the Climate
All popular cannabis strains are comprised of either one or a combination of the different cannabis types: Sativa, Indica, and Ruderalis. Each weed type has different genetics affecting the strain's appearance and hardiness to certain climates.
Sativa cannabis is known for its more slender, airy appearance, with its long thin leaves and taller size making it ideal for handling hotter temperatures with a lot of rainfall. The trouble with Sativas in the Northeast climate is their long flowering times of up to 14 weeks.
Indica cannabis, on the other hand, is quite the opposite, growing shorter with fatter leaves, allowing them to handle much cooler temperatures. They also have a shorter flowering time perfect for an earlier harvest in areas with long winters. The only potential issue to watch out for is low resistance to heavy rainfall.
The golden ticket for growing weed in the Northeast is finding well-bred hybrid strains with Ruderalis, the third type of cannabis, used to breed autoflowering and high-CBD cannabis varieties. This cannabis type is the hardiest, able to withstand even the harsh climates of areas like Russia and Alaska!
Overall, many hybrid strains work well, especially those bred to flower faster. This gives the plants enough time to grow amazing bud for you to harvest before harsher weather kicks in.
12 Best Strains for New England
The best outdoor strains for New England are carefully bred to create potent, hardy, and fast-growing plants with the help of the three cannabis types. To help you find a strain that you can grow in your state with ease, we've compiled this list of the best cannabis seeds to grow in the Northeast US.
Runtz Punch (Herbies Seeds)
Starting this list off with a bang is the creamy, fruity delight that is Runtz Punch – an Indica dominant strain so potent that you better smoke it sitting down! With 29% THC, this heavy hitter slams you with a powerful yet relaxing body high while euphorically uplifting the mind in a cloud of sweet tropical fruit aromas. Perfect for harvesting massive yields with ease, this is one of the most beginner-friendly strains you will find, flowering nice and fast in just 8-9 weeks.
Shiskaberry (Barney's Farm)
Get an impressive sparkling harvest grown just in time with Shiskaberry's super-fast flowering period of just 7-8 weeks! With the most delectable wild berry scents and classic pure Indica body buzz, this relaxing smoke will never disappoint. As a 100% Indica strain, put your feet up and relax while her pest and mold-resistant nature keep her fresh and healthy – definitely a must-have for Indica fanatics.
Bruce Banner #3 Fast (Original Sensible Seeds)
This fast-flowering version of the original, Bruce Banner #3 Fast produces thick, beautiful buds in just 50-55 days! With all the right genetics to grow dark, purple 25% THC nugs, you'll be itching to harvest and get a taste of the classic fruity flavor with hints of pungent diesel that Bruce Banner #3 is loved for. With a nice balance between 65% Indica and 25% Sativa, enjoy a happy, energizing high with good cerebral aspects.
HulkBerry (RQS)
One for the Sativa lovers, HulkBerry is one of the best Sativa-dominant cannabis seeds that's good for the Northeast US thanks to its super-fast flowering time for a Sativa. True to its name, this potent plant grows monstrous yields of bulky buds that smell deliciously like sweet berries and melt in your mouth with an earthy, diesel undertone. As for effects, get ready for the euphoric rush of energy that 27% THC is sure to bring.
Black Jack CBD (Sweet Seeds)
Kiss your stress goodbye with Black Jack CBD, a perfectly balanced Indica/Sativa hybrid with a 1:1 ratio of CBD and THC to give you the most blissfully relaxing mood in just a couple of hits. A great strain for growing weed outdoors in New England, she's fast-flowering and hardy. Take a puff of her intensely earthy, incense-like aroma and soak up the joyful meditative state that she brings.
Mimosa Shot (Herbies Seeds)
Next up, we have the ultimate pick-me-up strain Mimosa Shot – a juicy citrus explosion with up to 30% THC that will take your mind on the trip of a lifetime in only a couple of puffs. Well balanced with 65% Indica genetics, enjoy an effortless grow with plants that develop the most dazzling purple flowers in a record time of just 8 weeks. One of the best weed seeds for New England, expect tall, thick plants covered in citrusy buds in no time.
Lemon AK Auto (FastBuds)
Hitting hard like a bullet, Lemon AK Auto leaves you with an instant cerebral massage with its awesome 75% Sativa dominance and high THC content of up to 24%! Filling up the rest of the lineage is a 25% Ruderalis input, giving you a hardy, fast-flowering hybrid fit for almost any climate. A great daily smoke, this earthy lemon twist works well for treating a variety of medicinal ailments.
Auto Orange Bud (Dutch Passion)
Carefully bred to perfection over the course of 3 years, you can rest assured that Auto Orange Bud is a hardy gem built to survive harsher climates, making this one of the best outdoor strains for Northeast areas. With a heavily pungent citrus infusion, quench your thirst in just 10-11 short weeks and be prepared for a classic Sativa effect.
Girl Scout Cookies Auto (Auto Seeds)
Just as good as the original, only with new and improved auto-flowering capabilities, Girl Scout Cookies Auto is a must-try for every grower. Like a big bite into a freshly baked choc-chip cookie, this delectable terpene profile is one to remember. With THC upward of 24%, her effects are not for the faint of heart either, gluing you to the couch if you have one too many.
Auto White Widow CBD (GHS)
As balanced as a dewdrop on a spider's web, Auto White Widow CBD has a 1:1 ratio with a nice mellow 5-8% THC/CBD content. Bred perfectly for growing weed in the Northeast, kick back and watch the elegance of a 20% Ruderalis lineage with equal parts Sativa and Indica. Adding to the comforting nature of this CBD queen, indulge in the sweet dessert and citrus terpenes while feeling your pain melt away in an uplifting cloud of smoke.
Wedding Cheesecake Auto (FastBuds)
A widely loved every-occasion smoke, Wedding Cheesecake Auto is a decadent Sativa-dominant dessert with a yummy sweet cheesecake flavor and earthy, fruity undertones. The 24% THC content will have you occupied for hours, keeping you motivated and energized while all your worries fade away. Like a four-tier masterpiece, the thick buds are draped with glistening white trichomes for a very satisfying yield.
Fruit Punch Auto (Heavyweight Seeds)
The ultimate social lubricant, Fruit Punch Auto will get you chatty and relaxed in almost any setting with its 80% Sativa dominance and 21% THC content. With a strong undertone of skunk and a powerful tropical terpene profile, you'll be livin' la vida loca while she produces chunky, resin-coated bud in just 80 days, handling a cooler, damper climate with ease.
Don't Miss Out on Growing Weed in the Northeast!
You don't have to miss out on growing mouth-watering weed just because you live in a different climate to what's considered "optimal." Just assess what kind of climate your area is prone to and take your pick of some of the best weed seeds for New England money can buy.
Herbies Head Shop expressly refuses to support the use, production, or supply of illegal substances. For more details read our Legal Disclaimer.