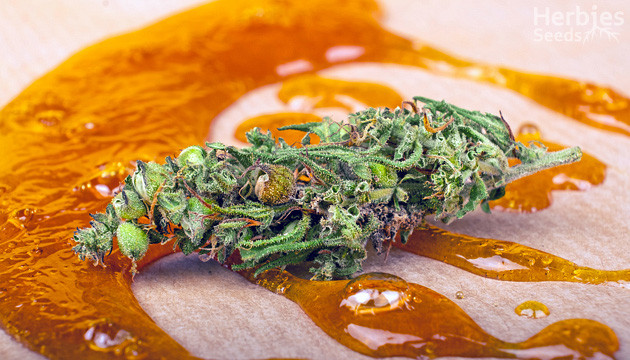 Not all cannabis strains are created equal. This is especially true when choosing a strain to turn into rosin. Some buds that perform exceptionally well when smoked, vaped, or made into edibles could be a little underwhelming when squeezed into a concentrate.
You will need to look for highly resinous strains with massive trichome production. Indica-dominant strains tend to be more suited to the task, although many Sativas will do the job just fine. In this article, we feature 12 of the best strains for rosin that produce nothing but the most resinous, trichome-laden buds.
How is Rosin Extracted?
Rosin is a hydrocarbon-free method of extracting concentrates from cannabis flower. A combination of heat and pressure is applied to the bud, which forces the separation of cannabinoids and terpenes. Everything you need to know about rosin extraction can be found here. Below, we feature the best dab strains on the market today, taking the guesswork out of the equation.
Mimosa Shot (Herbies Seeds)
Featuring a euphoria-inducing 30% THC, Mimosa Shot ticks all the right boxes when it comes to the best strains for rosin press. It's a trichome-laden, 65% Indica-leaning hybrid with uplifting effects. The terpene profile is dominated by limonene, giving this bud sweet and zesty flavors of orange and lemon. And if that is not enough, this strain is also a heavy producer. You can expect to rake in 800g/m² (2.6oz/ft²) when grown indoors, and up to 1.6kg (56oz) per plant outdoors.
Sour Diesel (Blimburn Seeds)
Sour Diesel is one of the Sativa-dominant strains that are well worth putting through your rosin press. This is one of the best strains for rosin, as it comes with frosty buds and THC levels that reach 25%. Flavor-wise, Sour Diesel does exactly what it says on the tin. It's stacked with more than enough myrcene terpenes to leave any cannabis connoisseur feeling satiated, producing hard-hitting gassy and fruity aromas. Indoors, you can expect yields of 600g/m2 (2oz/ft2), while outdoors, up to 700g (25oz) per plant is possible.
Shiskaberry (Barney's Farm)
This 100% pure Indica is a cross between Blueberry and an Afghan landrace phenotype, and performs exceptionally well for experienced outdoor growers. Shiskaberry is one of the best Indica wax strains, flowering after a lightning-quick 49-56 days with THC levels testing around the 20% mark. Experienced growers have been known to boost this number as high as 26%. Indoors, this plant can produce between 500-600g/m² (18-21oz), although it thrives in an outdoor setting. Expect whopping outputs of between 1500-2000g (53-71oz) per plant if set in full sunlight.
Californian Snow Auto (FastBuds)
Juicy, resinous, and trichome-covered buds are the best weed strains for rosin, and that's exactly what you'll get with the aptly-named California Snow Auto. This 23% THC autoflowering strain is difficult to see underneath all those snow-like trichomes. It's a little light in the bud production department but more than makes up for this in cannabinoid content. Plus, it's super quick from germination to harvest, taking just 8-9 weeks to do its thing.
CBD Auto White Widow (Dutch Passion)
If you're looking for more of a medicinal effect from your rosin, consider experimenting with CBD Auto White Widow. This Indica-dominant strain produces bud with THC levels between 7-15% and CBD levels of 9-10%, resulting in a well-balanced high that will have you falling in love with life over and over again. She's not a fan of high temperatures or humidity, so some care needs to be taken to max out your yields. Expect herbal aromas complemented by undertones of citrus and honey, and for the plant to be ready to harvest in just 9-10 weeks from germination.
Chemdog (GHS)
This delightfully aromatic dab strain is one for the indoor growing enthusiast, with THC levels soaring to 21.5%. It's also worth noting that Chemdog produces CBD volumes of around 1.5%, lending an interesting entourage effect with hard-hitting consequences if you consume too much. This is a 70% Indica-leaning hybrid with a strong genetic heritage, being a cross between OG Kush and Sour Diesel. The flavors and aromas are complex, with different phenotypes offering a startling variation of terpenes.
Monster Profit (Heavyweight Seeds)
It's almost as though Monster Profit was specifically bred for rosin, producing an abundance of strong and resinous buds. In fact, just a gentle squeeze of one of these buds will leave your fingers coated in sticky, sweet-smelling oil. It features THC levels of 22% and a noteworthy 1.2% of CBD. A 60% Sativa cross, this strain leaves users feeling energetic, uplifted, and talkative, making Monster Profit a good party weed, as it's ideal for socialization. True to its name, you can expect monster yields of up to 800g/m2 (2.6oz/ft²) when grown indoors. Outdoors, you'll be looking at something like 1000g (35.27oz) per plant.
Monster Bruce Banner Auto (Monster Genetics)
When it comes to the best strains for rosin press, Monster Bruce Banner Auto is up there with the best of them. The frosty, resinous buds test at a dizzying 25% THC and come with robust, citrusy flavors complemented by earthy and diesel-like undertones. Although considered a 60% Sativa-dominant hybrid, based on the effects, you would be forgiven for thinking it was a purebred Indica. It eliminates stress and anxiety with both body and mind relaxation, culminating in a peaceful night's sleep.
Sweet Zombie (Expert Seeds)
Sweet Zombie is another one of those dab strains with consciousness-altering properties. The resinous buds test at over 23% THC and are well-suited for rosin production. It's predominantly an Indica at 95%, with deeply relaxing and euphoric properties. The high will lead you effortlessly into a meditative state, while sweet blackberry and plum candy flavors linger on the palate. The aroma is hashy, lending a truly unique smoking experience. The strain is suitable for indoor and outdoor growth, with huge yields of up to 750g/m² (2.4oz/ft²) indoors and 1220g (2lb) per plant outdoors. It can also fully ripen in a rapid-fire 49 days, although 56 days is probably closer to the money.
Super Critical Bud CBD (Garden of Green Seeds)
The people at Garden of Green Seeds have cultivated a bit of an enigma with this super medical hybrid, with jaw-dropping 25% THC levels combined with an unprecedented 23% CBD. Every flower of Super Critical Bud CBD is a crystal-covered kingdom and can fully ripen in as little as 50 days. She's 60% dominant on the Indica side and is the perfect specimen for turning into rosin. This strain can be grown indoors or out and is suitable for both medical and recreational use.
Wedding Glue Auto (FastBuds)
Beautiful purple buds with ridiculously high THC levels await the grower of this powerhouse dab strain. Wedding Glue Auto regularly tests at 26% THC, with a thick, frosty, and resinous coating that makes it ideal for rosin. She's a heavy producer for an autoflower version, with outputs of 450-550g/m2 (1.5-1.8oz/ft2) indoors and 60-160g (2-5oz) per plant outdoors. Being a well-balanced hybrid – slightly Indica-dominant at 60% – means well-rounded effects that range from a buzzy head high to full-body relaxation and mild pain relief.
Godzilla Glue #4 (Herbies Seeds)
No "best strains for rosin" list is complete without the addition of Godzilla Glue #4 with its mind-altering 29% THC. This perfectly-balanced Indica/ Sativa hybrid comes oozing with resin, ideal for squeezing into concentrate form. To go with that monster trichome production are wonderfully high yields, a quick flowering time, and delicious flavors of citrusy chocolate. It almost sounds too good to be true!
What's Your Pick for the Best Rosin Strain?
When it comes to the best strains for extraction, certain boxes need to be ticked. Pick a fresh, resinous, and frosty-covered bud with high trichome production. The bud should also be high in THC or CBD.
What's going to be your choice for pressing rosin next time? Is there a perfect strain for rosin we've missed? Let us know in the comments below!
Herbies Head Shop expressly refuses to support the use, production, or supply of illegal substances. For more details read our Legal Disclaimer.