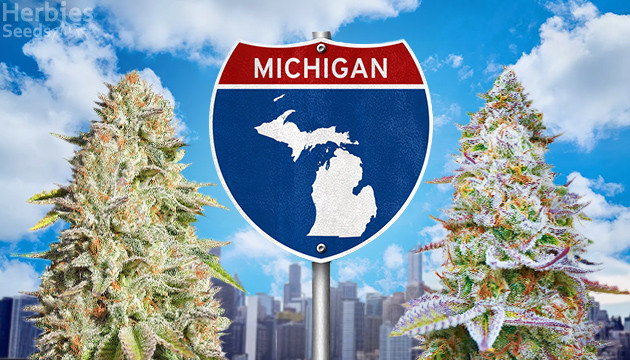 By legalizing cannabis in 2018, the state of Michigan made a giant leap forward from the time when growing marijuana was a felony. However, although it's now legal, please learn all the dos and don'ts, especially if you plan to grow weed outdoors. Our short guide to the best strains that suit Michigan climate will also help you understand the restrictions placed by Mother Nature.
Outdoor Cannabis Seeds
VIEW ALL
Growing Marijuana In Michigan: Legal In Stealth Mode
If you're 21 years or older and live in Michigan, you're free to grow up to 12 plants in your place of residence, possess up to 2.5 ounces, and stash even more under lock and key. All this is kind of lenient, but here's the catch: your marijuana garden must be completely hidden from view. This is easy when you grow indoors, but outdoors, you'll have to go the extra mile to make your cannabis patch invisible to outsiders. Basically, your only legal option is to build a shed or a greenhouse around it. And check your local regulations, too, because your municipality may have banned marijuana cultivation altogether.
Climate In Michigan: Watch Out For High Humidity
With 200 days of non-freezing temperatures, the growing season in Michigan is long enough to successfully grow many good cannabis varieties. You'll get plenty of sunshine throughout the summer and early fall, comfortable but not too hot temperatures, and enough rainfall to help you with watering your plants. The drawback is the high humidity, which can cause problems with mold and bud rot for marijuana buds in the later stages of flowering. One way to deal with this issue is to protect your plants from rain in a greenhouse (which is required by law anyway), and another is to stick to strains that are especially mold-resistant.
The Best Strains Are Those That Finish In September Or October
You can put your marijuana plants in the ground as early as the middle of May, and a whole month earlier in a greenhouse. You can further extend the vegetative period if you start your seedlings inside. This is a good option for those who want to have huge tree-like plants by harvest time. To choose a strain that's best in terms of reliability, mold-resilience, and high yields, look for September finishers. Strains that fully mature in October are trickier, but allow you to produce more exotic and sought-after varieties normally associated with indoor growing.
Our following top five strains to grow outdoors in Michigan not only have the best chance to cross the finish line, but also guarantee you buds of superb quality.
Gorilla Glue #4: When Too Much Of Everything Creates A Balance
Gorilla Glue #4 (Original Sensible Seeds)
Photoperiod

Relaxing euphoria

28 %

800 g/m² indoors
1000 g/plant outdoors
Go to strain
Gorilla Glue #4 is a strain to both fear and respect, because the Gorilla family in general is famous for its insane resin production and pheno #4 is the stickiest of them all. Obviously, this guarantees over-the-top THC and terpene levels. Quality-wise, this strain of weed is all about balance: it's a 50/50 Sativa/Indica mix, with effects that combine intense euphoria and happiness with a strong body buzz, plus the smell and taste of chocolate and diesel that are as harmonious as they are complex.
Gorilla Zkittlez: You Can Grow These Sweets By The Pounds
Gorilla Zkittlez (Barney's Farm)
Photoperiod

Total tranquillity

24 %

600 - 700 g/m² indoors
2000 - 2500 g/plant outdoors
Go to strain
Among the countless crosses based on the paragon of stickiness (see the one above), Gorilla Zkittlez stands out due to its eye-popping multicolored bag appeal, super-strong high delivered by 24% THC, and fruity and sweet, almost candy-like flavor. The yields of up to 4-5 pounds per plant can't help but attract outdoor gardeners. Multiply it by the legal limit of 12 plants, and you're looking at a harvest that will last you a lifetime.
Bruce Banner #3: Intoxicating Smell And Electrifying Effect
Bruce Banner #3 (Original Sensible Seeds)
Photoperiod

28 %

A good balance between high and stone

800 g/m² indoors
1000 g/plant outdoors
Go to strain
Another US legend in our all-American list, Bruce Banner #3 dominates the top shelves of legal dispensaries, both in Michigan and elsewhere, and what put it there was the astonishing 28% THC! This strain leans slightly more on the Sativa side, so the airier structure of buds gives them good protection against mold outdoors. You can harvest them only in October, but the smoke is worth the wait. It has a sweet, earthy, and gassy smell and taste, and the effects fill your head and body with intense euphoria.
Orange Sherbet Auto: Tons Of Happiness
Orange Sherbet Auto (FastBuds)
Autoflowering

24 %

Highly creative

500 - 650 g/m² indoors
60 - 300 g/plant outdoors
Go to strain
Concentrate fans, bring your attention over here! A real terp champion, Orange Sherbet Auto turns into a stocky and branchy plant capable of producing extreme amounts of flavorful resin after just 70 days from seed. Smelling of juicy fruit and sour citrus while packing 24% THC in its monstrously thick buds, this Sativa-dominant strain will fuel your happiness, energy, and creativity from the moment you start your wake-and-bake session until you finish it late at night.
The Incredible Bulk: A 3-Pounder Finishing In Mid September
The Incredible Bulk (Dr. Krippling Seeds)
Photoperiod

Makes life easier and happier

20 - 24 %

600 - 1000 g/m² indoors
800 - 1500 g/plant outdoors
Go to strain
If Sativa isn't really your cup of tea but you still want an insanely high-yielding strain, try The Incredible Bulk. This 80% Indica will bring you 2-3 pounds of dry bud – not as much as our previous strain, but you don't have to wait as long, either. By mid-September, this gorgeous lady will be ready to harvest, and then you can enjoy the smoke that relaxes you without killing motivation and lets you get on with your life while wrapped up in happiness and protected from pain.
Top Marijuana Strains In The USA
VIEW ALL
Take Care Of Legal Issues And The Michigan Climate Will Do The Rest
There's nothing easier than growing marijuana outdoors in Michigan, at least in terms of climate. The best Indicas, Sativas, and hybrids are at your disposal as long as they finish no later than October. So build a greenhouse or a large enough fence and pop some seeds – the results won't disappoint you!
Herbies Head Shop expressly refuses to support the use, production, or supply of illegal substances. For more details read our Legal Disclaimer.