Beginner Auto Mix Pack Feminized Seeds From Herbies Seeds
Spain
Nothing says effortless like this convenient Beginner Auto Mix Pack of three easy-to-grow, high-yielding strains – Godzilla Cookies Auto, Ape Fruit Auto, and Purple Chill Auto. With flavors up the wazoo, THC up to 27%, and yields that will make you smile no matter your experience level, you can't go wrong with these autoflowers.
Read more
All characteristics
Perfect For: Complete Beginners Wanting Epic Yields
Autoflowering hybrids
THC levels between 20-27%
Big, easy yields
Beginner Auto Mix Pack Smoke Review
This mix pack is a lucky packet of luscious flavors and killer effects, holding a comfortable balance between both Indica and Sativa, sweet and spicy. With monster lineages in autoflowering form, each strain holds something unique.
Beginner Auto Mix Pack: Effects
This pack has something for everyone, offering a nice variety between the Indica, Sativa, and Ruderalis cannabis subtypes.
Godzilla Cookies Auto
Just like the monster this strain is named after, you can expect hard-hitting effects on both body and mind. While the electrifying body buzz of Indica sweeps you off your feet, bask in the uplifting, giggly cerebral rush of motivation and energy that the 27% THC Godzilla Cookies Auto has to offer.
Ape Fruit Auto
Feel right in your natural habitat with Ape Fruit Auto's long-lasting happy high, tingling over your cerebral cortex while your body receives a nice vine-swinging relaxation. Thanks to the 25% THC level, it won't take more than a couple of puffs to experience hours of electrifying bliss.
Purple Chill Auto
The ideal Indica-dominant strain for the everyday workaholic, Purple Chill Auto with up to 25% THC eases muscle tension with her therapeutic body feel and pleasantly uplifting mental massage, keeping you feeling chilled all night long.
Beginner Auto Mix Pack: Flavors
With a surprise waiting around every toke, the terpene profiles across this mix pack are off the charts!
Godzilla Cookies Auto
As the most pungent strain in this pack, you'll smell Godzilla Cookies Auto before you see it. Let your nose fill with the glorious aromas of cookies and diesel while your tongue dances on the tangy notes of citrus flavors.
Ape Fruit Auto
As you swing along the treetops enjoying the instant high this strain has to offer, get ready for a tropical explosion on your tongue with hints of bitter grapefruit and warm toasted wood.
Purple Chill Auto
This complex strain of sweet and spicy terpenes delights the senses with a fruity array of flavors and is complemented by hints of rich wood and spice to pull it all together.
Beginner Auto Mix Pack Grow Info: Appearance and Grow Tips
A trio of small to medium-sized plants averaging around 100cm in height with thick bushy branches, you can expect large yields in no time. Ape Fruit Auto leads the pack with up to 700g/m2 (2.3oz/ft2) indoors, followed by Godzilla Cookies Auto at 600g/m2 (2oz/ft2) and then Purple Chill Auto, ending close behind with up to 500g/m2 (1.6oz/ft2).
Each one is as hardy as the next, meaning you can get excitingly big yields even if it's your first grow ever. Just follow this simple grow info to give yourself a head start:
Each plant in this pack grows heavy buds on bushy branches. Allow adequate space between plants to improve airflow and avoid mold.
With heavy buds, support is a good idea for weighed-down branches. You can also use LST methods to keep the size controlled and increase yields.
Godzilla Cookies Auto is highly pungent. A carbon filter is a good idea to keep your grow operation more discreet.
Purple Chill Auto blooms into a beautiful purple plant. If allowed to experience colder nights with warm days, expect the colors to really pop!
With impressive trichome production across the pack, each strain is ideal for making concentrates as well.
Beginner Auto Mix Pack Seeds
Whether it's your first time growing or you're an experienced grower with limited time on your hands, buy this Beginner Auto Mix Pack online and enjoy individually labeled seeds in discreet packaging in no time!
Seeds in this mix come in individual packaging marked with the name of each strain.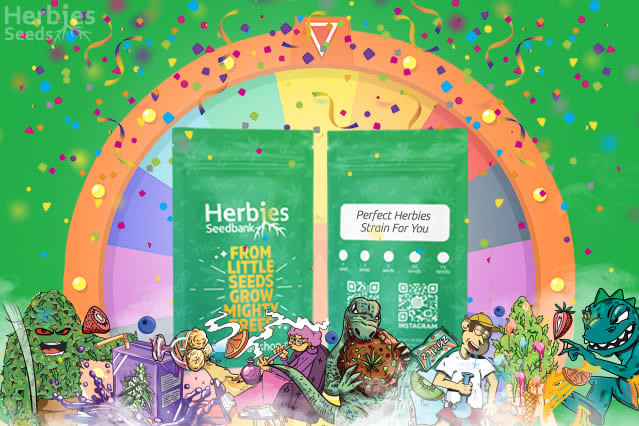 What Herbies Seed Is Right For You?
Characteristics
Brand

Herbies Seeds

Sex

Feminized

Flowering type

Autoflowering

Different types of seeds in package

Mix

Suitable for

Outdoor

Suitable for

Indoor

Effect

Belly Laugh Therapy

Genotype

Mix of Indica and Sativa seeds

THC

20 - 27 %
Reviews
No reviews on this product yet.
Be the first one to share your opinion - it may help someone to make their choice!
Add review
How To Post Your Review?
Thank you for sharing your opinion about our website!
Your feedback will be posted shortly after our moderator has reviewed it.
Please note that we do not publish reviews if they:
Written in all CAPS
Contain aggressive or offensive language
Have a promotional content (contact details or links to other websites)