Sativa Mix Feminized Seeds from Herbies Seeds
Description
Perfect For: Electrifying Mental Stimulation
Jump-start your day with a potent tonic.
Achieve mental clarity or smoke more for a psychedelic trip.
Enjoy unique flavors that more common strains lack.
Sativa Mix Smoke Review
These three strains combine the jubilant uplifting high of Sativa genetics with exotic aromas and tastes. Their character is on a spectrum, from the more familiar Skunk euphoria of Orange Buddy to the high-octane fuel for your brains that Choco Thai provides.
Sativa Mix Effect
Yuzu Fantazy is a happy 26% THC marriage between varieties from Southeast Asia and Jamaica, and her effects are like the exhilaration you feel when visiting some tropical paradise. A perfect pick-me-up for the morning or a remedy against fatigue in the late afternoon.
Choco Thai, with her 27% THC, is even more invigorating, to the point where you just can't stop talking or even sit still for more than a few seconds. Time slows down to a crawl while all your senses and faculties shift to hyperdrive.
Orange Buddy is a bit more tamed than her counterparts, but this 22% THC Sativa-dominant Skunk will fill your body and soul with an all-pervading euphoria while giving your thoughts a creative twist.
Sativa Mix Flavor
Yuzu Fantazy has an unmistakable flavor of far-off places because her buds smell of incense and exotic hardwood against the lemony background. Choco Thai, with her heritage of Chocolate Thai and Strawberry Haze, is drenched in sweet and fruity aromas with distinctive notes of chocolate. Orange Buddy is a pungent and citrusy olfactory bomb, just as any proper Skunk should be.
Sativa Mix Grow Info: Appearance and Grow Tips
As cultivars, Sativa-dominant strains need some getting used to, but there's nothing about these three that even a beginner grower can't handle.
Yuzu Fantazy is a relatively compact Sativa that reaches 3-5 feet (80-150cm) indoors and can be trained to an even more manageable size. On the other hand, her flowering phase is quite unhurried; she may need 75-90 days from the start of 12/12. She won't waste any of this time though, producing scale-busting yields of 700-900g/m² (2.3-3.2 oz/ft²).
Give her plenty of light and higher than usual doses of nutrients
Don't delay the start of 12/12, and prepare for a great flowering stretch
Supercrop those side branches that overtake the rest.
Outdoors, Yuzu Fantazy will grow into a typical Haze tree: 160-220cm (5-7 feet) in height with plenty of sturdy side branches.
Choco Thai has almost no Indica genes in her DNA, so she will grow tall and bushy, with long branches and spacy internodes. There'll be no issue with light penetration, but the plants will tend to fill all available space. The good news is that the flowering time is unexpectedly short – only 65-70 days from the day you flip the switch.
Make sure your grow tent is tall and the light powerful.
Don't protract the veg or use the 12/12 light schedule from seed.
Go easy on the nutes and, if you can, use organics.
Outdoors, Choco Thai can be harvested by the middle of October, with yields of 0.6-0.8kg (1.2-1.8lb) per plant from very tall but strong bushes, reaching anywhere from 140 to 300cm (5-10 feet).
Meanwhile, Orange Buddy races through the life cycle in just 50-60 days when grown indoors. The plants produce a respectable 500-700 g/m² (1.6-2.3 oz/ft²), reaching 80-130 cm (7'8''-4'3") in height. Outdoors, this weed gets taller – up to 190 cm (6'3") – and brings in 800-1000 g (1.8-2.2 lbs) per plant.
These plants are suitable for both SOG and ScrOG techniques.
Make sure to have good air circulation around the buds to avoid mold.
This strain appreciates a nutrient-rich diet but tolerates a lean diet too.
Sativa Mix Seeds
In our Sativa Mix, each of the strains is packed individually and clearly marked, so you won't have to guess which is which. All seeds are feminized, and the great thing is that you need to buy only one pack of seeds to have a chance to try photoperiod and Sativa genetics.
Seeds in this mix come in individual packaging marked with the name of each strain.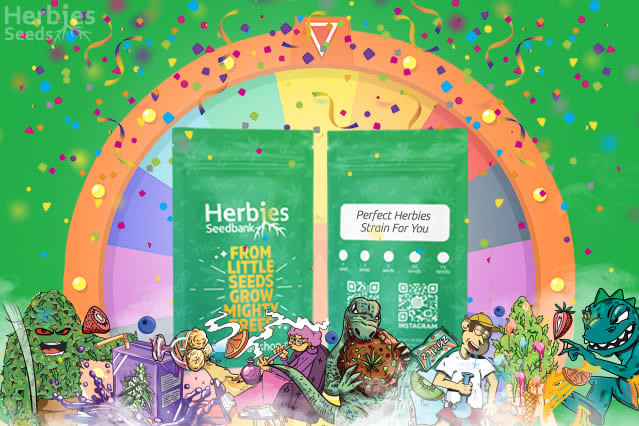 What Herbies Seed Is Right For You?
Characteristics
Brand

AKA seed bank. They create and preserve cannabis genetics, then we get them to you.

Learn more

Herbies Seeds

Type of seeds

Regular or feminized. Pick feminized if you want female plants only.

Learn more

Feminized

Type of seeds

Either autoflowering or photoperiod. Both have their pros and cons, but growing autos is easier.

Learn more

Photoperiod

Different types of seeds in package

This mix, or variety pack, has different strains inside.

Learn more

Mix

Suitable for growing

This strain is perfect for growing both indoors and outdoors.

Learn more

Outdoor, Indoor

Effect *

Each strain produces a certain effect on your body. This is what you can expect from this variety.

Learn more

Electric brainbuzz

% Sativa/ Indica/ Ruderalis

The ratio of Sativa/Indica/Ruderalis in this particular variety.

Learn more

Mix of Sativa seeds

THC

The main psychoactive compound in cannabis. The higher THC level, the more potent the strain.

Learn more

22 - 27 %
*Herbies sells cannabis seeds exclusively as souvenirs that aren't meant for cultivation or germination. Customers should be aware that the germination of cannabis seeds is illegal in most countries. Herbies sells cannabis seeds exclusively for collecting and preservation for future generations. We advise customers to check with their local laws before germination, as Herbies does not accept responsibility for the illegal use of our products.
No reviews on this product yet.
Be the first one to share your opinion - it may help someone to make their choice!
Add review