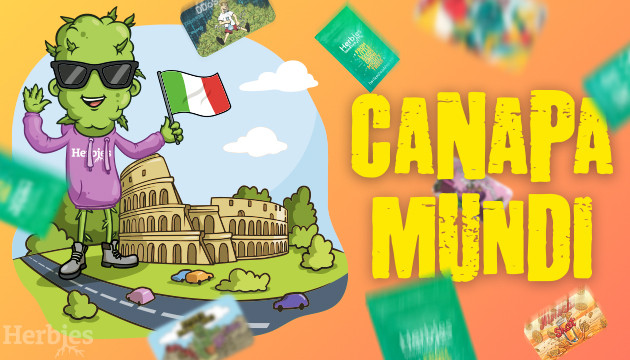 We're back from Canapa Mundi, and oh boy, what a trip it was! 
First of all, kudos to the organizers of the fair for making Canapa Mundi happen in these trying times. The event was postponed several times due to COVID-19 limitations, but despite all odds, it took place in Rome's Fiera di Roma from April 1-3, 2022.
It wasn't our first time at this festival, but it was for sure a new experience. We haven't attended Canapa Mundi in years, so it was about time to make our rusty gears move. This year, Herbies made a big comeback as both an official Platinum Sponsor of the event and an exhibitor. At the end of the day, we've launched our own Herbies Seeds seedbank in the past year, so how could we not show off our seeds and spread them all over the world with the guests at the fair? Visitors loved our seeds and were pleasantly surprised by their top-of-the-market characteristics, so that mission was accomplished successfully.
Our stand didn't lack attention, and not just thanks to our high-THC seeds. At Canapa Mundi, we were joined by our baby mascot Herbie, who was introduced to the public earlier this year and now got to meet his fans IRL! Saying that all eyes were on him wouldn't be an overstatement. People were shaking hands with Herbie, beaming to match his perpetual smile, and taking loads of selfies with him – a star was born!
The feeling we're left with now is bittersweet. Canapa Mundi was a blast, and we wish it could have lasted longer. However, we're glad to be back to work and excited about what's coming next. Herbies will continue touring events around the world – stay tuned for updates!
Herbies Head Shop expressly refuses to support the use, production, or supply of illegal substances. For more details read our Legal Disclaimer.