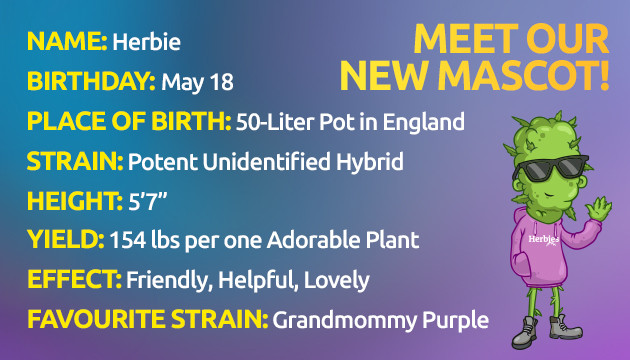 Hi, guys! My name's Herbie, and I'm just a weed plant fresh off the pot looking for some friends. I feel like we could totally become best buds for life – do you wanna give it a go?
I live and breathe cannabis – it's by far my biggest passion! Or should I say, I'm living and breathing cannabis? I guess I'm both! I can always help you pick a great strain (not to brag, but I know all of them personally, haha) and tell you all the secrets to growing them flawlessly. You can hit me up any time whenever you need help, really. And then, maybe we could harvest and share some puffs together? I'm always down for that!
By the way, I'm not just a regular plant. I was grown by a very talented English grower. He planted me in his garden, devoted all his time and energy to me, and shared a good deal of all of his best qualities: friendliness, kindness, love of work, responsibility, discipline, and compassion. Growing in his garden was so special that I turned out to be not just this big healthy bush but also kinda started looking like him! Crazy, right?
I know it's just the beginning of our journey, but I'm already pretty sure it's going to be major! I can almost smell them, all those sweet moments and great achievements we'll have together. I was born from the sincerest love of growing, and I'm ready to give it back.
So, are you in?
Herbies Head Shop expressly refuses to support the use, production, or supply of illegal substances. For more details read our Legal Disclaimer.