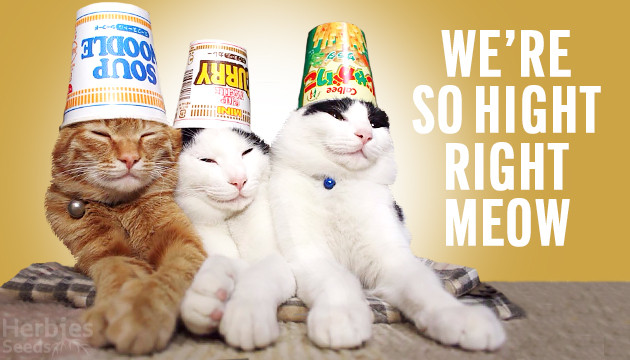 Hey buds, in case you were ever wondering what kind of cat you'd be (we know every stoner has had this question at least once), Herbies has prepared an easy and fun personality test for you. We're pretty sure you're going to love this test, especially if you take it after taking a good hit of weed, our human equivalent of catnip. Ready to learn more about yourself? Hit the button to get started!
You might know that cats are crazy about the smell of mint. Well, they are not alone in this feeling. We, people, are also quite fond of this refreshing herbal aroma. If you are a fan of fresh flavors, here are some hand-picked strains with pronounced minty notes.
A.M.S. Feminized By Green House Seed Company
A.M.S. is an easy to maintain feminized cannabis strain capable of yielding up to 700 g/m2 (2.3 oz/ft2) indoors or 800g/plant (28oz) outdoors. Its 19% THC glistening buds are emitting a strong blend of citrus, earth, and, of course, mint. This cannabis strain will fire your energy levels so hard, you won't stop running around like a cat with a ball of catnip.
Utopia Haze Feminized By Barney's Farm
Utopia Haze is a feminized marijuana variety awarded with multiple international Cups for exceptional resilience. This minty Sativa is beginner-friendly and will gift even a total newbie with around 650 g/m2 (2.13 oz/ft2) of potent 22% THC buds. The level of euphoria this strain provides can only be compared to the happiness of a kitty living in a milk farm.
Peppermint Kush Feminized By Barney's Farm
Herbies Head Shop expressly refuses to support the use, production, or supply of illegal substances. For more details read our Legal Disclaimer.