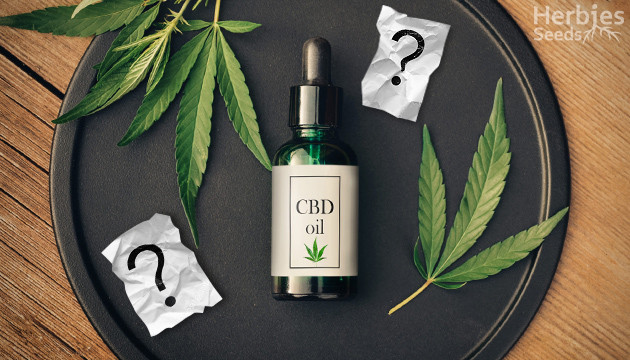 CBD, or cannabidiol, is one of the most studied cannabinoids, which is gaining momentum in the wellness world with incredible speed. Numerous scientific reports have proven the effectiveness of CBD against various ailments – cannabidiol targets the human endocannabinoid system to relieve pain, reduce anxiety and depression, reduce acne, benefit heart health, and more. The easiest access one can have to the benefits of CBD is probably by ingesting CBD oil, a product that's still pretty new and leaves some questions to be answered. In this article, we will address each of them for you to help you decide whether CBD oil is something for you to make or purchase and use for yourself.
What Is CBD Oil?
CBD oil is an easy-to-consume cannabidiol-rich product, which you can digest orally on its own or add to your meals to benefit from the cannabinoid by influencing the work of your cannabidiol system. CBD oil consists of two primary parts. The first is cannabidiol itself, which is extracted from low-THC, high-CBD cannabis strain buds. The second main ingredient of CBD oil works as a mediator between CBD and your body, and is usually a neutral carrier oil with little to no taste like coconut oil, flax seed oil, or hemp seed oil.
In the next part of the article, we're going to tell you how to make CBD oil at home. The main reason we advocate for making your own is that the result will be a full-spectrum CBD oil that contains dozens of other beneficial cannabinoids, terpenes, and other compounds, instead of the isolated CBD often found on the pre-made CBD oil market.
How Is CBD Oil Made?
Making CBD oil is quite easy, and not much different from making cannabutter. After you've harvested, dried, and cured your low-THC, high-CBD cannabis buds, you'll need to do the following to make fresh and fully organic CBD oil on your own:
Take 5g of CBD-rich cannabis buds, break them into smaller chunks, and place them in the oven for an hour at 225F (107C) to decarboxylate (activate the CBD).

Mix the decarbed flowers with ¾ cup of carrier oil (coconut, hemp seed, flax seed, or olive), and put the mixture in a double boiler over low heat for 2-3 hours.

Strain the oil mixture through a cheesecloth and discard the remaining plant matter – all of the CBD is already in the carrier oil. You can now add a couple of drops of your favorite essential oils to improve on the taste of the final product. However, this step is optional.
How To Choose CBD Oil Seeds
To produce CBD oil yourself from home-grown weed and be able to control the whole process, you need to start with quality cannabis seeds of CBD-rich strains. In order to create a product that will improve your health and not show on a drug test, you need cannabis strains with maximum CBD and close to zero THC. We've prepared a short list of different strains of marijuana to make your search easier.
CBD Auto Blackberry Kush (Dutch Passion)
CBD Auto Blackberry Kush is a gorgeous cannabis plant with red and purple hues, which contains a perfect ratio of THC to CBD for making organic, home-made CBD oil – while the THC content is miniscule, the CBD is at an astonishing 15%. This sweet and fruity bud will make for highly therapeutic CBD oil.
Sweet Pure Auto CBD (Sweet Seeds)
With less than 1%THC and nearly 20% CBD, Sweet Pure Auto CBD from Sweet Seeds is just what the doctor ordered! Sweet Pure Auto CBD cannabis seeds produce buds flavored with wood and citrus for ultimate relaxation and anxiety relief.
CBD Lemon Potion Auto (Barney's Farm)
Extra-flavorful and easy to grow, CBD Lemon Potion Auto cannabis seeds produce buds that make for great oil and other CBD concentrates. The 15% CBD, fused with sweet terpenes and 15% THC, will grant you mellow stress relief and the ultimate feel-good state. When making oil with CBD Lemon Potion Auto, keep in mind that the concentrate will be not only medicinal, but also psychoactive due to the THC presence.
CBD Auto 20:1 (FastBuds)
As you can judge from the name, honey-scented CBD Auto 20:1 seeds offer a CBD content of 20 times more than the THC. This CBD champion is easy to grow and yields buds that are effective against pain, insomnia, inflammation, and more.
Does CBD Oil Make You High?
The contents and effects of CBD oil may vary greatly, especially if the CBD oil is homemade. However, CBD oil that doesn't contain THC will not make you high because cannabidiol is not a psychoactive cannabinoid. It benefits your health by targeting your endocannabinoid system and binding to your endocannabinoid receptors, but it can't make you feel high. Just make sure you're using strains that we described in the previous part, or similar high-CBD and low-THC strains, for a purely therapeutic batch of CBD oil.
How Does CBD Oil Make You Feel?
While both THC and CBD trigger a reaction from the CB1 receptors in your brain, the effects these cannabinoids provide are completely opposite. While THC activates CB1 receptors, research suggests that the CBD in CBD oil may actually block these receptors, making you feel less high. Reports show that CBD oil provides a relaxing and calming feeling in users, while at the same time reducing inflammation and pain, relieving anxiety and symptoms of depression, and improving quality of sleep.
Is CBD Oil Safe?
CBD oil, and CBD in general, is reported to be safe to consume. This cannabinoid provokes far fewer side-effects than THC and is well-tolerated among the vast majority of people taking it even on a daily basis. However, in order to make sure CBD oil is perfectly safe for you, you need to consult with a doctor, as there is evidence that CBD may interact differently with some medications. If you've never had CBD before, also make sure to start with a lower dose – although extremely rare, there have been cases of allergic reactions caused by CBD.
Can You Overdose On CBD Oil?
If you're worried about accidentally overdosing on CBD oil, there's no evidence that having too much CBD can lead to any serious health consequences. Research shows that ingesting high doses of CBD may lead to experiencing some mild negative side-effects like sleepiness or dry mouth, but judging by anecdotal reports, there have been no cases of people overdosing on CBD and experiencing any adverse health consequences.
Does CBD Oil Expire?
Another issue that may bother readers who don't want to cause any harm by ingesting CBD oil is whether it expires – and if so, what are the consequences of taking expired CBD oil? Generally, CBD oil, including the home-made versions of it, will last at least 14 months. The good news is that even past this point, CBD oil is unlikely to spoil and cause you harm. However, due to oxidation, CBD will eventually start breaking down, causing the potency to degrade over time.
How To Store CBD Oil
When stored correctly, you can extend your CBD oil's shelf life and use it at its full potency for 24 months. The main rules to keep in mind, considering the maintenance of perfect storing conditions for CBD oil, include:
Keep your CBD oil away from light and moisture – the back of a shelf in a cabinet away from sunlight is perfect.
Keep your CBD oil in an airtight container. Make sure that when the product is not being used, the container remains fully closed to avoid oxidation.
It's best to not let your CBD oil heat up. Keep the container away from the oven, radiators, windowsills, and other sources of heat to avoid early degradation of CBD and other cannabinoids.
Does CBD Oil Show Up On A Drug Test?
The short answer to whether CBD Oil will show up on a drug test is no. That's because marijuana drug tests are targeted at the psychoactive THC and its metabolites, not CBD. So, if you're expecting to do a drug test in the near future, make sure to only use cannabis seeds and strains with no THC in them to make your CBD oil. If you're purchasing CBD oil somewhere else, check the THC content before buying. Every country's policies are different, so don't forget to check the normal THC content required to pass a drug test, and use that knowledge to benefit from CBD oil without any risk of failing it.
Is CBD Oil Legal?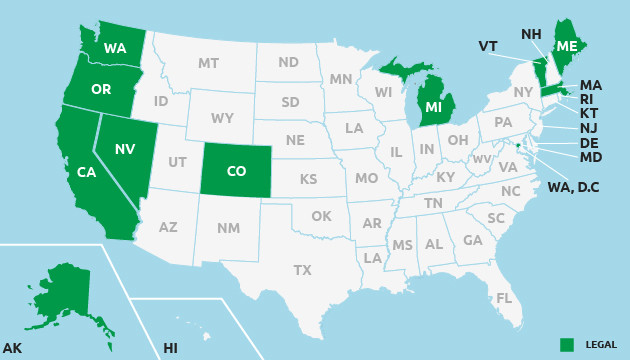 Despite not being psychoactive, CBD remains illegal in many countries of the world. However, the situation and its dynamics are much more positive than it is with THC. To learn whether CBD is legal in your area, check with your local authorities on their drug policy. To name a few, CBD oil is fully legal without prescription in the Czech Republic, France, the Netherlands, Ireland, the United Kingdom, Spain, Italy, Chile, Peru, Colombia, and the following U.S. states:
Alaska
California
Colorado
Maine
Massachusetts
Michigan
Nevada
Oregon
Vermont
Washington D.C.
Washington
CBD Oil Is Easier Than You Thought
CBD oil is a wonderful product that has earned its fame for its numerous health benefits, ease of production and consumption, and legal status in many parts of the world. We hope that with this article, we've shed some light on CBD oil and answered all of your questions. If you're still scratching your head, don't be shy to share your questions in the comments below – our team of experts will gladly address them for you.
Herbies Head Shop expressly refuses to support the use, production, or supply of illegal substances. For more details read our Legal Disclaimer.