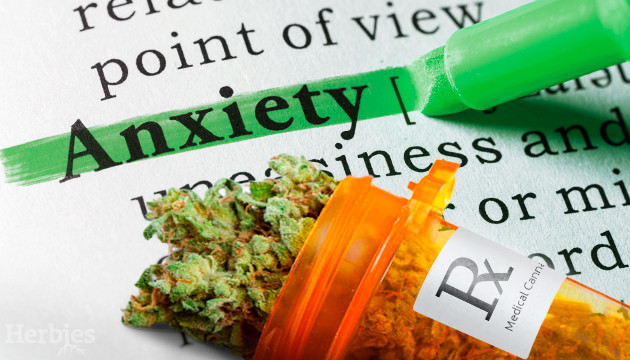 CBD oils and other products are now sold everywhere, but while totally accessible, they aren't really cheap. That's why there's so much interest in high-CBD strains for anxiety both in the growing community and among those who haven't seen a cannabis plant in their lives. But don't worry: even if you don't know the first thing about weed cultivation, we'll teach you the basics, answer your questions, such as 'Does CBD really work for anxiety?', and, of course, present you with some of the best strains to help with this condition.
What is a High Dosage of CBD for Marijuana?
When looking for high-CBD strains for anxiety, the first thing you should know is how to read the labels. How much CBD is low and how much is high? For decades, no one bothered with CBD – the best marijuana strains were bred for potency (that is, THC), and when they started to test for other cannabinoids, something like 1.5% was considered a respectable CBD content.
This is enough to take the edge off your THC-induced high when it leads to an increase in anxiety and paranoia, but it's very low according to modern standards. New strains, bred specifically for a high CBD content, can have as much as 20% of this therapeutic substance and sometimes even more. You'll find some of these miracles in our list of the best weed strains for anxiety below.
Does CBD Really Work for Anxiety?
Simply put, yes. CBD is one way to relieve anxiety when you've smoked too much of a THC-rich weed and it has led to paranoia. The best CBD strains for anxiety also work if your condition wasn't caused by smoking. In fact, half of Americans who use CBD products do so to relieve different forms of anxiety.
There's also a growing number of clinical studies showing the efficacy of CBD as an anxiolytic. It seems to work even in small doses if you take it over long periods. If you're looking for fast action, however, medium doses seem to work best.
How Growing Affects High-CBD Marijuana Strains
Even if you've purchased the absolute best cannabis strains for anxiety, you still need to give the plants proper love and care to reveal their therapeutic potential. They're not unlike marijuana in general, as the bulk of what makes them so potent medicinally is produced and stored in trichomes – resin glands that cover female flowers. Your goal as a grower is to do your best to make those flowers as big and as 'frosty' as possible. So, what CBD strain is best for anxiety? The one that's been expertly grown.
Growing CBD-Rich Plants Indoors: Things to Consider
Growing CBD hemp indoors isn't difficult in itself, but it's not the same as having a few houseplants on your windowsill either. Weed grows fast, and you need to keep up with its many demands. You'll have to provide a constant supply of water, nutrients, and plenty of light and fresh air for photosynthesis. The best way to ensure all this indoors is to set up a grow tent.
You can buy one separately and then equip it with a light (preferably LED), an exhaust fan coupled with a carbon filter, an oscillating fan, and a timer to turn all this on and off according to a preset schedule. Other bells and whistles are optional and may include a humidifier or dehumidifier, various sensors (for temperature, humidity, and CO2 levels), a CO2 tank, or a full-blown climate-control system.
However, you can also forget about all of this for now and leave it to professionals – just go to some online hydro store and buy a turnkey solution that includes a grow tent and all the essentials.
You'll also need to purchase a set of nutrients for cannabis cultivation and start reading up on the plant's life cycle, its different needs in different stages, and some basic training methods. The Herbies blog is an excellent source for such tips if you're just starting out.
Growing CBD-Rich Plants Outdoors: Things to Consider
While growing CBD plants indoors involves considerable upfront costs, planting them in your backyard is dirt cheap by comparison. You still need to understand in what stages they develop and under what conditions they start flowering, but it's not up to you anymore to provide those conditions – Mother Nature will take care of that.
Cannabis likes warm temps and plenty of sunshine, so choose the sunniest spot in your garden. You want to protect it from cold spells and rainy weather in the fall and may consider growing it in a greenhouse or planting it in a container to be able to move it around if you need to. Alternatively, you can buy autoflowering seeds – and some of the best strains for anxiety are autos – and they'll finish before the warmest part of the growing season is over.
Other than that, growing your strains of weed for anxiety outdoors will be super easy. They may require trellising (for support) in the late stages of flowering, and they'll need regular watering. If you have them in pots, you'll also need to feed them with appropriate fertilizers, but this is totally optional if you plant them in raised beds with rich soil.
How to Increase CBD Levels When Growing Weed
Growing buds for maximum CBD content is a pretty straightforward art.
Make 'em Bulky
Want more CBD? Then you'll need more bud. To get bigger yields, keep your plants happy and healthy by regularly fertigating them (but not too much), providing plenty of light or sun, and ensuring good air circulation. Indoors, use low-stress training (LST) to keep the canopy flat so that each bud is close to the light and grows fat and dense.
Make 'em Frosty
Indoors, the amount of resin depends on the spectrum of the light. LEDs seem to work best in this respect, and you should also research the use of ancillary UVB diodes to increase frostiness.
Time Your Harvest Carefully
Don't rush your harvest. Read up on how to use a hand microscope to determine the perfect moment when the CBD levels in trichomes are at their peak (hint: it's when all of them are cloudy and some have started to turn amber).
Properly Dry and Cure Your Buds
Slowly drying your buds for 7 days and then curing them in jars for another 2-3 weeks changes their inner chemistry beyond simple evaporation of water. As a result, the buds become more aromatic and potent.
Don't Forget to Decarboxylate
THC and CBD come in the acidic (i.e. inactive) form. So, before making medicine from your buds, activate them in an oven for 30-40 minutes at 250°F (120°C). This process is called decarboxylation.
Best CBD Strains for Anxiety
CBD Auto 20:1 (Fast Buds)
With her amazing cannabinoid ratio, CBD Auto 20:1 is practically hemp, maybe even legal to grow where you live, but she looks and smells just like any other marijuana – with those heavy, super frosty nuggets and an intoxicatingly sweet aroma. You'll get anywhere between 10-20% CBD in the dry weight of flowers and can smoke them or ingest them as oil. Regardless, you'll get great calming effects with a clear head.
Tatanka Pure CBD (RQS)
With just 0.15-0.25% THC, Tatanka Pure CBD is hemp, pure and simple – but it's hemp bred for high CBD content that reaches 14%, making this weed one of the best strains for anxiety. As a feminized photoperiod variety, she produces yields that are way above average and are especially generous outdoors, where you can harvest up to 16 oz/plant in October. Just make sure your weather is warm and sunny enough around this time of year.
CBD Auto Compassion Lime (Dutch Passion)
Add a little fun to your medicating routine with CBD Auto Compassion Lime! Besides a hefty 9-10% CBD, these lime-smelling buds also have 7-15% THC. Rather high, one might say, but when combined with the other cannabinoid, the effects are as mellow as an anxiety patient can hope for. Growing this auto is a breeze: simply plant her in the most comfortable part of summer and get generous yields in 10-11 weeks from seed.
CBD Lemon Auto (Herbies Seeds)
Our breeders outdid themselves when they created this 17% CBD/17% THC marvel. CBD Lemon Auto is a fun high, with layers upon layers of relaxation and happiness isolating you from all the bitterness of the world. However, you can also expect every health benefit that CBD is known for, including – you guessed it – anxiety.
Honeybells CBD (Delicious Seeds)
Why not extend the anxiolytic power of CBD with some good ol' aromatherapy? Honeybells CBD carries a delightfully sweet terpene profile with notes of honey and packs anywhere between 7-14% CBD and 7-10% THC. Obviously, these buds are for those who don't mind some interesting mood-enhancing effects and never say no to mild euphoria when they want to relieve their anxiety.
Final Thoughts on Growing Best CBD Strains for Anxiety
So, what is the best weed for anxiety? Hands down the one that's rich in CBD. Growing CBD plants indoors and outdoors is the same as growing any type of medical marijuana, and there are thousands of great articles out there telling you exactly how it's done. Start with our simple guidelines, then proceed to other Herbies posts on the subject and, of course, don't forget to choose one or more of the above best strains for anxiety.
Herbies Head Shop expressly refuses to support the use, production, or supply of illegal substances. For more details read our Legal Disclaimer.