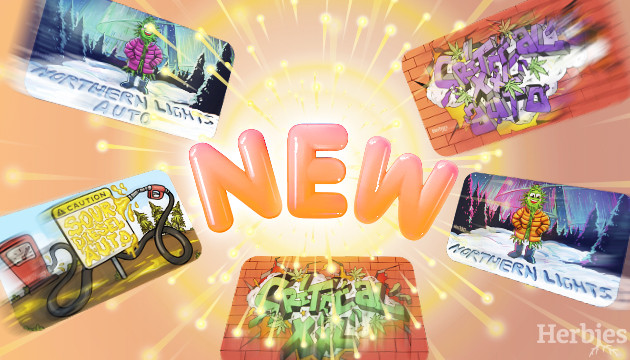 A new batch of Herbies Seeds strains is already here and ready to meet some soil! Our expert breeders continue to create some of the strongest and highest-yielding plants possible that build upon tried-and-tested genetics. We always find new ways to enhance terpene profiles, increase THC levels, and boost our plants' performance.
This new series includes five cannabis strains with THC levels reaching 27% and yields of up to 650 grams per square meter in indoor grows. There you have it – new must-try autoflowering and feminized strains waiting to be popped! We know you'll savor every toke.
Wanna Make a Profit? Try Critical XXL
The best-performing strain of our new releases is Critical XXL – a delicious classic that will give you a top-shelf smoke with long-lasting body relaxation. Due to its THC levels reaching up to 27%, this plant will deliver critical pleasure. Add to it incredibly bountiful crops and a short flowering time, and you'll get a strain that's perfect for commercial growers.
Looking for a Powerful Body Stone? Try Critical XXL Auto
There aren't many autoflowering strains on the market that pack more punch than Critical XXL Auto. With THC levels reaching 23%, this is definitely a nighttime/weekend strain due to its potent effects that will leave you with a sensation of relaxation and euphoria.
An Indica Fan? Try Northern Lights
When it comes to potency and resilience to tough climates, Northern Lights is about as good as it gets. This all-time classic weighs in at 17-23% THC with little to no CBD and produces all the effects we love Indicas for: you'll be in for a relaxed night with feelings of euphoria spreading throughout your entire body.
First-Time Grower? Try Northern Lights Auto
Just like its photoperiod version, Northern Lights Auto produces typical Indica effects with a strong couchlock while melting any stress and anxiety away. Moreover, it's a very tough autoflower that thrives in harsh climates when grown outdoors. It also resists both mold and pests like a champ and is generally easy to grow, making it ideal for novices.
Tired of the Same Old Sativas? Try Sour Diesel Auto
The only Sativa-dominant hybrid in our release, Sour Diesel Auto is named for its pungent flavor profile that smells like diesel and lingers in the air after you've lit one up. This strain boasts THC levels well above most other Sativa strains (22-25%), providing an energizing head rush that promotes creativity and elevates the mood.
Why wait any longer? Fill your cart and head to checkout before it's too late – but don't forget about our gifts and bonuses! We're really proud of this new series and excited to learn what you think of them. Tell us about your grow and what genetics we should develop next in the comments below!
Herbies Head Shop expressly refuses to support the use, production, or supply of illegal substances. For more details read our Legal Disclaimer.