Whether you've been on your feet all day or you're simply looking for a relaxing way to spend a lazy afternoon, a hot and steamy soak in the bath is an awesome stress reliever. So is cannabis. Put these two things together, and you've got marijuana bath bombs – a perfect recipe to let your worries melt away!
Bath bombs boast excellent skin benefits. Pretty much all bath bombs contain two base ingredients: sodium bicarbonate (baking soda) and citric acid. Together, they help to cleanse and repair the skin. Moreover, citric acid has exfoliation and antioxidant properties, which is why it's used in many skincare products.
Canna bath bombs combine the power of terpenes – which are abundant in essential oils – and cannabinoids to facilitate the entourage effect, enhancing their benefits. The body-relaxing effects provided by THC or CBD-infused bath bombs, in conjunction with the heat of the water, can help ease tension and reduce inflammation.
The beauty industry has recently begun exploring cannabis in a variety of ways, including in the form of marijuana bath bombs, so you can order these fizzies online if you don't have time to make them yourself. In this step-by-step guide, we'll show you how to make THC bath bombs at home.
How to Make THC-Infused Oil
First off, marijuana needs to be decarboxylated (heated to activate the THC in the buds) and processed in a form that can penetrate your body through the skin. This is why our cannabis bath bomb recipe cannot do without marijuana-infused oil. You can either purchase this at your local dispensary or brew a batch at home. There's room to experiment: choose a high-THC, high-CBD, or balanced-out strain to see how it hits you!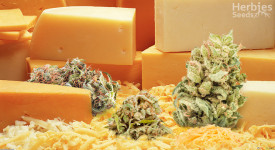 Cheese Cannabis Strains – An Expert Guide to the Top 10 Varieties
READ NOW
If you want to make your marijuana bath bombs completely DIY-style, here's a guide on how to do this in 10 easy steps. We recommend choosing a strain that smells good and is fragrant so that the oil you get smells equally great.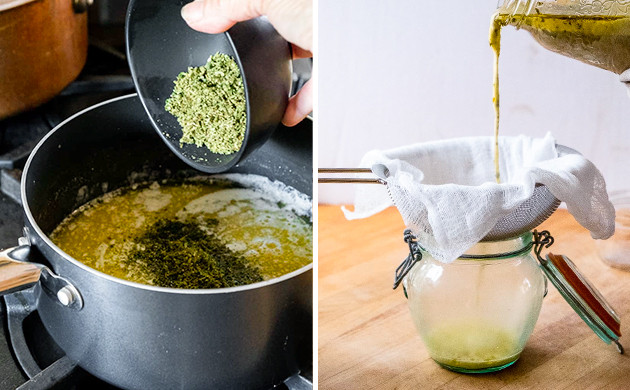 Heat your oven to 240ºF (115ºC).
Grind or break up 7 grams of cannabis into small pieces.
Place the ground cannabis evenly on a baking tray.
Heat for 30-40 minutes.
Set up a double boiler. If you don't have one, fill a pot halfway with water and place a heat-safe bowl on top. The bowl should fit in the pot without touching the water.
Add 1 cup of high-quality cooking oil of your choice to the double boiler or pot and simmer on low for 2-3 hours. The temperature of the oil should stay between 160-180ºF (70-80ºC).
Add the decarbed cannabis and stir.
Continue to steep at the same temp for 2-4 hours, stirring occasionally.
Put a mesh strainer or cheesecloth over a glass jar/bowl and pour the oil and weed mixture slowly through it.
Store the oil in an air-tight container (glass will help it last longer than plastics) at room temperature in a cool, dark place.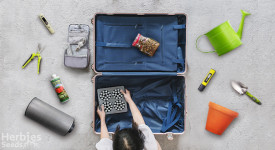 What You Need to Start Your Cannabis Cultivation Journey
READ NOW
Ingredients
After you've bought or made THC oil, it's time to check out the other ingredients necessary for our cannabis bath bomb recipe. Here's what you'll need:
3 tablespoons of cannabis-infused oil
1 tablespoon of coconut oil (olive oil will do if you don't have coconut oil)
1 cup of baking soda
½ cup of citric acid
½ cup of Epsom salts
½ cup of cornstarch
1 teaspoon of water
These are the basic ingredients, but you can unleash your creative spirit with this recipe. If you want to add a smell you like, use 1 teaspoon of essential oil. The scent is entirely up to you, but a good go-to aroma is lavender. If you want to add color to your marijuana bath bombs, use 5 drops of food dye.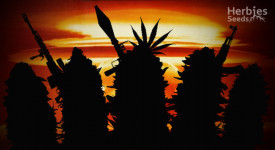 5 Strongest Sativa Strains
READ NOW
Equipment
Large mixing bowl
Another bowl
Stirring spoon
Measuring cups and spoons
Rubber gloves
Cellophane bags
Bath bomb molds of your choice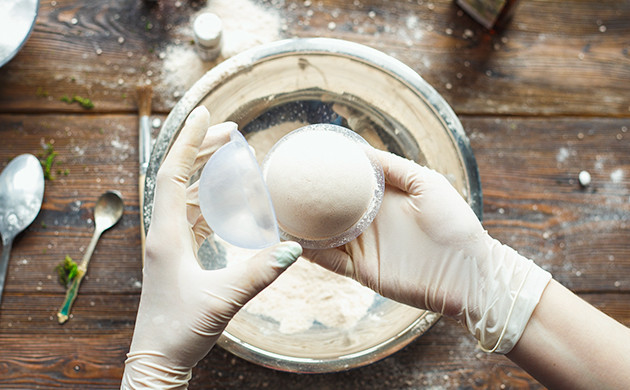 Instructions
Mix all the dry ingredients in a large bowl and whisk well.
Mix all the liquid ingredients (except food coloring) in another bowl.
Begin stirring the oil and water into the dry ingredients with the rubber gloves on your hands, whisking as you go. If you're using food dye, add it now. Knead slowly so that the mixture doesn't fizz prematurely.
Knead until the mixture feels like wet sand with minimal foam. If you're using coloring, it should be evenly distributed. To test out the texture, squeeze a small amount of mixture into your hand. If it doesn't stick together in big chunks once you release your hand, add a couple of drops of water.
Carefully pack and overfill each half of the bath bomb mold, but not too densely.
Press the halves together firmly and hold for a few seconds.
Allow the mixture to firm up for 20 minutes before gently removing the molds.
Let the bath bombs sit out for at least 24 hours before use.
When dry, wrap each bath bomb tightly in a cellophane bag and store them in the fridge.
Pop one into your next bath and enjoy!
What Are the Effects?
THC-infused bath bombs probably won't get you high in the usual sense of the word – that is, not as much as if you smoked or ate it. You can expect to feel a relaxing body high that can distantly resemble the kind of couch-lock effect you'd get from consuming an Indica-heavy cannabis strain.
The reason for this is that cannabinoids can't make it to the bloodstream through our super-strong skin barrier. However, skin does absorb THC and CBD through the epidermis or hair follicles to provide localized effects.
Once absorbed through the skin, cannabinoids provide relief from inflammation, itching, and stiffness, among other symptoms. Brands that sell THC-infused bath bombs suggest soaking in the tub for at least 20 minutes for a soothing, wholesome experience.
Now that you know how to make THC bath bombs, what are you waiting for? Get your ingredients and off to the kitchen!
Herbies Head Shop expressly refuses to support the use, production, or supply of illegal substances. For more details read our Legal Disclaimer.