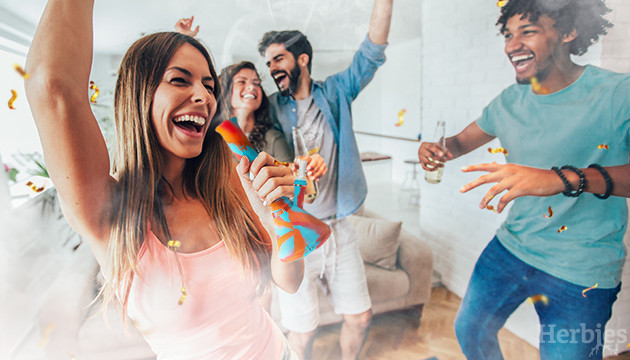 It's becoming a joke that there seems to be a cannabis strain for every medical condition, personal issue, or special occasion. It's no wonder that pot smokers who are anxious in social situations are scouring dispensaries in search of the best strains for social anxiety. But does marijuana have any bearing on how you feel around people? And are there especially effective cannabis strains for social anxiety? To both questions: a resounding 'hell yeah!'
Does Marijuana Help With Social Anxiety?
The cannabis plant is unique in that it produces THC, CBD, and other cannabinoids, and probably all of them affect our mood and perception, including the perception of ourselves. Moreover, marijuana buds are full of terpenes – volatile aromatic substances – some of which also affect how we feel (that's why aromatherapy can be so efficient).
Different strains have different mixes of these substances, producing unique psychoactive effects, and some strains can help us deal with social anxiety; they make us more talkative, boost our ego, fill our minds with brilliant ideas, or simply allow us to live in the moment and love ourselves and others. In short, some strains are social strains and others are not.
Should I Choose Indica or Sativa for Dealing With Social Anxiety?
The Indica/Sativa classification is so deeply rooted in the cannabis community (though not necessarily scientific) that we should mention it here. It's believed that Sativas go for the head and Indicas go for the body, while hybrids start as one and morph into the other.
This is more or less true, so a Sativa makes a prime candidate for party weed, as this is exactly the kind of weed that makes you talkative, creative, high-energy, and spirited. Indicas, on the other hand, tend to turn you into more of a couch potato, and sitting on a couch waiting for someone to approach you first isn't the best recipe for social success.
On the other hand, when it comes to social anxiety, a lot depends on the specific THC-to-CBD ratio in a strain, and this isn't really influenced by the Sativa/Indica composition. THC – when taken in small doses – definitely eases anxiety, but keep smoking and it will actually make you more anxious. CBD softens the 'edge' caused by THC, so high-CBD varieties are perfect candidates for the best social strains.
Many people praise strains with a 1:1 or 2:1 THC-to-CBD ratio, but again, their particular genetic composition has no bearing on that. So, if you're wondering whether to buy a Sativa or an Indica for social anxiety, you won't know for sure what works best until you try a specific strain yourself.
The Best Weed Strains for Socializing
Social anxiety has many causes, and our list of the best strains for social anxiety tries to be as comprehensive as possible, with each of these best social strains dealing with a specific issue.
Gorilla Punch Auto
Afraid to appear dull and uninteresting? Try Gorilla Punch Auto to enjoy a perfect balance of cerebral and physical effects, where you'll find inexhaustible topics for conversation while your body feels warm, fuzzy, and shielded from any anxiety. The 26% THC that this weed offers means you can get high from just one hit and share the rest of the joint with your companions – and that's when things get truly hilarious.
Moby Dick Auto
Moby Dick Auto is a party weed for the ages. This 22% THC-fueled smoke is the closest thing to a social lubricant that you can get without getting wasted. Share these fragrant floral and herbal buds with your friends and you'll never tire of each other's company. Smoke them with strangers and they'll become your friends. If this isn't one of the best party strains out there, we don't know what is.
Franco's Lemon Cheese
The lemon smell of this strain alone can lift your mood and give you a positive outlook on life, but just wait 'til the cheese-tasting smoke hits your brain with its 21% THC! You'll get a jolt of energy and a desire to be around people and share your thoughts and feelings. Loved for both its terpene profile and its effects, Franco's Lemon Cheese can compete equally well in the 'most aromatic weed' and 'best weed for socializing' categories.
Smoothie Auto
Smoothies and parties are made for each other, and Fastbuds' Smoothie Auto is no exception. Bring some to a gathering of friends or perfect strangers, and this mango- and blueberry-smelling smoke will serve as a great icebreaker, followed by the loveliest fun that these 23% THC buds produce. With its intense euphoria in the head and body, this is exactly the type of weed that makes you talkative and anxiety-free.
Dance World CBD
Putting yourself in a mood with weed isn't always a good idea when going to a club. Too much THC can make you too tired or self-conscious and ruin the whole experience. So why not try Dance World CBD? This Sativa-dominant hybrid offers a medium 12-15% level of THC but also just as much CBD, which is truly incredible. One substance will gently stimulate your mind, the other will take the edge off this stimulation and soothe your body. You may spend long hours feeling uplifted yet totally relaxed with no anxiety whatsoever.
Fruit Punch
With its very name hinting at one of the risks of social gatherings, Fruit Punch is probably the best weed for socializing. Whether you're afraid of your shyness or need to go to that boring team-building event, this Sativa-dominant weed will give you enough energy and great spirits to nip any social anxiety in the bud. This delicious, complex-tasting smoke with woody, earthy, and dozens of other notes contains 22% THC and just enough CBD to mellow it all out.
Californian Orange
Hippies in the '70s were the epitome of chill, and Californian Orange was the exact thing those laid-back free spirits were smoking. This old-school strain with a loud taste of freshly peeled oranges has remained unchanged over the decades. In fact, it's gotten even more potent thanks to some selection efforts, so make sure you can handle its 22-26% THC. Provided you stick to moderate doses throughout the day, this smoke will keep you clear-headed, motivated, and euphoric without a trace of a couchlock.
CBD Crack Auto
Many cannabis aficionados hate strain names that have something to do with hard drugs, but those often sum up the character of the high perfectly. Have you ever seen a crackhead riddled with social anxiety? With CBD Crack Auto, you're just as unlikely to feel shy around strangers. This Sativa hybrid has an equal amount of THC and CBD (about 7% of each) and produces effects that are strong enough to be felt for hours without getting in the way of your active lifestyle. You'll be focused, 'together', and comfortable in any social setting.
New York Diesel Auto
Cerebrally invigorating and mildly sedating at the same time, New York Diesel Auto is a go-to strain for people who often land in social situations that they find threatening but wish to enjoy. Your mental agility, laser-sharp focus, and creativity will allow you to be totally in control, while a warm glow in your body will boost your confidence. Besides these epic effects, New York Diesel Auto is also beloved for its pungently gassy and citrusy taste.
Gelato Auto
Among the best party strains out there, Gelato Auto stands out for its remarkable potency that reaches a staggering 26% THC in the best-grown samples. Apart from that, there must be a whole mix of lesser natural chemicals that, taken together, produce an effect that's as soothing to your nerves as it is powerful. Inhale just a little of this fruity and creamy smoke and you'll feel high for hours, with a personality that's chatty, friendly, sincere, and creative – in short, the life of the party.
Tips for Using Marijuana When You Have Anxiety
No matter which strain you choose from our list above, keep in mind a few simple tips that'll help you ease your social anxiety with weed.
Remember the dual action of THC: in smaller doses, it calms your nerves while lifting your spirits; however, in larger doses, it can reverse things, all the way to a full-blown panic attack or a fit of paranoia. If you're prone to anxiety and are afraid that marijuana will make it worse, use it in familiar surroundings and in the company of people you trust. Whenever possible, choose CBD-rich strains over high-THC ones. Happy experimenting, y'all, and stay anxiety-free!
Herbies Head Shop expressly refuses to support the use, production, or supply of illegal substances. For more details read our Legal Disclaimer.