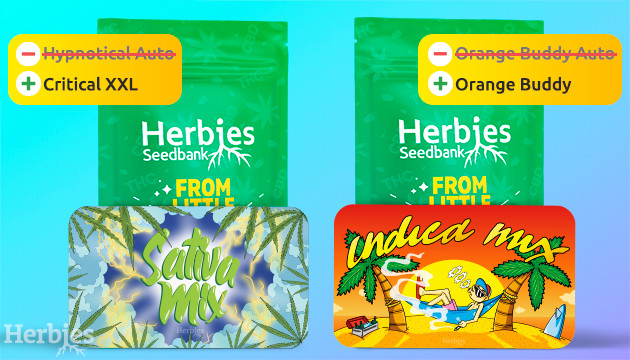 At Herbies, we never stop experimenting with our offers to see which strains are best suited for our awesome customers. Today, we're thrilled to present our updated mixes of Indica and Sativa seeds with a slightly different line-up – now even more stunning than before!
Indica Mix: Greater Potency
Indica Mix (Herbies Seeds)
Herbies' Indica Mix now comes with Critical XXL seeds instead of Hypnotical Auto. Critical XXL has similarly relaxing and euphoric effects and carries a familiar terpene profile, but it offers greater potency (24-27% THC compared with 21-26% in Hypnotical Auto).
It gets even better – as a photoperiod strain, Critical XXL brings more bountiful harvests that are guaranteed to deal critical damage to your scales. At up to 600 g/m² (2 oz/ft²) indoors, the yields are almost 20% higher.
Sativa Mix: Higher Yields
Sativa Mix (Herbies Seeds)
Sativa fans won't mind the changes either, as we've swapped out Orange Buddy Auto in the Sativa Mix for its photoperiod version, Orange Buddy. The potency remains the same at a whopping 22% THC, but Orange Buddy is even more impressive when it comes to yields.
This weed produces 500-700 g/m² (1.6-2.3 oz/ft²) indoors and 800-1000 g (1.8-2.2 lbs) per plant outdoors – that's up to 20% more bud inside and up to 70% more out!
Apart from these edits, the two mixes remain the same. Our Indica Mix now includes Za-Za OG, Philosopher's Stone, and Critical XXL strains, while the Sativa Mix has Choco Thai, Yuzu Fantazy, and Orange Buddy seeds inside.
Whether you're growing at home or outdoors, these refreshed mixes will make a great addition to your collection – place an order today and grow your own Indica or Sativa grove in your garden!
Herbies Head Shop expressly refuses to support the use, production, or supply of illegal substances. For more details read our Legal Disclaimer.