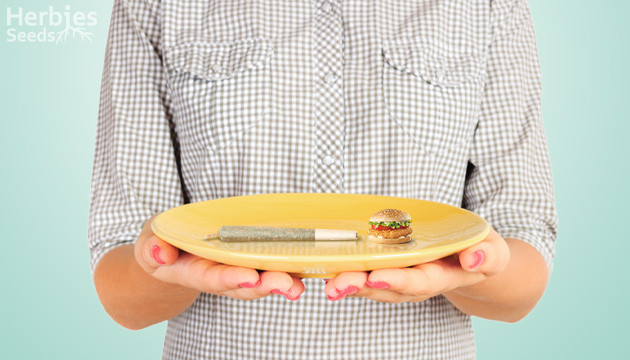 It's almost magical how marijuana helps with appetite stimulation. This can be particularly helpful for smokers who are dealing with issues related to cancer, depression, eating disorders, and other conditions. For other people, the munchies that accompany getting high can be a total deal-breaker. Whatever the reason, you can still get high without clearing out your fridge by checking out these weed strains that don't make you hungry!
Why Do Some Strains Make You Hungry While Others Don't?
So you might be wondering: what's the deal with getting the munchies, anyway? What is it about marijuana that ignites the desire to practically inhale anything sweet or salty in sight? It turns out that there's a scientific explanation for this phenomenon.
THC, the main cannabinoid in cannabis, resembles chemicals in the brain that control hunger and food enjoyment. That's why food tastes better when you're high and why you're reaching for that second helping. Typically, strains more potent in THC can lead to the munchies.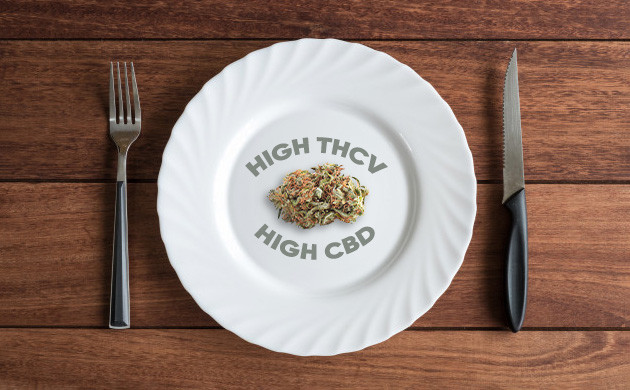 As for cannabis strains that don't make you hungry, there are a couple of other cannabinoids to look out for. Strains high in CBD don't bring on the munchies like THC-rich strains do, and CBD even counteracts some of the effects of THC. Another lesser-known cannabinoid is THCV, which actually suppresses appetite. THCV only appears in small amounts in marijuana, but is more abundant in African Sativas.
High CBD Seeds
VIEW ALL
Anti-Munchies Tips
Right off the bat, there are a few measures you can take to avoid eating a whole tub of ice cream after smoking a doobie:
A mug of piping hot coffee or caffeinated tea can do the trick. Pairing up your doobie with caffeine can curb cravings and lightly suppress the appetite.
By enjoying a full, healthy meal before indulging in cannabis, you can completely avoid getting hungry post-smoke sesh. Alternatively, swap out the candy and chips for fruits and veggies!
Finally, you can get ahead of the game and simply choose to smoke strains that don't cause the munchies!
Grow These Strains, Steer Clear Of The Munchies!
You can find marijuana strains that don't make you hungry by choosing strains that, besides THC, are also high in CBD or THCV. Keep an eye on strains' family trees too, looking out for Sativas and landrace African strains, which typically contain more THCV than cannabis strains from other parts of the world. Luckily for you, we've done the legwork and have compiled a list of the best strains that won't give you the munchies.
Durban Poison (Dutch Passion)
Photoperiod

Light feeling

16 - 22 %

500+ g/m² indoors
Go to strain
Durban Poison (Dutch Passion)
We're starting strong with a strain that's revered for delivering a wonderful high with no risk of the munchies: Durban Poison. This lady contains up to 22% THC, aided by THCV content ranging from 0.2-1.8%. A little bit goes a long way with THCV, so you can enjoy the pure African Sativa euphoria that accompanies Durban Poison's spicy and floral flavors.
Blue Dream (Garden of Green)
Photoperiod

25 %

Lasting clear cerebral and energetic

500 g/m² indoors
Go to strain
Blue Dream (Garden Of Green Seeds)
Also a cannabis classic, Blue Dream is a Sativa-dominant hybrid popular for her blueberry flavors and massive harvests. Although quite powerful considering the 25% THC content, this lady's 2% CBD levels can help counteract the cravings that usually come with such potent strains. Still, it's best to enjoy Blue Dream in small doses to avoid accidental munchies.
CBD Lemon Potion Auto (Barney's Farm)
Autoflowering

Inhaling health

15 %

400 g/m² indoors
Go to strain
CBD Lemon Potion Auto (Barney's Farm)
CBD Lemon Potion Auto has a 1:1 ratio of THC to CBD content, both clocking in around 15%. Such a lovely hybrid is an excellent choice for daytime use, without worrying about getting so hungry that you ruin your appetite before dinner! The perfect balance between THC and CBD leads to a relatively mild yet totally relaxing and happy high.
Girl Scout Cookies (Garden of Green)
Photoperiod

28 %

Creative euphoria

450 g/m² indoors
Go to strain
Girl Scout Cookies (Garden Of Green Seeds)
Next up is Girl Scout Cookies, a strain that's a treat in itself! Kush genetics combined with Durban Poison makes for a powerfully potent high. You'll have far too much creative energy from GSC to linger on the idea of food. Besides, this strain's deliciously sweet flavors of blueberries, cherries, and baked goods will easily satiate your sweet tooth.
CBD Blue Shark (Barney's Farm)
Photoperiod

Dr. Tenderness

16 %

550 g/m² indoors
Go to strain
CBD Blue Shark (Barney's Farm)
Quite the refreshing smoke, CBD Blue Shark is sweet and citrusy with dense, resinous buds. The equal ratio of THC to CBD (16%) makes this strain a great pick for medicinal marijuana users who don't need to worry about appetite loss. Whether you're just trying to relax or are hoping to manage symptoms of pain or nausea, a smoke session with CBD Blue Shark is always a tranquil experience.
Jack Herer (GHS)
Photoperiod

20.94 %

Powerful multidimensional impact

800 g/m² indoors
1200 g/plant outdoors
Go to strain
Jack Herer (GHS)
Another all-star hybrid, Jack Herer packs a punch with 21% THC and small amounts of both CBD (0.12%) and CBN (0.04%). What makes this strain good against the munchies? First of all, don't be deterred by Jack Herer's Indica-leaning lineage – the effects after consumption are distinctly energetic and creative, and the high remains smooth yet stimulating throughout. With an incredibly satisfying terpene profile that becomes evident in this strain's hints of citrus and spice, Jack Herer is one of the best-flavored weed varieties out there!
Ahh… A Munchie-Free High!
Hey, it's not like there's anything wrong with the munchies! Stoners may have a love-hate relationship with this particular side-effect of cannabis, especially when trying to cut down on calories or just save room for dinner. It's totally okay to treat yourself here and there, but we understand wanting to get high without finishing a whole bag of chips! Hopefully, this list of cannabis strains that suppress appetite will give you an idea of what seeds to grow next to go munchies-free.
Herbies Head Shop expressly refuses to support the use, production, or supply of illegal substances. For more details read our Legal Disclaimer.