Lemon Pie Auto feminized seeds
Description
Lemon Pie Auto Strain Info: A Champ In All Categories
If all autoflowering strains were made like FastBuds' Lemon Pie, the only thing that photoperiod weed would be left to do is bite the dust. This champion of a strain slays the competition in every category – see for yourself.
Smoke Characteristics: Zesty Smell And Taste
FastBuds once again proves that they're the ultimate masters of exceptional taste, because flavor-wise, you're getting exactly what you imagine with a name like Lemon Pie. Each inhale is enveloped in herbal citrus that gives you the impression of a freshly zested lemon. The exhale, on the other hand, is all pine soil and fragrant cinnamon. The combination of the two creates a sweet and silky doughy aroma that you won't ever get tired of.
A Balance Of Varied Effects
As with the balanced mix of tart lemon and creamy crust, the effects of Lemon Pie also exist in perfect harmony. Smoke it as much as you can and you won't get couch-locked. Instead, you'll find yourself with a cerebral, clear-headed high, while every muscle in your body will be as relaxed as if you've just had a great massage.
Growing Lemon Pie Auto: High-Yielding, Low-Maintenance, And Beautiful
Lemon Pie is a true piece of eye-candy that instantly becomes a favorite of growers for its mesmerizing appearance. The plant is a glistening kaleidoscope of purple, reddish, orange, and green hues swirling together in a whimsical dance. The top of its cola is large and fluffy, carrying the weight of its 450-550 g/m 2 (1.47-1.8oz/ft2 ) yields. Its strong genetic profile gifts this cannabis strain with enough sturdiness to hold all of these tasty buds while never falling over or bending. Lemon Pie would therefore be a perfect choice for novice growers who want to harvest plenty without too much hassle. There are only a few tips one should follow to achieve maximum yield of the best quality:
Use bigger pots. Lemon Pie requires at least 15 liters (4 gallons) of soil to provide the biggest yield.
Fastbuds recommends keeping the pH at a constant 6.5 for their autoflowers to avoid any nutrient intake-related problems.
Flush Lemon Pie for (at least) the last week of flowering to enhance its flavors and aromas.
For improved yields, use LST to let the light into the dense bud sites.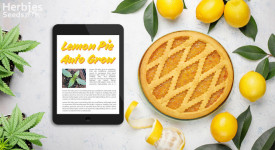 Lemon Pie Auto Grow Report
Super Quick Flower Time Of Lemon Pie Auto Seeds
Lemon Pie finishes in just 63 days from seed. Use this great trait to your advantage and germinate the second round of seeds a week prior to harvesting the first crop. Such a quick turnaround, together with the bag appeal of this marijuana strain, makes Lemon Pie by FastBuds a perfect catch for commercial growers.
Characteristics
*Herbies sells cannabis seeds exclusively as souvenirs that aren't meant for cultivation or germination. Customers should be aware that the germination of cannabis seeds is illegal in most countries. Herbies sells cannabis seeds exclusively for collecting and preservation for future generations. We advise customers to check with their local laws before germination, as Herbies does not accept responsibility for the illegal use of our products.