Mimosa EVO (Barney's Farm)
Mimosa EVO feminized seeds
Netherlands
Mimosa Evo is a feminized cannabis strain from Barney's Farm exploding with character, flavors and aromas. A beautiful Sativa-dominant plant, Mimosa Evo delivers energizing and euphoric effects that make it perfect for daytime use – although THC amounts can be extremely high, so newbies should tread carefully. Its uplifting personality is given an extra boost thanks to its fruity, citrusy aroma and delicious lemony and berry taste.
Read more
Barney's Farm
Feminized
Photoperiod
Outdoor
Indoor
40% Sativa / 60% Indica
THC 24 - 26 %
All characteristics
Mimosa Evo: A High That Will Perk You Up
Mimosa Evo is a feminized cannabis variety with a spectacular and uplifting high. THC levels are usually around 24% to 26%, but can at times push 30%, so inexperienced users should go slow. Those who take Mimosa Evo in stride will enjoy a high that's both energizing and euphoric, giving them plenty of energy to tackle the day. While the strain is a heavy hitter and appropriate for some medicinal users, its uplifting nature means that bad psychoactive experiences are rare (unless, of course, you overdo it).
Prepare Yourself For Some Tropical Flavors
Mimosa Evo is a truly delicious Sativa strain, perfect for those who love their cannabis with tropical and zesty flavors and aromas. There's a strong note of fruit punch and tangerines when you first smell Mimosa Evo, and the taste is similarly tropical, with intense hints of lemons and berries. The flavors and aromas will have you feeling like you've drifted off to an island in the South Pacific, leaving all your cares behind.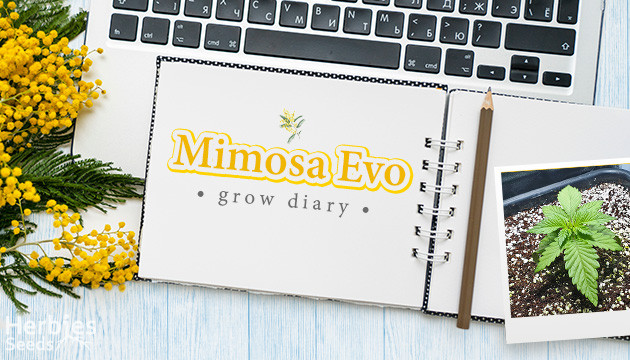 Prepare For Massive Harvests With Mimosa Evo
The yields produced by this feminized cannabis strain are truly gargantuan, whether grown indoors or outdoors (although outdoor grows will obviously be bigger). The plant is ready for harvest in early October, or after 65 days plus flowering time when grown indoors.
Expect indoor yields of 700g/m2 (2.29 oz/ft2) and outdoor yields of up to 2000g (70.5 oz) per plant.
Plants can reach up to 220cm (7'3") outdoors, and require plenty of space or training indoors.
With large purple leaves and big, frosted buds, this plant is very visually appealing.
It's a fairly easy plant to grow so long as measures are taken early to account for its abundant yields.
Mimosa Evo: Genetics With Lots Of Fruity Flavors
Mimosa Evo is a feminized marijuana strain that's a cross between Purple Punch and Clementine. Both impart on Mimosa Evo its sweet taste and aroma, although its zesty, citrusy side comes mostly from its Clementine parent. Purple Punch, meanwhile, gives Mimosa Evo some excellent Indica genetics with its pleasant body high, which nicely complements Clementine's more euphoric and energizing characteristics. The result is a perfect marriage of two high-quality strains that users are sure to appreciate.
Characteristics
Brand

Barney's Farm

Sex

Feminized

Flowering type

Photoperiod

Suitable for

Outdoor

Suitable for

Indoor

Effect

Laughing buddha

Genetics

Mimosa x Orange Punch

Height

80 - 90 cm indoors180 - 220 cm outdoors

Yield

700 g/m² indoors
2000 g/plant outdoors

Flowering indoors

65 - 70 days

Outdoor finish

October

Genotype

40% Sativa / 60% Indica

THC

24 - 26 %