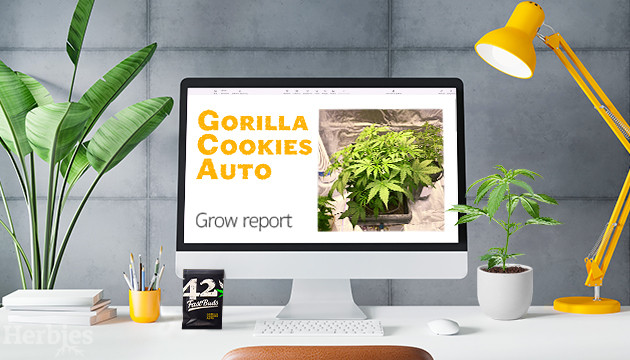 Greetings, growmies! In this review, I'm going to summarize my recent Gorilla Cookies Auto grow diary. It's been one of my most successful grows yet, as this incredible strain let me harvest a little over 19 ounces (543 grams) of perfect bud in 63 days from seeds. It was an incredible experience!
I grew just one Gorilla Cookies Auto (Fastbuds) indoors in a 4x4 grow tent, which she was sharing with two other autoflowers. The tent was equipped with SpaceLED lights (primary and supplementary), which I dimmed when needed and used at the full capacity of 400W at the height of budding. As you'll see from my Gorilla Cookies Auto review, this plant is amazing in all respects.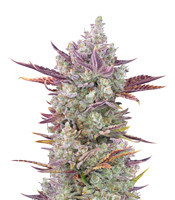 Gorilla Cookies Auto
VIEW STRAIN
Rapid and Vigorous Vegetative Growth
I germinated my Gorilla Cookies Auto the normal way, and I advise everyone to use the easy and reliable paper-towel method because you can monitor if the seeds have already germinated and grown a taproot long enough (1cm) to plant it in the medium.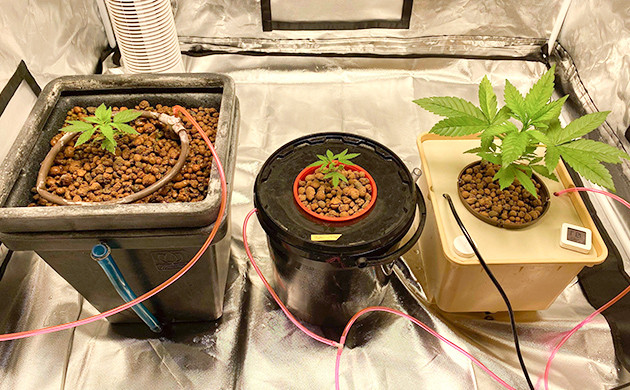 I used coco coir and an automatic drip system for watering. If you try this once, you'll never go back to soil and manual watering because the plants get several fertigations a day, have enough oxygen for the roots to breathe in the intervals, and consequently grow like crazy.
Ideal Plant for High-Stress Training
You wouldn't be surprised that my Gorilla Cookies Auto didn't skip a beat, no matter how much stress I used to train the plant. She just kept popping new fan leaves and side shoots like nothing.
I topped her in the second week, and the two new tops started to develop right away, as if that had been the plan all along. I didn't let my three ladies stretch – by keeping my LED light at a short distance (first 45cm and then 35cm) – and gave them 18 hours of full-spectrum lighting a day.
The Power of Frequent Fertigation
My Gorilla Cookies Auto was insanely leafy and branchy. It would be a hassle to reach under all that foliage to hand-water her, but, as I said, she was getting her food and drink from the automatic drip system. I won't bore you with the exact details of feeding her. You all probably know that cannabis needs a nitrogen-rich diet in veg – with much less phosphorus and potassium – as well as all the micronutrients, of course. For that, I was giving her GHE FloraNova Grow and Flora Micro.
Later, I would extend the diet with G.O. Thrive Bloom to give the root system the benefits of microbial life. The beauty of coco is that the root ball stays relatively small in volume, but it gets water and nutrients several times a day so it can feed a very large plant. My Gorilla Cookies Auto would go on filling the better part of the grow tent and bring me more bud than I could've hoped for, but I achieved all that with just a 5-liter bucket.
Carefully Controlled Conditions Make All the Difference
I learned long ago how important it is to control the environmental conditions and nutrient solution characteristics. I let pH fluctuate between 5.8 and 5.9 in veg and climb up to 6.2 in flower.
I kept the concentration of nutrients rather low at first, which is not only the safest but also conducive to the weed's rapid growth. I started with just 400ppm, then slowly raised this number to 650ppm throughout veg, and when my Gorilla Cookies Auto started flowering and got really hungry, I upped the dosage all the way to 1300ppm in the last two weeks before the final flush.
I also made sure that it was neither too cold nor too hot in the tent (with the temps hovering around 24-25°C and sometimes climbing a bit higher), and that the temperature drop at lights-out wasn't too radical – about 5 degrees. I used a humidifier to raise the RH level to a comfortable 65% in the seedling stage, then let it drop to 60% in late veg and to 50-55% in flower. It helped ensure good growth and bud development and safeguarded the plant from any mold issues.
Gorilla Cookies Auto Flowering Time
The first thing I did when budding began was to change the light to my new SpaceLED with its maximum capacity of 400W. I didn't shower my flowering plant with maximum light right away but instead used the dimmer and controlled the distance from the plant tops. My goal was to prevent too much stretching while also not stunting my autoflowers' growth. I used my PPFD meter and kept the intensity of light at 660 par in veg, 900 par in early flower, and about 1000-1280 par in mid to late flower. For ripening, I dialed down my LED again to just 600 par.
Of course, I also changed the nutrients to formulas that are rich in phosphorus and potassium and rather low in nitrogen. Moreover, I installed a ScrOG net – not so much to train the canopy as to provide support for side branches at the later stages of flowering. The buds indeed would become so big as to strain the branches to the point of breaking them, so the ScrOG was very useful. As for the central colas (there were a few), I probably should've put them under the net somehow because they would grow very tall – up to 130-140cm.
Probably one of the reasons that the stretch got out of hand was me using supplemental lights that were rich in reds, including the far red. They say using FR lights leads to stretching, but they also have UVB diodes that are supposed to make buds more resinous and potent. I was turning these auxiliary lights on for 2 hours every day, while my full-spectrum lights were running for another 16 hours.
In the final week, I only gave my girl plain water and Flawless Finish by Advanced Nutrients to get rid of all those built-up salts. Another thing that I like about growing in coco is that you don't need more than a week to flush your cannabis to perfection. In soil, it takes twice as much time.
By day 63, Gorilla Cookies Auto by Fastbuds was ready. Fast indeed. The buds were nicely stacked up, and they filled out tremendously in the last couple of weeks. Everything – calyxes, little sugar leaves, and even large fan leaves – was strewn with trichomes as thick as snow, and the smell was magnificent. By the way, the girl had started to smell strongly already by late veg.
Gorilla Cookies Auto Grow Tips
Looking now through my Gorilla Cookies Auto week-by-week journal and trying to figure out what I'd do differently, I realize that the grow was perfect, except maybe my failure to train the tallest colas. I should've used ScrOG to direct them sideways. Otherwise, you can safely follow my lead. Don't be afraid to top or FIM her because she's as hardy as photoperiod strains and will produce dozens of side branches full of first-rate buds.
Gorilla Cookies Auto also seems to like plenty of light and high doses of nutrients, but you can introduce both piecemeal and watch how she reacts. You'll surely need an efficient ventilation system and a carbon filter to provide good airflow into the thick and branchy canopy and get rid of the strong smell. But don't get me wrong – these grow tips don't mean you must follow them religiously to be a pro. I'm sure you can achieve good results with a basic setup and without any previous experience. Gorilla Cookies Auto is really just that good.
Final Thoughts
Gorilla Cookies Auto's grow time is incredibly short for such a huge and high-yielding plant, and the harvest she produces is top-notch. with enormous, bloated, and dense buds that are easy to trim and smell amazing. The smoke is sweet, with a refreshing fruity scent and notes of chocolate, and she produces Indica-dominant effects that will make you relaxed, giggly, and very hungry. In short, Gorilla Cookies Auto is rewarding both as a cultivar and a final product. Happy growing and smoking!