Critical Orange Punch feminized seeds
Description
Critical Orange Punch: High Yields And Resistance
Critical Orange Punch originates from the crossing of Kritikal Bilbo, Granddaddy Purps and Orange Bud. This cannabis strain is a high yielder of buds with potent euphoric effects and orange-like tastes.
After the initial crossing of Grandaddy Purps and Orange Bud, the yield sizes were low, so they introduced Kritikal Bilbo into the mix, enhancing capacity and producing an easy to grow and resistant cannabis strain.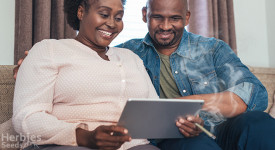 Critical Orange Punch Trip Report
She has the traits of an Indica but draws effects from her Sativa influence. The plant will grow with no problem indoors, outdoors and in greenhouses, with an average height of 1.5m. She has medium node distances and medium-sized leaves, with a predominant central cola. These properties mean she doesn't need much special care and grows under almost any conditions. For optimized cannabinoid production, flowering should last from 7-8 weeks and, and if grown outdoors, the breeder suggests scheduling harvest by late October. Expect yields of large buds, with citrus and hashish smell with the presence of skunk. Overall, Critical Orange Punch is in the High Times' Top 10 2018 varieties because of its hardiness, productiveness, tastes, and effects.
Pot size: At least 12L for high yields;
pH: 6.2 Vegetation/ 6.7 Flowering;
EC: 2.0;
Optimal Climate: Hot/Mild/Cold;
Fertilization: Average fertilization with moisture control.
Punches Your Senses With Incredible Orange Taste
The citrusy aroma of Critical Orange Punch hits you right in your senses. The strain packs a mouthful of hashish and skunky notes in its taste. Her effects are strong, euphoric, and long lasting, fitting for social gatherings and seeking out those private moments of joy.
Characteristics
*Herbies sells cannabis seeds exclusively as souvenirs that aren't meant for cultivation or germination. Customers should be aware that the germination of cannabis seeds is illegal in most countries. Herbies sells cannabis seeds exclusively for collecting and preservation for future generations. We advise customers to check with their local laws before germination, as Herbies does not accept responsibility for the illegal use of our products.