Bruce Banner Auto Feminized Seeds (FastBuds)
Bruce Banner Auto Strain Info
Bruce Banner Auto is an autoflowering variety from powerhouse breeder FastBuds. The strain's history proves to be reliable for vigorous growth, but beware – you'll need space for her to flex! The Sativa-dominant hybrid is just as powerful and potent in her effects, which is just one reason this heavy-hitter is becoming one of the most popular strains out there among growers and consumers alike.
Flowering Time
Rest assured, you'll be kicking back with the beastly Bruce Banner Auto before you know it. The strain's typical flowering time is just 10-11 weeks, as the plants quickly pack on weight.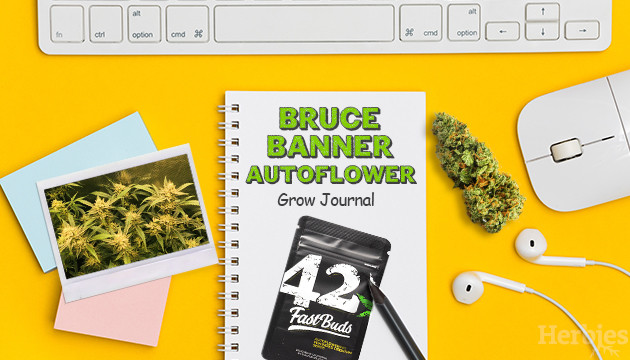 Bruce Banner Auto Grow Journal
Yields
Speaking of weight, get ready to be shocked by Bruce Banner Auto's maximized yields, especially when growing indoors, where you'll harvest anywhere from 450 to 600g/m2 (1.5-2 oz/ft2). In outdoor environments, expect to be blown away by 50-200g (2-7oz) per plant.
Effects
If you're looking to transform into your superhero self, you should know that Bruce Banner Auto is perfect for early AM wake-and-bake sessions. You'll gain a morning focus that's ideal for tackling tasks while feeling totally stress-free. The strain delivers fast-acting effects, with a rush of euphoria upon your first hit. As Bruce Banner Auto uplifts the mind and alleviates anxiety, its body buzz soothes discomfort and pain, hence the strain's rising popularity among medical as well as recreational consumers.
THC And CBD Levels
No powerful strain comes without powerful levels of THC. Bruce Banner Auto is no different, boasting impressive THC levels of up to 25%. On the flip side, Bruce Banner Auto is weaker when it comes to its non-psychoactive counterpart, CBD, with less than 1% in most phenotypes.
Smell And Taste
Bruce Banner Auto doesn't stop impressing with its potent effects. The strain is quite aromatic and bursts with a terpene profile of classic scents. Bruce Banner Auto's sticky nugs are pungent with gassy diesel aromas, along with undertones of fruity berries that'll satisfy your sweet tooth. On the hybrid's smooth exhale, you'll be treated to a hint of zesty citrus for a refreshing finish.
Grow Tips
The sky's the limit for Bruce Banner Auto – and you'll certainly need to keep its height in mind. The strain consistently grows to 110-150cm (43-59 inches), whether you grow her indoors or out. In terms of growth patterns, Bruce Banner Auto is an ideal blend of Indica and Sativa traits, with a bushy, hefty shape that packs on the weight. Here are a few tips to follow for ultimate growing success:
Practice ScrOG techniques or staking to space out branches and maximize light exposure, leading to maximized yields.
Prepare for an unusually sticky harvest, and be sure to save the resin-coated sugar leaves for making concentrates.
Bruce Banner Auto Seeds
Herbies is the premium online source for cannabis seeds you can trust at prices you'll love, so get your hands on a super strain like Bruce Banner Auto. Buy now and experience the Herbies difference, with discreet shipping and quality service.
Characteristics
*Herbies sells cannabis seeds exclusively as souvenirs that aren't meant for cultivation or germination.
Customers should be aware that the germination of cannabis seeds is illegal in most countries. Herbies sells cannabis seeds exclusively for collecting and preservation for future generations. We advise customers to check with their local laws before germination, as Herbies does not accept responsibility for the illegal use of our products.