Purple Punch feminized seeds (Barney's Farm)
Description
Purple Punch Strain Info
Purple Punch is a feminized photoperiod cannabis strain that's been a staple in North American dispensaries as a fruity, Indica-dominant cross between Granddaddy Purple and Larry OG – two Californian powerhouses with Indica-dominant and Sativa-dominant genetics, respectively. This has led to a sensational cannabis strain that delivers excellent results in a very short time!
Genetics
The strain's first parent is the famous Granddaddy Purple, or more simply GDP, that was bred by Ken Estes in 2003. This Indica got even more interesting with the addition of Larry OG genes, making the resulting cross equally potent but with a very easy and mellow high. With a lineage like this, Purple Punch is a must for every Indica lover.
Effects
Purple Punch provides a deep, relaxing couch-lock effect that stimulates the appetite, numbs various aches and pains, and makes you very happy and drowsy. Thanks to its anti-anxiety properties, it's also a great sleep aid.
THC And CBD Levels
This potent Indica has very rich cannabinoid content. Besides its 25% THC (a lot even by today's standards), Purple Punch also carries a hefty 2% CBD – probably the reason for such a pleasing and mellow stone.
Smell And Taste
It's becoming increasingly easy to find pleasant-tasting cannabis strains due to advances in breeding technology; however, Purple Punch is in a league of its own when it comes to smell and flavor. Its bright purple buds have a sweet taste of well-spiced apple pie with blueberries, or tends to remind one of cookies. Due to a great number of different terpenes, the flavor can be very complex and becomes only richer as the buds cure.
Yields
One of the great grandparents of this variety is Big Bud, which has bestowed its high yield potential on Purple Punch. Despite its small size, this Indica pushes indoor yields between 600-700g/m2 (2-2.3 oz/ft2). Outdoors, it grows large, has multiple branches and bud sites, and can bring in as much as 2kg (4.4lb) per plant.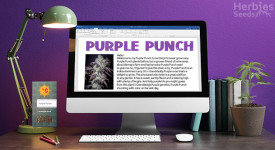 Flowering Time
Remarkably, Purple Punch produces its generous harvests in as little as 50-60 days when grown indoors. Outdoors, harvest is ready in late September.
Grow Tips
This versatile strain can be grown anywhere due to its excellent resistance to mold, pests, and other issues outdoor plants commonly encounter. Here is some more information about this strain:
It grows to a medium height of 90cm (2'11") indoors and up to 150cm (4'11") outdoors.
Expect very dense buds with abundant trichomes.
Bring out the strain's purple hues by exposing it to lower night temps.
Purple Punch Seeds
There's only one version of these seeds for sale – feminized. This is especially convenient if you grow your weed guerilla-style. Just plant the seeds in spring and come back in fall: your secret garden will be all-female, with no risk of pollination.
Characteristics
*Herbies sells cannabis seeds exclusively as souvenirs that aren't meant for cultivation or germination. Customers should be aware that the germination of cannabis seeds is illegal in most countries. Herbies sells cannabis seeds exclusively for collecting and preservation for future generations. We advise customers to check with their local laws before germination, as Herbies does not accept responsibility for the illegal use of our products.