Strawberry Amnesia feminized seeds (Herbies Seedbank)
Description
Perfect for: Thrill-seekers
Exceptionally euphoric effects
Invigorating head high
Exotic aroma
Genetics
A seamless blend of two all-time favorites, Strawberry Amnesia is the amalgamation of the legendary Strawberry Cough and the elusive Amnesia. This ingenious lineage cross created a new Sativa legend for the collection – one with a 75% Sativa dominance and just enough Indica to make this hybrid fan out beautifully in a thick display of sparkly, joy-inducing buds.
Flowering time
Thriving in the sunshine and soaking up the moisture of a tropical climate with ease, she's ready to harvest in a record time of just 65-75 days.
Yield
It is no surprise that her incredible height, reaching just under 3m (9'10) outdoors, makes way for massive yields of up to 1.2kg/plant (42oz/plant), or 700g/m2 (2,3oz/ft2) indoors!
Effects
The roller-coaster ride of Strawberry Amnesia will leave your head spinning with its energetic injection of cerebral psychoactive effects. With every hit, feel your spirits lifting higher and higher until you forget all your worries as you reach new heights. Her potent euphoria is unforgettable, giving you a vital boost of positive energy and leaving a hazy blanket of shimmering glow over your surroundings.
Smell and Taste
Along with its mind-boggling effects, this strain's exotic fusion of juicy aromas draws the senses in for a memorable flavor odyssey. Enticing you with a wild berry and citrus blast, her exciting terpenes explode on the tastebuds, rounded off exquisitely as hints of pine and smoked wood envelope your mouth on the exhale.
THC and CBD Levels
Strawberry Amnesia is a hard- and fast-hitting strain thanks to its 22% THC content. There's basically no CBD present in this variety, which helps THC work in full force.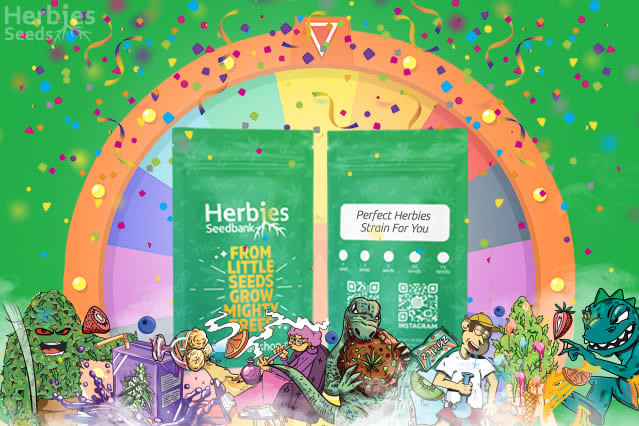 What Herbies Seed Is Right For You?
Grow Tips
A classic Sativa hybrid, Strawberry Amnesia grows tall and open-structured, leaving plenty of room for her glossy yield of thick, resinous buds to develop. To truly cherish this skyscraper strain, follow this grow info:
Make sure your Strawberry Amnesia feminized seeds have ample space to grow tall and fairly wide, allowing your buds enough sunlight exposure throughout the flowering time.
Due to her height, you may want to use some low-stress training for a more discreet grow, especially for indoor growers.
Get your carbon filter ready early, as Strawberry Amnesia may become quite pungent sooner than expected.
Strawberry Amnesia will also need a little extra help to develop her buds to their full potential, so be sure to feed her plenty of nutrients throughout the growing process.
Strawberry Amnesia Seeds
Strawberry Amnesia is a new variety that's soon to become the talk of the town! Buy Strawberry Amnesia seeds now and enjoy all the benefits of shopping at Herbies like free seeds, gifts, and stealth shipping!
Characteristics
*Herbies sells cannabis seeds exclusively as souvenirs that aren't meant for cultivation or germination. Customers should be aware that the germination of cannabis seeds is illegal in most countries. Herbies sells cannabis seeds exclusively for collecting and preservation for future generations. We advise customers to check with their local laws before germination, as Herbies does not accept responsibility for the illegal use of our products.