Strawberry Pie Auto feminized seeds
Description
Strawberry Pie Auto Strain Info
Strawberry Pie Auto is a beautiful rainbow Indica hybrid, maturing with many different hues of greens, pinks, purples, and reds with lots of orange hairs and an insane amount of glittering trichomes. A fantastic choice for hash lovers and commercial growers, her crazy potency, strong pungent red berry aroma, and beginner-friendly growing potential make for a truly enjoyable strain to cultivate.
Flowering time
As an Auto strain, you can expect fully-formed glossy buds in a flower time of just 8-9 short weeks.
Yield
Growing compact and bushy, Strawberry Pie Auto is a classic Indica hybrid yielding an impressive harvest of up to 550g/m2 (1.6oz/ft2) indoors, and up to 160g (6oz) per plant outdoors with very little effort.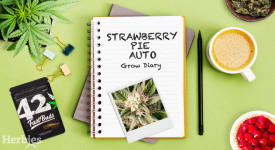 Strawberry Pie Auto Grow Report
Effects
Her Indica dominance and ultra-high potency, make her effects very well-balanced offering deep relaxation with a calm mental alertness. She is a great strain to kick back on the couch and play video games or read a book with a lovely relaxing body feel and just enough sedation to take the day's edge off.
THC and CBD level
One of Strawberry Pie Autos' greatest highlights is her insanely high THC content of up to 26% with CBD levels below 1%.
Smell and Taste
Topping this strain off is her exquisite terpene profile of delicious dessert flavors and stinky fuel undertones to grab your attention. Taste a complex combination of fruity, red berry, and fuel astringency on the inhale with creamy cookie dough and hints of pine on the exhale. It is truly unforgettable!
Grow Tips
Like a classic Indica, this strain grows solid and dense with thick fan leaves around one tall main cola and densely budded side branches. Growing nice and discrete at heights of up to 1m (3'3"), this pungent strawberry-scented plant develops into a colorful masterpiece of thick trichome-flurried flowers. To achieve the most productive yield out of your Strawberry Pie Auto plants, follow this grow info:
Because of her densely formed branches, we recommend using LST and pruning techniques to train your plant for better airflow and light coverage.
This strain doesn't like overfeeding so go easy on the nutrients.
Don't skip the flush for this strain! Flushing at least 7-14 days before harvest allows the colors and flavors to mature to their full potential.
Strawberry Pie Auto Seeds
Grow your new favorite after-dinner dessert with a pack of these heavenly Strawberry Pie Auto feminized seeds. Buy them online today for an irresistible price you won't regret!
Characteristics
*Herbies sells cannabis seeds exclusively as souvenirs that aren't meant for cultivation or germination. Customers should be aware that the germination of cannabis seeds is illegal in most countries. Herbies sells cannabis seeds exclusively for collecting and preservation for future generations. We advise customers to check with their local laws before germination, as Herbies does not accept responsibility for the illegal use of our products.