Wedding Cake Auto feminized seeds (Original Sensible Seeds)
Description
Wedding Cake Auto Strain Info
Wedding Cake Auto is an awesome Sativa-Indica-Ruderalis hybrid strain for those who are looking for something one-of-a-kind. Bred by crossing two marijuana soulmates with a Ruderalis, Wedding Cake Auto offers growers exciting traits never before seen in the cannabis world. This lineage is where the strain gets much of its incredible flavor from, creating something truly unique.
Genetics
You can enjoy a family tree with the likes of Wedding Cake, Girl Scout Cookies, Ruderalis, and Cherry Pie, working together to create the flavor medley from your dreams.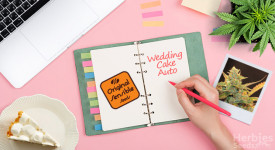 Wedding Cake Auto Grow Report
Flowering Time
This strain marches you down the aisle and introduces you to a bouquet of buds within a flowering time of just 65-70 days from germination.
Yields
Take home buckets of your fantastic yields, producing harvests of 450g/m2 (1.47oz/ft2) indoors and 150g (5.2oz) per plant outdoors.
Effects
With this beautiful autoflowering marijuana strain, you will be rewarded with thick layers of resin icing the top of your buds, making Wedding Cake Auto a nicely potent plant. With that, the effects are what will tie the knot, so expect a heavy dose of relaxation that will leave you glued to the couch in a blissful daze for hours and hours.
Happy
Medical Properties
With its highly relaxing and sleep-inducing properties, it's also an excellent choice for those dealing with severe insomnia.
THC Levels
You can credit Wedding Cake Auto's potency and effects to its excellent 20% THC content.
Smell and Taste
Wedding Cake Auto is all about showing off its deliciously sweet terpene profile – that's how it got its name, after all. The aroma is a divine combination of lemon merengue mixed with Madagascar vanilla and fresh cookie dough. Meanwhile, the flavors show off vanilla and citrus, with an interesting touch of woodiness. Prepare your palate for decadent layers of lemon sorbet, fresh vanilla sponge cake, exotic fruit, and candy-like subtleties for a total buffet of terpenes.
Grow Tips
Wedding Cake Auto is an autoflowering cannabis strain that will flower regardless of your lighting schedule. She's ideal for both indoor and outdoor setups and only grows to heights of 60-120 cm (23- 47"), making her good for discreet operations. Because of her fast flowering time, she's good for generating excellent harvests in a short amount of time. To grow this pearl of a plant, follow our grow info and watch her bloom:
To maximize your yields, the best method for growing her is the sea of green technique.
Her ideal lighting requirements include full sun, 600W HID, or an equivalent LED.
She's an easy strain to grow and well-suited for beginner cultivators.
Wedding Cake Auto Seeds
If you're ready to make this commitment, Herbies has what you need to take the leap! So, hear those wedding bells ring and buy a pack of Wedding Cake Auto feminized seeds for the grow season of a lifetime, and rest assured you will receive them safely and discreetly.
Characteristics
Brand

Original Sensible Seeds

Type of seeds

Feminized

Either autoflowering or photoperiod. Both have their pros and cons, but growing autos is easier.

Learn more

Type of seeds

Autoflowering

Suitable for growing

Indoor, Outdoor

Each strain produces a certain effect on your body. This is what you can expect from this variety.

Learn more

Effect*

Strong, well balanced

Genetic composition of the strain. Shows parent strains that were used to create this particular variety.

Learn more

Genetics

Wedding Cake x Girl Scout Cookies Auto

Height

60 - 120 cm

Harvest

600 g/m² indoors
150 g/plant outdoors

From seed to harvest

65 - 70 days

% Sativa/ Indica/ Ruderalis

Indica / Sativa / Ruderalis hybrid

The main psychoactive compound in cannabis. The higher THC level, the more potent the strain.

Learn more

THC

20 %
*Herbies sells cannabis seeds exclusively as souvenirs that aren't meant for cultivation or germination. Customers should be aware that the germination of cannabis seeds is illegal in most countries. Herbies sells cannabis seeds exclusively for collecting and preservation for future generations. We advise customers to check with their local laws before germination, as Herbies does not accept responsibility for the illegal use of our products.