Free Seeds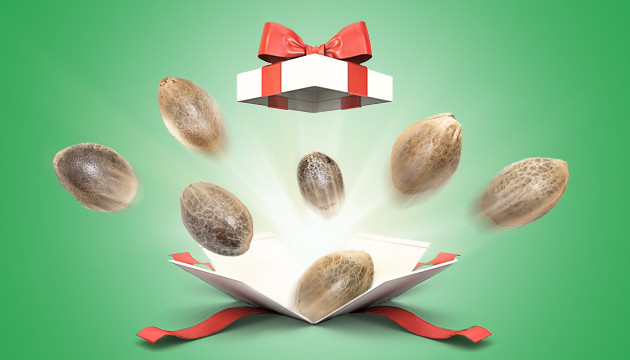 Your Guide To Bonus Seeds
Here at Herbies Seeds we work to make you happy and help you find the best seeds from our range. To make your shopping experience more enjoyable, we are delighted to offer you free seeds and bonuses! If you are looking for a real bargain, try our exclusive deals: Free Gorilla Glue Auto With Every Purchase and A Bonus Seed For Every 20 Euros Spent! Now getting your free seeds is as easy as pie - just make an order and enjoy Gorilla Glue Auto free of charge! Want to shop big and win big? Choose your free seed for every 20€ in your order! Get whatever you like – mouthwatering Zkittlez, heavenly sweet Auto Gelato or citrusy Amnesia Lemon. Want more? Live high and check out promos from top breeders.
If you don't feel like choosing bonus seeds yourself, Herbies Seeds will make this choice for you - free seeds will be added to your order automatically and you will get a pleasant surprise when your purchase is delivered.
Discover your best seeds with Herbies!

Gorilla Glue Auto - Autoflowering Version Of The Legend
Gorilla Glue Auto is a fast-flowering, easy-to-grow plant with a compact structure and impressive 400-600 gr/m² yields.
The plant achieves 100 cm in height and the flowering period does not exceed 8-9 weeks. Very strong and high-yielding, it doesn't require any special care, just be sure it gets enough light and water. She has bright aromas during the flowering so be sure to use some odor-control techniques if growing indoors.
Her incredible 24% THC levels are worth mentioning along with a tremendously rich taste. This autoflower combines pine, sour citrus and diesel notes blending into a pleasant chemical composition. A perfect strain for those who want to experience a potent and cheerful high, phasing into a knockout stone.

Сut Off From The Outside World With Zkittlez
Fruity, extremely potent (up to 23-25% THC), speedy and easy-growing - what else do you need to know about Zkittlez to want her in your garden? Maybe that she is a high-yielder offering 1500 - 2500 g/plant? Or that her Indica/Sativa effects are perfectly balanced? Seems that she would have tempted a saint, doesn't she?
Zkittlez is growing up to a human's height as fast as 8-9 weeks and then she is ready for harvest. Her effects are mostly relaxing and narcotic, she has the power to emerge into contemplative zen and to make some medical influence as well. Sweet and fruity, this feminized strain can be the best end of the day imaginable.

Gelato Auto - Italian Ice Cream In Your Garden
For many years the potency and sky-high THC-levels of Gelato were nothing but a pipe dream for those who prefer autoflowers. Wait no more - now the autoflowering version of that perfection is finally available.
Auto Gelato serves up-to-24% THC levels which is amazing for an autoflower, and has only a 56-days long flowering period. The plants don't exceed 1 m in height and won't take much of your growing space.
Auto Gelato truly honors its name: it is not just a cannabis strain but an exquisite dessert. Sweet and citrusy, it lingers in the mouth and doesn't leave anyone indifferent. Top-notch Sativa/Indica ratio guarantees both sides of pleasure: an exceptionally positive high and unwinding stone that nails you down to the couch and leaves you in a flow of euphoria.

Marvelously Invigorating Amnesia Lemon
Amnesia Lemon is a must-try for anyone who claims to be a cannabis lover. It is a well-balanced hybrid with 500-600 gr/m² yields and the flowering period of 9 weeks. A slight Sativa dominance makes it perfect for an all-night-long party, giving uplifting and energizing effects. Spicy, citrusy and sweet, with 21% THC levels, Amnesia Lemon doesn't leave a chance to any competitor.