Free Seeds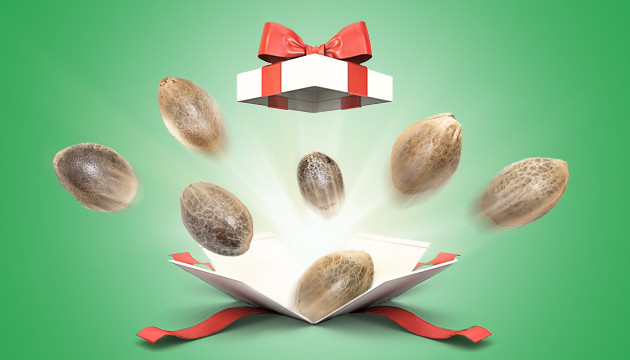 To make your shopping experience at Herbies even more enjoyable, we are delighted to offer you free seeds and bonuses! If you're looking for a real bargain, try our exclusive deals: 
Free Gorilla Glue Auto With Every Purchase – Make any order and get a Gorilla Glue Auto free of charge!
A Bonus Seed For Every 20 EUR Spent – Choose a free seed for every 20€ in your cart! Get an extra-potent Zkittlez, heavenly sweet Auto Gelato, sticky Gorilla Glue Auto, or citrusy Amnesia Lemon. If you don't feel like choosing from between them, we'll add the free seeds randomly.
Now let's get to know the free seeds a little closer:
Knock-Out Gorilla Glue Auto

24% THC Gorilla Glue Auto is an autoflowering version of a cannabis legend, and a fast-flowering plant with a compact structure and truly impressive potency. This autoflower combines pine, sour citrus, and pungent diesel notes for the entourage effect supporting the extra-potent, cheerful high.
Zesty Zkittlez

Fruity, extremely potent (up to 23-25% THC), speedy, and easy to grow – all of these traits are featured in the incredible Zkittlez. If you need more to get sold on this strain, it also has narcotic-like effects that can easily bring anyone to a state of happy creative Zen.
Ecstatic Gelato Auto

For many years, the potency and sky-high THC levels of Gelato were only a pipe dream for those who preferred autoflowers. Wait no more – now the autoflowering perfection is available to everyone. This Gelato Auto is 26% THC and guarantees a euphoric high under a thick coating of the sickly-sweet terpene profile.
Invigorating Amnesia Lemon

Amnesia Lemon is a must-try for anyone who claims to be a cannabis lover. A slight Sativa dominance with THC levels of 21% makes this strain perfect for an all-night-long party, offering uplifting and energizing effects. Besides, spicy, citrusy, and sweet, Amnesia Lemon doesn't leave a chance to any competitor in the taste department.
Want more? We have more! Check out our promos for deals from top breeders – you'll be surprised how many there are already. We also have a discount system that lets you order more while spending less.