60 Day Wonder Autoflower feminized seeds
Unfortunately, this strain is not available. But we have something even better
Description
60 Days Wonder - Fast and Easy to Grow
Short and compact in size, it does well in all environments and setups, both indoors and outdoors. If you start them indoors, use at least 30L container from start to finish. It will usually form one big cola, which makes it a good choice for SOG with at least 16 plants per square meter. Light green buds with bright orange hairs and sweet and earthy aroma will start to form around week 2 or 3. In climates with a long and warm summer, multiple harvests are possible.
Indica dominant (90%), a cross between Williams Wonder and Ruderalis;
Finishing flowering in 8-9 weeks;
Height is usually 70-100cm, both indoors and outdoors;
Yield is 300-400g/m2 or 30-70g per plant;
Usually testing at 10-15% THC and <1% CBD;
16 plants/m2 are recommended in SOG.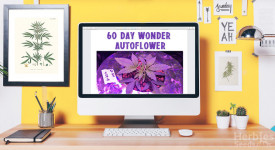 60 Day Wonder Autoflower Grow Report
Perfect Strain to Use Throughout the Day
Effects are not too strong and intense, which makes it perfect to use throughout the day. It will leave you relaxed, happy and calmed, perfect to treat anxiety, stress, nausea or glaucoma. Aromas and flavors are earthy and piney with sweet and spicy undertones.
Characteristics
*Herbies sells cannabis seeds exclusively as souvenirs that aren't meant for cultivation or germination. Customers should be aware that the germination of cannabis seeds is illegal in most countries. Herbies sells cannabis seeds exclusively for collecting and preservation for future generations. We advise customers to check with their local laws before germination, as Herbies does not accept responsibility for the illegal use of our products.
This product is out of stock
No reviews on this product yet.
Be the first one to share your opinion - it may help someone to make their choice!
Add review