Bruce Banner #3 Feminized Seeds (Herbies Seeds)
Description
Bruce Banner #3 Strain Info
The ultimate strain for the cannabis high-flyer, this powerhouse bud can break even the most stubborn tolerance. It's no wonder Bruce Banner #3 reaches sky-high potency either with her revolutionary lineage and Sativa dominance that is sure to make an impact, displaying 60% Sativa and 40% Indica for a comfortable combination of effects and delectable flavors.
Genetics
You can't go wrong with a family tree including OG Kush and Strawberry Diesel. Potency and delicacy all the way!
Flowering Time
Flower time is a convenient 60-70 days, with outdoor flowering in October.
Yield
Hardy like the Hulk, and with harvests up to 800g/m2 (2,6oz/ft2) indoor and 1200g (42oz) per plant outdoor, you won't regret growing these record-breaking feminized seeds!
Effects
One satisfying hit will have you instantly soaring through the clouds with a euphoric Sativa boost of bubbly energy followed by a soothing after-effect of Indica giving just enough sedation to ease your tension and leave you feeling happy and relaxed for hours. Smoke this THC-rich strain during the daytime or to wind down in the early evenings. However, start with one hit, and go from there, smoking too much too quickly may cause your face to go green, and not in the cool way!
Medical Properties
This strain is perfect for medicinal users too and can turn a bad day around in seconds, treating ailments such as depression and PTSD.
THC Level
With THC levels reaching 27% it is no surprise this strain can beat sadness down to a pulp!
Smell And Taste
Heavy, yet sweet at the same time, each puff is a superhero action scene for your tastebuds. As if created by some sci-fi gamma radiation experiment, Bruce Banner #3 has a terpene profile out of this world. The smoke is a little rough around the edges with an appetizing diesel flavor lightened up seamlessly with a sweet and fruity finishing.
Grow Tips
Stronger Sativa features can be seen when growing this spectacular plant along with enormously dense buds that are lavishly coated in some of the most potent resin worldwide. Plants grow tremendously well outdoors, reaching monstrous heights of almost 3 meters (118")! However, indoors this plant can still be grown discretely at a height of around 90cm (35"). To give this green behemoth a fair chance to shine, here is some grow info for guidance:
To keep your grow operation discrete, consider training your plants to reduce their height using methods like LST, etc.
Depending on your preferences, harvest earlier for more pronounced cerebral effects, and allow it to mature slightly longer for a more calming experience.
Include some light trimming to your grow routine. Trim away bottom fan leaves to allow your bud to expand.
Bruce Banner #3 Seeds
It's time to rip your t-shirt with excitement as you order a pack of these beastly Bruce banner #3 feminized seeds! Buy them right here, right now, online at Herbies, and look forward to a seamlessly discrete delivery and an epic yield on the horizon.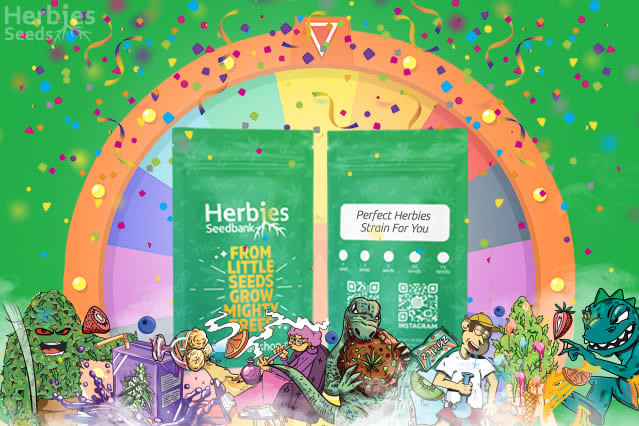 What Herbies Seed Is Right For You?
Characteristics
*Herbies sells cannabis seeds exclusively as souvenirs that aren't meant for cultivation or germination. Customers should be aware that the germination of cannabis seeds is illegal in most countries. Herbies sells cannabis seeds exclusively for collecting and preservation for future generations. We advise customers to check with their local laws before germination, as Herbies does not accept responsibility for the illegal use of our products.