Sugar Black Rose (Delicious Seeds)
Description
Sugar Black Rose: A Mega High Awaits You
This feminized cannabis variety is highly prized for her heavy hitting high. With a very high 25% THC content rating, the so-called "lady in black" produces a narcotic effect that puts users in a state of deep relaxation. As a result, she helps to combat a range of ailments, including stress, depressive moods, and muscle tension.
Aromas And Flavors: Sweet And Fruity "Lady In Black"
Sugar Black Rose is a noble strain that is sought after due to its deliciousness. As its name suggests, its aroma and flavor profile is sweet, but with a dark side. The strain tastes like fully ripened grapes, with skunky hints leaving a pungent and sweet trail. The aromas are likewise sweet and skunky.
Sugar Black Rose: Heavy Yields And Potent Buds
This feminized marijuana strain thrives very well both indoors and outdoors. Outdoors, the plant produces dense light green buds packed with trichomes. Indoor grown plants are usually short, bushy, and characterized with dark large leaves. Sugar Black Rose is an excellent option for growers who want to obtain better yields within a short time.
Short flowering time of 50 -55 days
Indoor harvests average 400-450 g/m2, outdoor yields of 900 g/plant
Outdoor harvest is between September and October
Heavy yields indoors and outdoors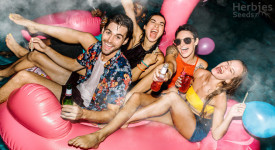 Sugar Black Rose Smoke Report
The Best Seeds For Superior Genetics
The highly valued and genetically strong Sugar Black Rose was developed by crossing Critical Mass and Black Domina. These are two great strains in their own right, with Critical Mass giving Sugar Black Rose its massive buds and big THC rating. Meanwhile, Black Domina makes Sugar Black Rose a very powerful feminized cannabis strain and they are both highly sedative.
Characteristics
*Herbies sells cannabis seeds exclusively as souvenirs that aren't meant for cultivation or germination. Customers should be aware that the germination of cannabis seeds is illegal in most countries. Herbies sells cannabis seeds exclusively for collecting and preservation for future generations. We advise customers to check with their local laws before germination, as Herbies does not accept responsibility for the illegal use of our products.