Vanilla Kush feminized seeds (Barney's Farm)
Unfortunately, this strain is not available. But we have something even better
This strain is out of production
Unfortunately, it has been discontinued, but we've picked some very similar seeds for you – take a look.
Description
Vanilla Kush Strain Info
Vanilla Kush hails from the breeders over at Barney's Farm in Amsterdam, a classic Dutch coffee shop and seed company. This Indica-hybrid lady already has a history of winning awards: she grabbed second place in the 2009 High Times Cannabis Cup, and first place in our hearts.
Genetics
The Vanilla Kush feminized cannabis strain was bred by crossing two landrace Indica strains together. A strain from the high mountains of Kashmir and a specially selected Kush strain from Afghanistan lend their impeccable characteristics to Vanilla Kush. This Indica-Afghani family tree lineage is a marriage of strength and terpenes for an out-of-this-world 80% Indica strain.
Flowering Time
Vanilla Kush is known for her abundant harvest, and you'll be shocked as your grow room becomes a vanilla factory in just 55-60 days of flower time. Outdoor growers can expect harvest time to come around late September.
Yield
Once harvest time rolls around, you'll be amazed by Vanilla Kush's dense colas sagging with heavy buds, covered in gold and red accents. It's typical to find phenotypes that will yield upwards of 600g/m2 (1,96oz/ft2) indoors, which is more than enough to satisfy most growers!
Effects
If you've been trying to meditate, you'll find that Vanilla Kush will enlighten you immediately after consuming it. Her effect is a total body buzz with a dreamy, euphoria head high. This strain provides the ultimate calm that will have you enjoying the moment, whether you are relaxing in the garden, out for a day at the lake, or simply getting ready for bed.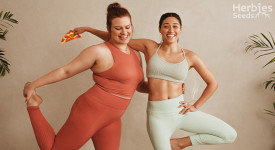 Medical Properties
One of the beauties of cannabis is the therapeutic properties that are associated with the plant. This strain is no different; Vanilla Kush is effective against symptoms of stress, anxiety, and depression. Her Indica genetics also contribute to an effectiveness against insomnia and chronic pain.
THC and CBD Level
You'll be in a state of pure vanilla delight with this strain due to her hard-hitting 22% THC level. Vanilla Kush is also blessed with a 1% CBD content, creating a perfect pairing of cannabinoids for a long-lasting, chill effect.
Smell and Taste
As her name indicates, Vanilla Kush is a sweet and delicious strain that will have your sweet tooth tingling! Her overwhelmingly pungent vanilla terpenes united with fresh citrus and lavender will cleanse your mind of any negative thoughts, and leave you bathing in pure bliss.
Grow Tips
Vanilla Kush is a classic photoperiod strain that grows amazingly both indoors and outdoors. She can be cultivated in a number of climates thanks to her resistance to cooler temperatures, which adds to her flexibility.
Vanilla Kush feminized seeds yield plants with a moderate height of about 1m (3.3ft) with a bushy structure.
Vanilla Kush is the ideal plant to train in a Screen of Green structure.
Make sure you add support poles to prepare the branches for her large buds!
When grown outdoors, Vanilla Kush loves to be planted in an area with full sun.
Vanilla Kush Seeds
However way you put it, these are not just regular seeds — Vanilla Kush is feminized to ensure that plants will grow luscious, glorious buds. Herbies is fully stocked with seeds so you can start growing as soon as possible!
Characteristics
Brand

Barney's Farm

Type of seeds

Feminized

Either autoflowering or photoperiod. Both have their pros and cons, but growing autos is easier.

Learn more

Type of seeds

Photoperiod

Suitable for growing

Indoor, Outdoor

Each strain produces a certain effect on your body. This is what you can expect from this variety.

Learn more

Effect*

Forget about tension

Genetic composition of the strain. Shows parent strains that were used to create this particular variety.

Learn more

Genetics

Afghani Kush x Kashmir

Exceptional strains receive awards from the industry. If a strain has awards to its name, it's a sign for you to try it.

Learn more

Awards

Cannabis Cup Winner 2009

Height

90 - 100 cm indoors
100 cm outdoors

Harvest

600 g/m² indoors

The length of the flowering stage for photoperiod strains, or seed-to-harvest time for autoflowers.

Learn more

Indoor flowering time

55 - 60 days

This is when your plant will be ready for harvest when grown outdoors. Make sure it's still warm enough by then!

Learn more

Outdoor finish

Late September

% Sativa/ Indica/ Ruderalis

20% Sativa / 80% Indica

The main psychoactive compound in cannabis. The higher THC level, the more potent the strain.

Learn more

THC

22 %

CBD

1.0 %
*Herbies sells cannabis seeds exclusively as souvenirs that aren't meant for cultivation or germination. Customers should be aware that the germination of cannabis seeds is illegal in most countries. Herbies sells cannabis seeds exclusively for collecting and preservation for future generations. We advise customers to check with their local laws before germination, as Herbies does not accept responsibility for the illegal use of our products.