Glue Gelato Auto feminized seeds
Description
Glue Gelato Auto: High-performance Autoflowering Genetics
Glue Gelato Auto is a feminized, autoflowering cannabis strain created by Barneys Farm as a cross between two of the most popular cannabis strains in recent years – GG#4 Original Glue and Gelato. By crossbreeding with a development autoflower, BF have created a fantastic hybrid which has robust genetics and a very short grow cycle.
A Fantastic Hybrid With Excellent Stress Resistance
Strains with balanced genetic lineages, such as Glue Gelato Auto, are the best for indoor growing as the best characteristic of each parent can be finetuned into the new hybrid through selective breeding. Obtaining high-performance genetics is the hardest part in growing cannabis and Barneys Farm have made it significantly easier with Glue Gelato Auto – a strain which is guaranteed to impress you. With indoor yields in the range of 550 – 650 g/m2 and outdoor plants bringing in as much as 400 g per plant, give Glue Gelato Auto a try and you won't be disappointed! Here is some further information to help you grow this strain:
Medium height – Glue Gelato Auto reaches a final height of 0.9 – 1.2 m indoors and up to 1.5 m outdoors.
Max EC of water – 1.0 in veg, up to 1.4 in flower.
Water pH; 5.8 – 6.0
Recommended lighting: Veg: 300 W CMH, Flower: 750 W LED.
Recommended nutrients: CANNA COCO range.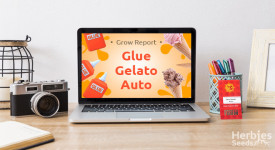 Glue Gelato Auto Grow Report
Sweet, Earthy Taste
Both GG#4 Original Glue and Gelato have incredible terpene profiles however this strain takes it to the next level as her chocolate, spicy taste with hints of fruit is truly one of a kind! If you enjoy an invigorating high which fades into a long-lasting, deep-body relaxation, look no further than Glue Gelato Auto!
Characteristics
*Herbies sells cannabis seeds exclusively as souvenirs that aren't meant for cultivation or germination. Customers should be aware that the germination of cannabis seeds is illegal in most countries. Herbies sells cannabis seeds exclusively for collecting and preservation for future generations. We advise customers to check with their local laws before germination, as Herbies does not accept responsibility for the illegal use of our products.