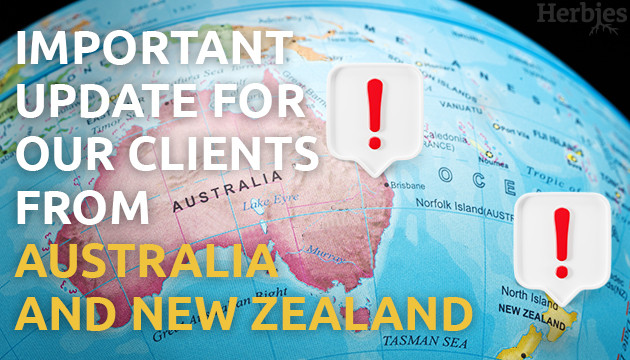 Recently, cannabis seed providers started facing difficulties with customs clearance for orders shipped to Australia and New Zealand. We're working toward making your experience with Herbies as smooth as possible, and here's how we're going to achieve this:
We've temporarily reduced the delivery wait time for customers in Australia and New Zealand to 25 days.
If there is no update on your order status within 25 days, you can get a replacement free of charge. In case the status of your order has not changed in 25 days, we will contact you. If you don't receive an email from us, please reach out to our quality department via [email protected].
We are improving our stealth shipping
We are developing new ways to make our packaging even more discreet. It takes some time to try out different options, but we are dedicated to creating new stealth packaging that will move through customs easily.
We are increasing the number of employees working on your orders
We now have more employees working on orders from Australia and New Zealand. They constantly monitor the movement of your order and swiftly react to any changes.
We insure your order so that it reaches you no matter what
We've introduced a 15-euro insurance option to protect you from possible losses in case there are any customs issues with your package.
We believe that these changes will improve the shopping experience of our clients in Australia and New Zealand. So keep shopping, and remember: despite the difficulties, we're always on your side. Your orders are protected by our delivery and germination guarantees, while our customer service agents are available to talk and dispel any doubts you might have 24/7!
There's one more major update for our customers from Australia and New Zealand regarding our insurance policy. For more info, click here. 
Herbies Head Shop expressly refuses to support the use, production, or supply of illegal substances. For more details read our Legal Disclaimer.