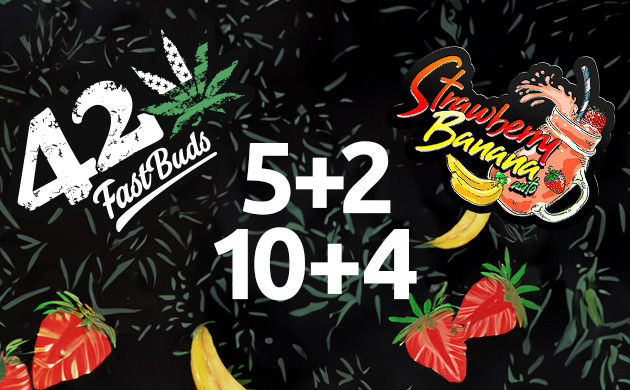 Attention, cannabis enthusiasts! Get ready for an exciting promo event at Herbies featuring Fast Buds. From 08:00 July 17 to 08:00 August 14 (PDT), we're introducing special promo packages for all Fast Buds strains, with an exclusive bonus strain included: Strawberry Banana Auto (Fast Buds).
Here's how the promotion works:
Buy a 5-seed pack, get 2 bonus seeds
Buy a 10-seed pack, get 4 bonus seeds
The bonus strain, Strawberry Banana Auto, is a true gem from Fast Buds, known for its exceptional flavors and potent effects. This autoflowering variety offers a delightful combination of sweet strawberry and creamy banana flavors that tantalize the palate. With its impressive yields, THC levels reaching up to 27%, and its ability to melt away the stresses of daily life, this strain is a must-have for novice and experienced growers alike. With this promo, you'll have the opportunity to grow an extra-special addition to your cannabis garden.
Visit this page to explore the wide range of Fast Buds strains. From classic favorites to exciting new releases, there's something for every cannabis lover.
Don't miss out on this limited-time opportunity to enhance your growing experience with Fast Buds and Herbies. Secure your promo package today and watch your cannabis garden flourish with top-quality genetics!
Herbies Head Shop expressly refuses to support the use, production, or supply of illegal substances. For more details read our Legal Disclaimer.