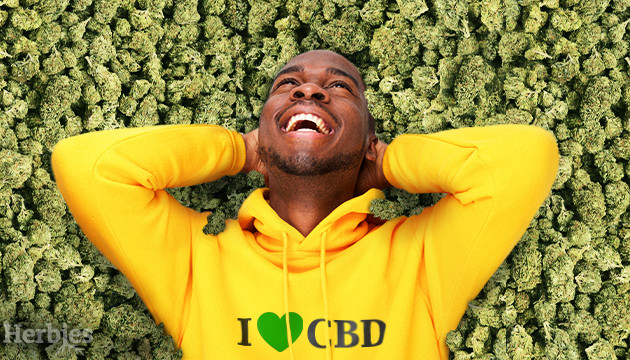 From trichome-coated THC-centered strains to purely medicinal CBD masterpieces, there are cannabis varieties for every lifestyle and taste. Not only that, but today's strains can also yield more than ever before, especially in the CBD sphere.
If you're one of those smokers who loves weed in all its medicinal glory but maybe don't feel like jumping on a rocket to the moon every time you dose up, this top 10 list of the highest-yielding CBD strains is for you.
Discover Which CBD Strains Will Bring the Best Harvest
As incredible as they are, CBD yields aren't usually renowned for their epic size come season end. However, that's not the case for this select list of the highest-yielding CBD cannabis strains you can get your hands on. Take your pick and get medicated!
CBD Auto Blackberry Kush (Dutch Passion)
Starting off this high-yielding CBD strains list with a blackberry bang is CBD Auto Blackberry Kush by Dutch Passion. This Indica-dominant variety contains a fantastic ratio between the two favorite cannabinoids, with CBD at an impressive 15% and THC at just 5-10%.
With a ratio like that, it's no wonder you won't feel much of a high when smoking this beauty, but you'll feel a perfect calming sensation in body and mind. Savor the pungent kush flavors and blackberry aromas after harvesting 400-500 g/m² (1.3-1.6 oz/ft²) of pretty purple buds indoors.
Chem Beyond Diesel CBD (Sweet Seeds)
As a 2018 Spannabis Cup runner-up, Chem Beyond Diesel CBD by Sweet Seeds is a winner in our eyes! With an almost even CBD-to-THC ratio, reaching 15% CBD and 12% THC, this sweet hybrid strain serves to rebalance you in many ways.
With its anti-anxiety and pain-killing properties, this high-yielding CBD strain will take you to your happy place. Chem Beyond Diesel is as sweet on the tongue as it is on the mood, with its candy-flavored buds coming in at 400-550 g/m² (1.3-1.8 oz/ft²) indoors.
Black Beauty CBD (Kera Seeds)
A true medicine woman, Black Beauty CBD by Kera Seeds holds the power of up to 14% CBD untouched by her low THC levels of under 0.2%, making her an easy addition to this list of highest-yielding CBD cannabis strains. From power to power, her terpenes are as strong as her branches, boasting refreshing herbal aromas with floral and pepper undertones.
However, her beauty doesn't end there – your medicine cabinet will be overflowing with your daily dose of CBD after harvesting up to 500 g/m² (1.6 oz/ft²) indoors and 1000 g/plant (2.2 lbs) outdoors in just 60 days of flowering!
CBD Lemon Auto (Herbies Seeds)
This list of the highest-yielding CBD strains on the market wouldn't be complete without CBD Lemon Auto by Herbies Seeds. With an impressive 1:1 ratio of 17% CBD and 17% THC, you'll get the ultimate balanced medicinal experience from this hybrid.
While you savor the uplifting positive high this strain brings without a wink of anxiety or paranoia, the lemon drop flavors of sour citrus and earth will leave you wanting more. Luckily, with yields reaching 600 g/m² (2 oz/ft²), you'll never run out of bud!
Dr. Bruce Banner CBD (Original Sensible Seeds)
Developed from legendary parent strains, including the monstrous Bruce Banner #3, Dr. Bruce Banner CBD by Original Sensible Seeds is the strongest medical strain in its lineage. With its impressively balanced ratio of 10% CBD and 10% THC, you get all the sweet-flavored terpenes you'd expect without the intensity of its predecessor.
What's more, this amazing high-yielding CBD strain's robust and flexible growth pattern produces epic CBD yields of up to 500 g/m² (1.6 oz/ft²) of dense sticky buds that are perfect for making concentrates.
CBD Terra Italia (Female Seeds)
What's more soothing for your soul than the herbal scent of fresh lavender? Well, CBD Terra Italia by Female Seeds is the next best thing and easily makes it to our list of the highest-yielding CBD strains! With CBD levels reaching 14% and THC as low as 0.3%, you can expect to be relaxed in a puff and a half.
Enjoy the herbal smoke of lavender and musk, spiced up by citrus flavors to brighten up a gloomy day. Plus, with yields reaching 600 g/m² (2 oz/ft²) indoors and an incredible 3 kg (6.6 lbs) outdoors, what's not to love? You'll have enough lavender cannabis to fill a pillowcase and sleep on it!
Shark CBD (Pyramid Seeds)
As serene as a shark gliding through the water, Shark CBD by Pyramid Seeds offers soft cerebral effects that will treat even a novice to a world of relaxation. With its 1:1 CBD-to-THC ratio, you won't ever be caught off guard or feel overwhelmed. Just take a hit of this high-yielding CBD strain's powerful anti-inflammatory smoke.
With flavors ranging from flower garden to spice rack, your jars will be filled to the brim with tasty, one-of-a-kind marijuana. Prepare for yields as high as 500 g/m² (1.6 oz/ft²) indoors and up to 1 kg/plant outdoors and never look back!
CBD Auto 1:1 (CBD Crack) (FastBuds)
A direct descendant of the famous Green Crack Sativa strain, CBD Auto 1:1 by Fast Buds, also known as CBD Crack, is a must-try if you're looking for the highest-yielding CBD strains on the market. With 7% THC and 7% CBD, you get the perfect combo for an ideal medicinal kick.
Her effects are uplifting and relaxing at the same time, working well for anxiety relief. The fun continues as her pungent citrus and spice aroma tickles your taste buds after you harvest up to 550 g/m² (1.8 oz/ft²) indoors.
Morpheus CBD (Buddha Seeds)
Look forward to the dreamy effects of Morpheus CBD by Buddha Seeds with a 1:1 CBD-to-THC ratio and great CBD yields. This is another beginner-friendly smoke that offers mild highs strong enough to relieve anxiety, depression, and pain without the negative side effects of a THC-dominant variety. Your mind will expand while your feet stay planted on the ground!
While you experience the grounded joy and fun, savor this strain's yummy terpene profile, which includes sweet citrus flavors and hints of earthy aromas. You'd better get used to it too, because after you harvest up to 470 g/m² (1.5 oz/ft²) indoors, you'll have enough to go around for months!
Kush 'N' Cookies CBD (Garden of Green)
Wrapping up the list of the highest-yielding CBD strains is Kush 'N' Cookies CBD by Garden of Green. This herb is by far the spiciest hybrid here, with an unbeatable 19% CBD and an exciting 21% THC for those willing to take the risk.
As for its flavors, the excitement continues as parent strains OG Kush and Girl Scout Cookies contribute to a terpene profile beyond expectations. Then, continue to be amazed as you prepare for harvests of up to 700 g/m² (2.3 oz/ft²), popping off with sweet grape and blueberry flavors that'll rock your world.
CBD vs THC: What's the Difference?
While both THC and CBD fall under the label of a cannabinoid, these are entirely separate compounds. Both have medicinal benefits but are completely different in terms of their effects on the body.
THC is the famed compound in marijuana plants that has psychoactive effects on the human brain. Simply put, it makes you high. THC has many benefits of its own, including reduction of pain, nausea, and anxiety, as well as reduced glaucoma symptoms, insomnia, and other benefits.
CBD, on the other hand, does not have any psychoactive effects on its own, but that doesn't mean it has no purpose. In fact, CBD is the most sought-after medicinal compound in weed at this point and can be consumed in much higher doses without side effects in comparison to THC use. That said, it can still affect your mood and help with relaxation in a gentle way.
Benefits of High-CBD Strains
CBD is widely used as a medicinal health supplement in many forms. It can be taken in capsule form, as an oil, and even in gummies! This is because this miraculous natural medicine has proven to be helpful in treating diseases and disorders both mild and severe.
For example, CBD can reduce anxiety and depression, PTSD symptoms, and epileptic fits. It's also used to manage neurological disorders and treat opioid addiction. Some evidence shows its potential for the treatment of cancer.
Knowing the incredible benefits of CBD strains makes it all the more exciting that we now have some of the highest-yielding CBD strains in history!
Grow a Miracle Harvest
Once you've chosen your favorite strain from this list of high-yielding CBD strains, stick them in the ground and wait for your miracle yield to bloom. Whether you're looking for a mild high to take the edge off or a full-blown medical intervention, Herbies has you covered.
Herbies Head Shop expressly refuses to support the use, production, or supply of illegal substances. For more details read our Legal Disclaimer.