Cannabis Seeds in Florida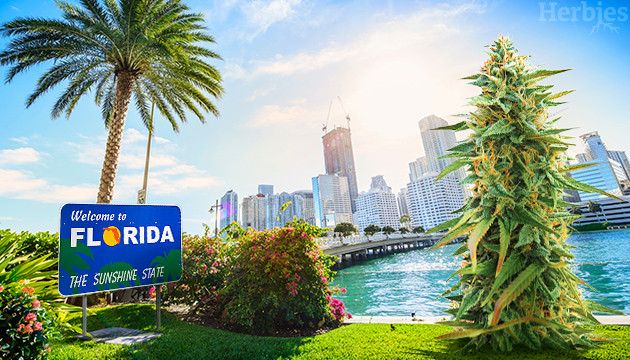 Anyone who lives in the Sunshine State recognizes the perfect growing weather. However, finding cannabis seeds in Florida that won't get you into trouble is the problem. Although FL does offer a medicinal use program, the state is still waiting for recreational legalization. That means it can prove challenging to purchase seeds at all.
However, that doesn't mean you should give up on offsetting those dispensary costs. Although Regulate Florida failed to get enough votes this year, they're trying again in 2024. There is support by current medical cardholders and decreased enforcement of cannabis possession charges. Tallahassee has a long way to go, but they've at least made some progress.
Is it Legal to Buy Marijuana Seeds in Florida?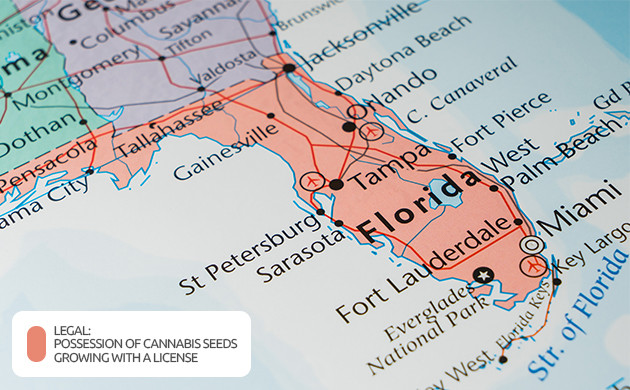 The main question is, is it legal to buy marijuana seeds in Florida? Even full-time residents get confused by the frequent changes to the state law.
Technically, it is 100% legal to possess marijuana seeds in Florida. However, what's illegal is the plants growing in any way. We know what you're thinking: "What's the point?" Marijuana seeds are the only way to get the buds, and it seems that legislators know that. Again, you may purchase cannabis seeds and keep them in your possession. Hopefully, these restrictive laws will change soon, allowing Floridians to cultivate at home.
Can You Grow Cannabis in Florida?
Although anyone can order medical marijuana seeds, using them becomes problematic. Despite overwhelming support from voters and local politicians, at-home growing remains prohibited.
That said, if you are among the select few dispensary brands, things are different. While limited, corporations are allowed to receive licenses so long as they distribute. Unfortunately, even that becomes an issue for those doing business in FL. The laws still reflect "vertical integration," meaning the same company must grow, harvest, and sell. As you can imagine, that's a significant operation with many moving parts. It's no wonder why so many voters want to make propagating weed seeds in Florida legal for everyone.
What to Consider When Buying Marijuana Seeds in Florida
Obviously, there is much to consider before you purchase seeds online. Above and beyond the legality of it, you must find reliable products. An experienced Internet seed bank, such as Herbies Seeds, always offers discreet packaging. You'll receive your order quickly and in a non-assuming parcel at an affordable price.
Most people won't want to risk growing outdoors, so research indoor strains instead. You should also consider potential odors and the lighting equipment needed to produce flowers. Hopefully, legal medical cardholders aren't kept from cultivation for much longer. Until then, you'll have to make a judgment call on whether to pursue growing or not.
Climate in Florida
The climate in Florida is perfect for cultivating cannabis, especially in the southern regions. There, you can see summer-like temperatures nearly year-round with frequent afternoon showers.
Florida's panhandle gets much colder and sees higher humidity from the Gulf of Mexico. Both the east and west coasts enjoy direct access to beaches.
While Arizona sees more sunlight than Florida, the Sunshine State is more tolerable, and plants grown here can usually manage fine without too much fuss.
Marijuana Seeds for Sale in Florida
Those hoping to buy marijuana seeds in Florida are going to feel disappointed. Unlike other states, you cannot go to a local seed bank without a dispensary. That said, it's not like you can't find cannabis seeds in Florida at all. People have grown their plants here for generations, especially in less populated communities.
Where to Buy Marijuana Seeds Online in Florida
If you are among the thousands of registered medical cardholders, you're likely aching to grow weed. While propagating weed seeds in Florida is still against the law, many residents take the chance. Most law enforcement officials would likely wait until they have other suspicions first, and as the nation repeals prohibition, the police are slightly more lenient.
If you intend to buy marijuana seeds in Florida, you'll likely do so online. Here at Herbies, we've been successfully shipping cannabis seeds to Florida for almost two decades. Our special stealth shipping will keep the contents of the package discreet, meaning no unwanted attention will be attracted to your purchase.
Best Cannabis Strains to Grow in Florida
While we don't condone or support breaking the law, you can't stop nature. If you happen to have seeds, they may find Florida ideal for growing. Traditionally, Sativa strains work best for tropical climates, but don't discount Indicas either. Plus, until it becomes legal to do so, most people grow indoors regardless.
We guarantee you'll love our picks for Florida no matter what type of plant you prefer. Check out some popular strains to add to your seed collection, including:
Super Lemon Haze
GG#4 Original Glue
Malawi Feminized
Smoothie Auto Feminized
Grandmommy Purple
Wedding Cake Auto
Blue Dream Feminized
Although volunteers ran out of time, 2024 is looking bright for legalization. Until then, fill up on these seeds perfect for the Florida climate so you have them ready to grow when the time is right.
Super Lemon Haze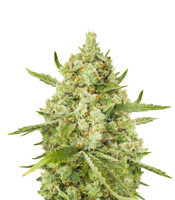 Super Lemon Haze (GHS)
Photoperiod

19.33 %

800 g/m² indoors
1200 g/plant outdoors

On wings of High
View strain
Super Lemon Haze is known for its Sativa-forward hybrid properties and unique coloration. Coming in just below 20% THC, it's a potent, award-winning strain. Consumers will feel light, bright, and creative and experience a burst of energy. Its tasty citrus flavor also mirrors its high, aroma, and appearance.
Another reason Super Lemon Haze is popular is its high yield potential. See up to 1200g/plant (42oz) by mid-October.
GG#4 Original Glue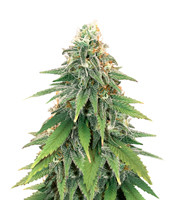 Godzilla Original Glue GG#4 (Herbies Seeds)
Photoperiod

29 %

Mighty tolerance breaker

600 - 800 g/m² indoors
800 - 1200 g/plant outdoors
View strain
GG#4 Original Glue offers potent, sticky buds and a staggering 29% THC. It's a true hybrid, delivering 50% Indica and Sativa that allows for all-day medication. It isn't just strong though, but also surprisingly aromatic with notes of earth and citrus. You can anticipate yields of 1200g/plant (42oz) by September.
Despite its pro-level traits, this strain is surprisingly friendly for new cultivators. Its glue-like resinous buds are also ideal for DIY concentrates.
Malawi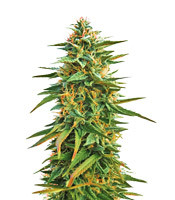 Malawi (Ace Seeds)
Those who need a purebred Sativa will love the results with Malawi. Recognizable aromas of fuel, earth, and fruit make these dense buds a hit. Another reason to love this plant is that it's quite discreet. It even has a shorter body type, allowing for compact operations.
In 70-90 days of flowering, you'll see high yields and upwards of 27% THC. If you feel yourself dragging, try this strain to stay productive.
Smoothie Auto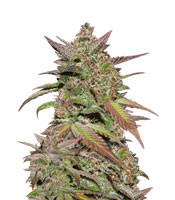 Smoothie Auto (FastBuds)
Autoflowering

400 - 550 g/m² indoors
50 - 250 g/plant outdoors

A sublime layering of berries and euphoria

24 %
View strain
Smoothie Auto was bred for its intense fruity and sweet flavor profile. Its 24% THC doesn't hurt either, and it's an Indica-dominant strain. This plant remains short and bushy, making for a discreet grow. The results are a relaxing and euphoric experience with buds bursting with flavor.
You can look forward to yields of 550g/m² (1.8oz/ft2) indoors after 70 days. Just make sure to wait until after work before enjoying it.
Grandmommy Purple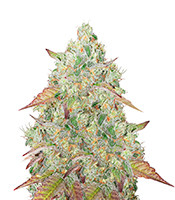 Grandmommy Purple (Herbies Seeds)
Photoperiod

An ecstatic must-have

400 - 500 g/m² indoors
450 - 550 g/plant outdoors

30 %
View strain
Grandmommy Purple is a relatively new strain but a very popular one. As an 80% Indica with up to 33% THC, she's sure to let you have a good time. Its aroma is sweet yet pungent with that world-famous "purple" flavor. This strain expands your mind while resting your body with waves of euphoria.
Grandmommy Purple offers 550g/plant (19oz) by September. It's an absolute best-seller from Herbies with a unique high that people can't get enough of.
Wedding Cake Auto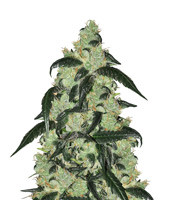 Wedding Cake Auto (Barney's Farm)
Autoflowering

25 %

A glorious euphoria of carefree bliss

500 g/m² indoors
750 g/plant outdoors
View strain
Wedding Cake Auto offers a variety of fruity flavors within one potent hybrid strain. Its 35% Indica, 65% Sativa blend should keep you going all day.
With 25% THC and 2% CBD, it's sure to cure what ails you. Wedding Cake Auto treats stress, depression, and pain with a dessert-like flavor and a long-lasting, happy high. Grow your cake and eat it too with this fast-growing hybrid.
Blue Dream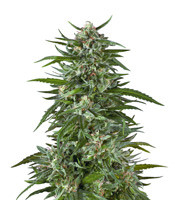 Blue Dream (Garden of Green)
Photoperiod

25 %

500 g/m² indoors

Lasting clear cerebral and energetic
View strain
Blue Dream seeds are a new take on a classic strain. While you still have its signature blueberry flavor, it now packs 25% THC. Consumers experience a 70% Sativa blend that energizes with an uplifting mood.
With this playful strain, you'll see both purple flowers and frosty, resinous buds. Blueberry Dream usually produces 500g/m² (1.6oz/ft2) after only 60 days in flower.
FAQ:
Can you mail pot seeds to Florida?
Under Florida law, a consumer cannot mail cannabis to others via the postal service. However, seed banks are allowed to ship seeds to buyers. That's why Herbies has been successfully shipping cannabis seeds to customers in Florida for almost two decades.
What's the best place to buy cannabis seeds shipping to Florida?
You will likely not find a local seed bank to purchase from now. These establishments are exclusively for the limited dispensary brands in the area. If you want to order cannabis seeds in Florida, check out the strains we offer at Herbies. Its nearly 2,000 varieties from top breeders will be delivered to you in stealthy packaging.
What's the best time to plant pot seeds in Florida?
Those who wish to grow outdoors will want to plant in early spring – just make sure that up until late summer, your grow receives more than 12 hours of light per day if you're growing a photoperiod strain.
Is it legal to own marijuana seeds in Florida?
Where Floridians get confused is whether it's legal to own cannabis seeds. Yes, it is. Owning cannabis seeds and storing them is completely legal in the state.