Cannabis Seeds in Illinois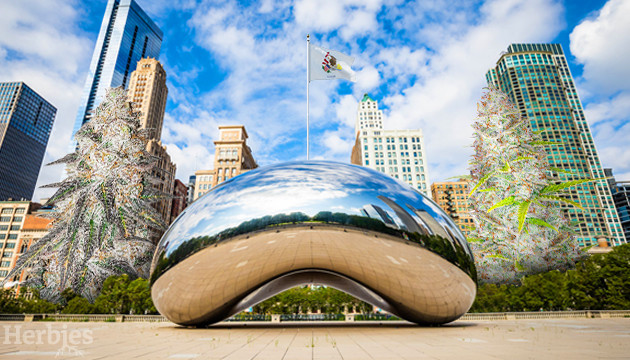 Starting from January 1, 2020, growing weed in Illinois is a hobby rather than a necessity. If you're an adult 21 years or older, you can freely purchase dry herb, extracts, and cannabis-infused products at a dispensary. However, growing your own bud is still popular, and a lot of pot smokers wonder where to buy cannabis seeds in Illinois.
The law in Illinois isn't particularly accommodating to home growers. The only category of weed enthusiasts who can legally buy marijuana seeds in Illinois is medical cardholders. However, with tons of legal pot around, it's not that big of a deal to circumvent the law a bit and purchase any kind of seeds you want online.
Is it Legal to Buy Marijuana Seeds in Illinois?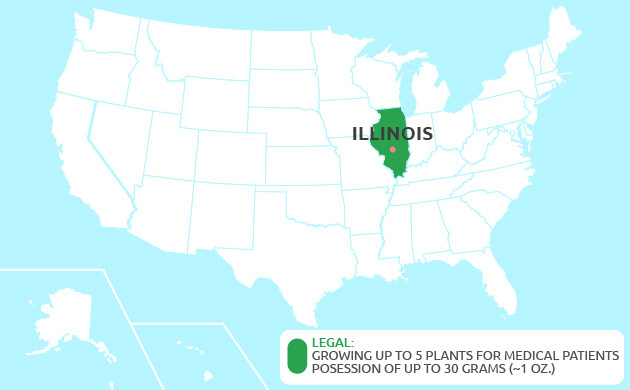 Pot seeds in Illinois are only available to patients registered in the IL medical marijuana program. The HB 1438 bill states that medical patients may purchase seeds at dispensaries, but this language doesn't explicitly forbid buying them elsewhere, including online. What the law prohibits is reselling or gifting these seeds to someone else.
Can You Grow Cannabis in Illinois?
The Illinois Cannabis Regulation and Tax Act has legalized the home cultivation of cannabis by medical patients only. If you are registered in the medical marijuana program, you can grow up to five plants at a time and keep the produce. There are no limits as to the weight. However, the standard limits apply if you leave your home, meaning you can have no more than 30 grams (a little over an ounce) of dry flowers on your person.
If you're not a medical patient, growing the same number of cannabis plants is a violation for which you will have to pay a $200 fine. Of course, the police will confiscate your plants too – and if you grow more than five plants, it's a felony and may lead not only to a fine but to incarceration as well.
In short, even if you grow marijuana for medicine and are thus protected by the law, make sure to have your garden in a secure location and hidden from public view.
What to Consider When Buying Marijuana Seeds in Illinois
Let's view this through the prism of the classic formula of means-motive-opportunity, starting with means. If you have a grow tent or similar indoor setup, your choice of seeds is practically limitless, but if you only have a patch in your backyard, you need to choose strains that flourish in your climate.
Then comes opportunity. Your ability to grow either openly or in secret limits your choice because you may stay away from smelly or overly tall varieties.
As for the motive, it's a question of whether you strive to grow craft bud that's better than anything you can find at a local dispensary or you simply smoke a lot of pot and don't want it to cost a fortune.
Now let's go into a little more detail.
Climate in Illinois
Climate is important even if you grow cannabis indoors because warm summers in Illinois (with occasional heatwaves) put a lot of strain on your ventilation system – possibly even to the point that you won't be able to grow weed indoors in summer at all. You can still risk it, but at least look for heat-resistant varieties.
The outdoor no-frost growing season is from April to October, and its length varies by a couple of weeks between the north and the south. As a general rule, we'd recommend choosing strains that finish no later than the first week of October, or even late September just to be on the safe side.
Don't forget about autoflowers, which finish in just 70 days from seed and thus will have all the time in the world to mature. You can even grow two consecutive crops of autoflowers in one spot in Illinois.
However, beware of mold-prone strains because there are a lot of rainy days, especially in the south. Because of the frequent storms, it's also best to choose plants with a robust structure and sturdy stems. Remember, if you read that a strain has something like "supple branches bending under the weight of huge buds," you'll definitely need support.
Legal Limits and Other Considerations
Since as a medical patient you're limited to just five plants, make them count by choosing the most high-yielding varieties. After all, no matter how much you harvest, you can legally keep it all.
As a recreational smoker, you don't have much incentive to grow marijuana seeds in Illinois (and break the law doing it), except that you can choose rare strains that no local dispensary sells. Or, if you have some favorite genetics, you can go through dozens of seeds in search of a keeper – an outstanding phenotype in which the desired qualities are expressed to the utmost degree.
And of course, there are those who smoke a lot, so growing their own weed is the only way for them to stay on a budget. In this case, it would be logical to choose feminized marijuana seeds that promise the biggest harvests of the most potent bud.
And again, autoflowers are a good choice for an unlicensed grower due to their discreet size and short grow cycles. In other words, they're easy to conceal and you don't have to spend the whole season being paranoid about your secret garden.
Marijuana Seeds for Sale in Illinois
It's relatively easy to find cannabis seeds for sale in Illinois, even though federal regulations prohibit trafficking anything that has to do with the plant and the state law gives only one group of people access to medical marijuana seeds.
Where to Buy Marijuana Seeds in Illinois
Medical cardholders can buy weed seeds in Illinois by simply going to the nearest dispensary. For the rest of cannabis users, online seed stores are the only option. If you're reading this, congrats: you've found one such place!
Herbies Headshop does ship cannabis seeds to Illinois (and the rest of the US), so browse through our 2,000+ marijuana genetics to find the ones you like, use your favorite payment method, including credit or debit card, and have your package sent to your IL address the same working day. You can chat with our friendly 24/7 customer support if you have any questions – we've been in this business for 20 years and are confident we can help you.
Best Cannabis Strains to Grow in Illinois
To help you make an informed choice or set you in the right direction, we've compiled a shortlist of pot seeds that are perfect for our Illinois customers.
Shiskaberry
This pure Indica stays compact and boasts an extremely short flowering time – no more than 8 weeks indoors or in the middle of September outdoors. Despite all this, the harvests are monstrous, and the 26% THC means that you can be perpetually stoned 'til next year's harvest. A great all-round body buzz makes Shiskaberry the ultimate medical strain, and all Indica lovers will fall in love with the intoxicating pungent smell of berries and a beautiful earthy taste.
Runtz Punch
You may have seen the parent genetics on the top shelves of your Illinois dispensary, but this innovative hybrid will surprise you. Runtz Punch was selected for her utmost potency – 29% THC! The effect is a dream-like bliss where your body is melting and the mind gets "the answer to life, the universe, and everything." She's also a super-fast cultivar, ready for harvest in September or after just 8-9 weeks of flowering indoors.
Jack Herer Auto
Jack Herer Auto is the result of a long-time breeding project whose ambitious goal was the reincarnation of the legendary strain in the autoflowering form. This is a perfect cultivar – insanely productive and fast – and the high is exactly what you'd expect from a real Jack. It's a surge of electrifying Sativa energy with just enough of a body buzz to prevent a short circuit.
Sugar Black Rose Early Version
When in doubt about the weather in early fall, choose Sugar Black Rose Early Version and she won't disappoint you. This fast-flowering phenotype of a multiple-cup winner can be chopped at the start of September, but it will be enough for her to store 25% THC and lots of juicy terpenes – citrusy, fruity, spicy, and sweet. The effects are what you'd expect from an 80% Indica; deep couch-lock with euphoric mental stimulation.
Auto Skywalker Haze
Who wouldn't love the taste of a blueberry smoothie and the fun, giggly social high that Auto Skywalker Haze creates! It's a daytime and party smoke at its finest, while a THC level hovering above 20% means serious medical benefits for those suffering from depression. You may need to tie down this tall plant outdoors, but you can also be sure that her huge but loose Sativa buds will resist both heatwaves and rain.
Orange Sherbet Auto
This large branchy autoflower is amazing to look at thanks to her resin-covered frosty appearance, and the smell and taste are out of this world – sweet, fruity, and creamy, absolutely delicious both as dry buds and live resin or other concentrates. The high Orange Sherbet Auto creates is a burst of ecstatic Sativa energy. You can either tame it to playfully move through a long list of chores or cut it loose and have massive fun at a party.
Black Cherry Punch
Black Cherry Punch is an amazingly beautiful purple plant with her huge swollen calyxes and a thick layer of 'frost'. The intense berry-like smell is just as seductive, and so is the rich taste of earth. The effects combine a body-numbing stone with creative and euphoric mental stimulation. You'll feel like the smartest person in the room and look like an ear-to-ear-grinning idiot. These boutique-quality seeds produce average yields in an indoor setup, but outdoors, you can harvest up to 2.2 pounds per plant by September. This is uncommonly fast – perfect for an Illinois garden!