Cannabis Seeds in Maryland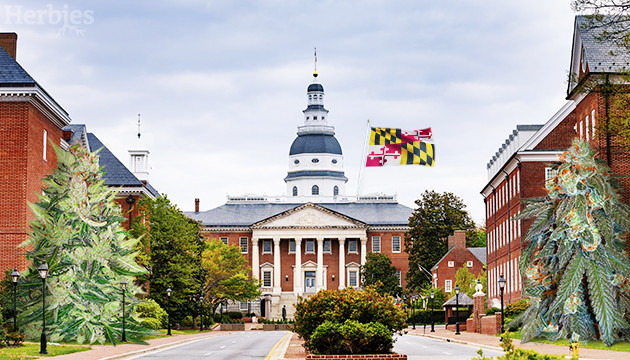 If you're looking to grow your own cannabis plants in Maryland, USA, Herbies is the perfect place for seeds! We've selected some unique strains from our seed bank that will thrive here and produce abundant crops with ease.
Is it Legal to Buy Cannabis Seeds in Maryland?
In the state of Maryland, it is not illegal to buy or possess cannabis seeds, as they are considered simply an adult novelty item. However, due to the legal penalties in MD around planting and growing the actual plant, you are unlikely to find cannabis seeds for sale in Maryland in local stores.
However, this doesn't stop people from obtaining cannabis seeds online. Our store offers worldwide stealth shipping, utilizing secure and discreet packaging to deliver our seeds.
Can You Grow Cannabis in Maryland?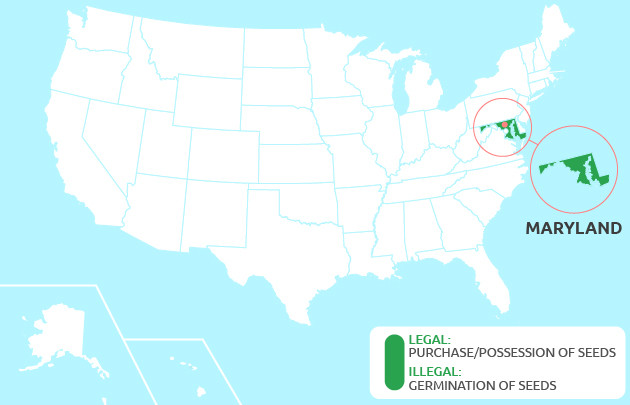 The cultivation of cannabis is currently illegal in Maryland, USA; under current legislation, you may face penalties if caught. Fortunately, the future for those looking to grow their recreational cannabis in MD is looking bright.
As more and more states join Colorado, Washington, Oregon, and Alaska in legalizing cannabis for recreational use, it's only a matter of time before Maryland follows suit. So keep your eyes peeled and your fingers crossed for changes in state legislation! In the meantime, consider these topics before you order seeds online.
What to Consider When Buying Weed Seeds in Maryland
When it comes to buying cannabis seeds, there are a few things you need to take into account. There's nothing simple about growing cannabis in a climate like Maryland's, so it's essential to ensure that you get the right seeds for the job.
The Climate in Maryland
While summer in Maryland can be pretty hot and humid, winter can be very cold. Because of this, all cannabis should be harvested before the end of November at the latest, before temperatures drop low enough to damage outdoor crops. In addition, it would be best to consider other factors such as extreme drought, wind, and heat, as these can all impact your plants.
Here at Herbies, we have early-finishing strains that will be ready to harvest before the cold hits and mold-resistant strains that can handle the humidity. We also stock heat-resistant strains that can withstand intense summer heat and cold-resistant strains that thrive with ease right up until the minimum recommended temperatures you should harvest by (around 12C / 54F).
Where to Buy Marijuana Seeds in Maryland
Due to legislative attempts to restrict the possession of recreational cannabis, residents are only left with the option to buy marijuana seeds online in Maryland. Here at Herbies, we have an assortment of around 2,000 high-quality seeds for you to choose from, all with discreet stealth shipping methods to send seeds directly to MD.
With every order, we also offer some free seeds and a germination guarantee so that you can purchase with confidence, knowing that the product you receive is always going to grow!
Best Cannabis Strains to Grow in Maryland
Here at Herbies, we have a wide variety of high-quality cannabis seeds for you to choose from. We've hand-selected a few of our favorite Indica-dominant and autoflower strains that are the best seeds to grow in Maryland to save you the hassle of long hours of research.
Delicious Candy Early Version (Delicious Seeds)
This feminized strain is perfect for those looking for an easy harvest in harsher weather. Delicious Candy Early Version is a robust strain that also packs a considerable punch, with THC levels reaching 22.4%. In addition, it has impressive resistance to both pests and mold, making it one of the best marijuana seeds for sale in Maryland in terms of viability. This strain produces very high indoor yields but can also produce impressive amounts if carefully grown outdoors.
The high you experience from this strain will give you a wave of relaxation, making it a perfect tool to control stress. The flavor is sweet and savory-like, with hints of cheese and a slightly spicy finish.
Gorilla Glue Auto (Barney's Farm)
Suppose you're looking for a euphoric escape from your worries. In that case, Gorilla Glue Auto is a strain that will pique your interest. The bud is exceptionally appealing visually, but it also presents complex aromas and flavors of spices mixed with notes of cream and coffee.
The THC levels of this strain can reach up to 25%, making it one of the most potent autoflowers out there. The high is cerebral and euphoric, providing users with an uplifting and long-lasting effect that slips into relaxation that will 'glue' you to your seat.
Sweet Skunk F1 Fast Version (Sweet Seeds)
The genetics of Sweet Skunk F1 lead to an experience of both the mind and body that calms you down and allows stress to simply flow away. The aromas and flavors are a mix of sweetness with a touch of spice and that classic skunk aroma. With THC levels of 18-23% and a CBD level of 1%, this strain heals and relaxes.
This strain is perfect for Maryland due to its short flowering time and its mold and pest resistance. In addition, it's easy to grow both indoors and outdoors, making it an excellent choice for those who are new to growing.
Bruce Banner #3 (Original Sensible Seeds)
One of the most energetic and euphoric strains out there, this Original Sensible Seeds strain is not only visually appealing but also carries with it a 25% THC level. With a sweet yet earthy taste followed by a slight diesel aroma, you'll enjoy every hit!
The fast-flowering nature of Bruce Banner #3 doesn't mean you'll compromise on yields – instead, expect massive harvests of up to 900g (31.7oz) per plant after just 50-55 days of flowering. The climate in Maryland is relentless in its extremes, so strains such as this that can flower and be harvested quickly are perfect for the area.
Kosher Cake Auto (FastBuds)
Experiencing this strain is like a heavenly haze hitting your body with a THC content of 25%. The dreamy head-high provided by this strain slowly envelops you in a blissful and relaxing body buzz.
The citrus and sweet flavors of Kosher Cake Auto make the experience pleasant from the moment you smoke it to the moment the high dips to a buzz. In addition, the crazy speed at which this strain grows is a perfect reason to plant it in the state of MD, with a flowering time of just 9 weeks.
Auto Orange Bud (Dutch Passion)
This strain is a refreshing burst of color, but it also delivers creative outbursts to its users. Auto Orange Bud is a Sativa-dominant autoflower with a pungent, citrusy flavor and an uplifting high that brings out your creative side.
This strain is perfect for those who want to enjoy the benefits of its 26% THC concentration but without the couch-locking effect that some strains can provide. The short flowering time of 9 weeks also makes it an excellent choice for growers in Maryland.
CBD Lemon Auto (Herbies Seeds)
A potent mix of 17% THC and 17% CBD, this fruity strain produces not only feelings of relaxation and happiness but also creativity! The perfect choice for those who want to enjoy a balanced high, CBD Lemon Auto is a great all-rounder. With its high CBD content, it's also a great choice for medical marijuana users.
This strain is perfect for anyone who wants to grow pot seeds in Maryland with a harvest time of 8 weeks, as you'll always be able to ensure that you harvest before the cold months hit.