Cannabis Seeds in Oregon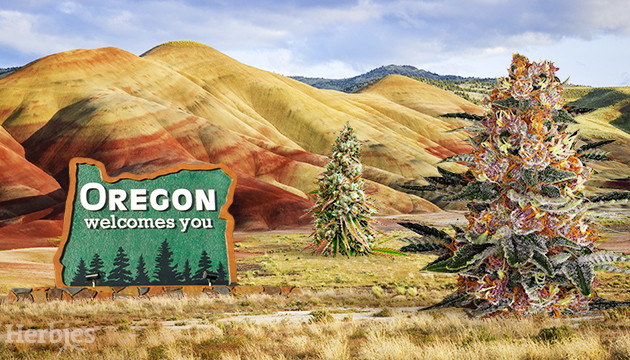 After multiple failed attempts, Measure 91 was finally passed in 2014, and Beaver State residents can now legally enjoy their recreational cannabis. Although pot is legal, there are certain limitations when it comes to possession and growing. If you're looking for marijuana seeds for sale in Oregon, read on to find out everything you need to know for your first grow.
Is It Legal to Buy Cannabis Seeds in Oregon?
Both cultivation and possession of cannabis seeds are legal in Oregon for any resident aged 21 or older. Whether it's for recreational or medical use, you can legally purchase pot seeds in Oregon from various local and online seed banks.
Can You Grow Cannabis in Oregon?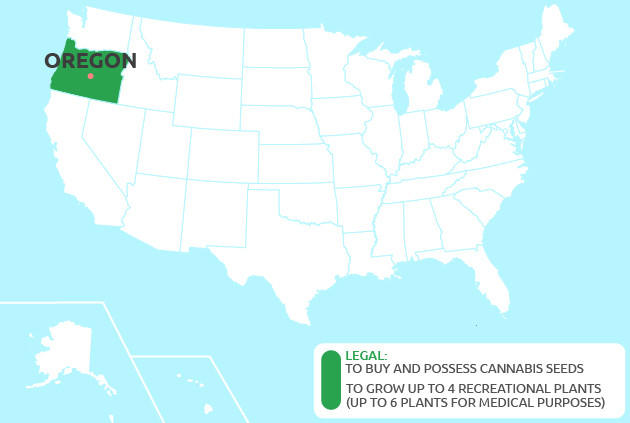 Oregon was the first U.S. state to decriminalize possession of small amounts of cannabis for recreational purposes and one of the first to legalize medical marijuana. In 2014, Oregon Ballot Measure 91 was approved, allowing residents to cultivate and possess recreational cannabis.
Growers may purchase their weed from registered dispensaries or can simply grow their own garden. Residents are allowed to cultivate up to four recreational plants and up to six plants for medical purposes. Keep in mind that this is the limit for a household, regardless of how many adults live in it. Those who exceed the limit could face serious penalties, including jail time.
What to Consider When Buying Weed Seeds in Oregon
Aside from the law, there are two important things to consider when growing and buying seeds: the climate in your area and the genetics that will thrive in it. These factors play a big role in cannabis cultivation, and understanding them will be crucial for achieving the best results.
Climate in Oregon
The climate in Oregon ranges from Mediterranean-like hot summers in the west to a cold semi-arid environment in the eastern part.
Those located in the west will have a more successful outdoor growing experience, as the climate in this area is very favorable for marijuana cultivation. It allows growers to choose Sativa and Sativa-dominant strains with longer flowering periods and maximized yields. Just make sure that your strains are naturally resistant to heat for a more trouble-free grow.
As the east of Oregon tends to be both colder and more humid, growers there might want to pick mold-resistant strains that can withstand colder and muggier weather. It's best to buy quick-flowering strains that will be ready for harvest before temperatures drop in the fall.
Where to Buy Marijuana Seeds in Oregon
If you're wondering where to find cannabis seeds for sale in Oregon, there are plenty of local providers, although local seed banks tend to have limited selections and higher prices. However, there's an even better way to get them – you can now buy marijuana seeds online in Oregon! Head straight to our online catalog, where you can get your hands on some top-quality strains even if your budget is tight. All our seeds come with a 100% germination guarantee, and our customers can get some free extra seeds with each order placed.
The Best Cannabis Strains to Grow in Oregon
Now, let's take a look at what strains will be the best option for your Oregon garden. We've chosen three photoperiod strains and two autoflowers – all of them are feminized for your convenience.
Bruce Banner #3 (Herbies Seeds)
Bruce Banner #3 truly lives up to its name in every way. A cross between OG Kush and Strawberry Diesel, this 60% Sativa variety offers up to 27% THC and delivers a highly potent punch of euphoric and relaxing effects that will leave you in a blissful state of happiness.
Combining such premium genetics has resulted in a strain with incredible terpenes that offer rich aromas and flavors of diesel with a sweet and fruity aftertaste on the exhale. When grown indoors, this balanced hybrid can bring up to 2.6 oz/ft2 (800 g/m2) in just 70 days. Outdoors, this beast can yield 2.6 lb (1200 g) per plant when harvest comes in October.
Blue Dream'matic Auto (Fast Buds)
Blue Dream'matic Auto was created by crossing Blue Dream with Tangie'Matic. This combo resulted in a Sativa-dominant hybrid that offers long-lasting uplifting and euphoric effects fueled by 22% THC.
Its rich terpene profile offers pungent citrusy scents along with a mouth-watering mix of fruity and piney flavors with notes of earth. This autoflower is ready for harvest in just 63-77 days, producing between 1.4-1.9 oz/ft2 (450-600 g/m2) indoors and up to 7 oz (250 g) per plant outdoors.
Moby Dick (Barney's Farm)
Moby Dick is an extremely potent strain that descends from G13 Haze and White Widow genetics. This 75% Sativa hybrid contains up to a whopping 27% THC, which is why it isn't recommended for the faint-hearted. One puff will release unlimited amounts of euphoria and energy to unlock your inner artist.
Terpene-wise, stoners can expect rich flavors and scents of sour diesel alongside strong hints of pine and vanilla. After just 70 days of indoor flowering, Moby Dick brings up to 2.2 oz/ft2 (700 g/m2) of top-quality bud. Outdoors, this weed produces massive yields of 4.4 lb (2000 g) per plant.
Super Lemon Haze (GHS)
Super Lemon Haze is a favorite lemon strain among stoners that was created by crossing two legendary genetics: Super Silver Haze and Lemon Skunk. This multiple-award-winning strain contains around 20% THC and produces energizing, uplifting effects, making it perfect for early morning sessions.
True to its name, this strain's incredible terpene profile gives off extremely rich aromas and flavors of citrus with slight notes of skunk. Indoor growers can expect average yields of 2.6 oz/ft2 (800 g/m2) in just 70 days. When grown outdoors, each plant can yield up to a staggering 2.6 lb (1200 g).
Purple Punch Auto (Barney's Farm)
The only Indica-leaning hybrid on our list, Purple Punch Auto is an autoflowering version of the popular Purple Punch strain. It offers everything a true Indica lover could wish for, with a remarkably chill high that will fill you with happiness and euphoria after a hard day's work. Thanks to its 18% THC, this strain is a great option for newbie stoners who don't want to experience any significant side effects.
When it comes to terpenes, Purple Punch Auto offers a truly unique experience with its sweet smell that's reminiscent of apple pie baked with cinnamon and cloves. After just 50-60 days from seed, you can harvest up to 1.3 oz/ft2 (400 g/m2) indoors and around 14 oz (400 g) per plant outdoors.