Cannabis Seeds in Missouri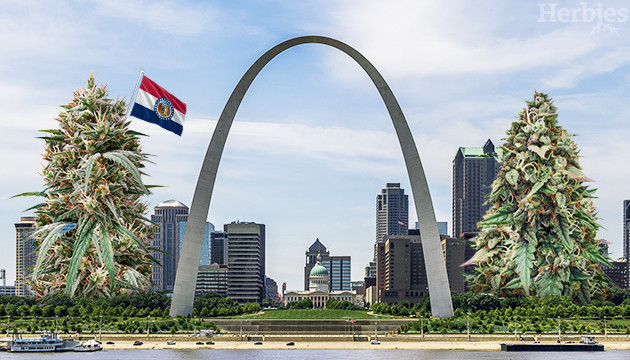 It can still feel impossible to find cannabis seeds in Missouri. Despite partial decriminalization efforts, there's still room for improvement. That said, 2022 could be when Missourians see recreational cannabis fully legalized. Now is the time to purchase seeds to get prepared before laws improve.
Is It Legal to Buy Cannabis Seeds in Missouri?
It is, surprisingly, legal to buy cannabis seeds in Missouri both in person and online. Thanks to local and federal hemp laws, many products have been allowed easier access. You won't need to look over your shoulder while checking your mail expecting seeds to arrive.
In the USA, you can possess cannabis seeds as a novelty item. In MO, you can even grow some plants –  up to 60 days' worth at home, which we'll get to in more detail in just a moment. So, there's no harm in wanting to buy marijuana seeds online in Missouri and getting your place stocked.
Can You Grow Cannabis in Missouri?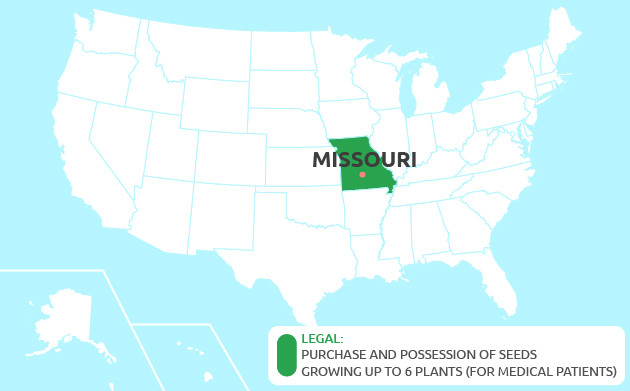 Currently, only medical patients can legally grow cannabis seeds in Missouri. Those lucky few are permitted to keep up to six plants in a locked space. Those households with a second cardholder can double their efforts. However, you must keep your cultivation under the legal limit of allowable bud.
What to Consider When Buying Weed Seeds in Missouri
Even the easiest plants to grow will need some amount of help. The local climate, laws, and pests can keep things challenging.
Before you buy weed seeds in Missouri, learn about your potential hazards. Doing so will allow you to maximize your yields in any growing medium.
Climate in Missouri
The Show-Me State sees four distinct seasons with a continental climate. Summers are hot and wet, with dry and cold winters. When spring and fall blow in, they do so with a vengeance. Temperatures fluctuate dramatically, making life difficult for new cultivators. You will likely need a greenhouse for outside operations, especially for legality's sake. All growing spaces must remain locked and enclosed, even outdoors.
The best strains for growing in the state are hardy against environmental hazards. Make sure you buy quick-growing strains that are resistant to mold, pests, and general weather conditions.
Where to Buy Marijuana Seeds in Missouri
It isn't always convenient to shop from a local seed bank. Those searching for marijuana seeds in Missouri will wind up online, as despite a strong cannabis culture, there are still few brick-and-mortar shops. Instead, Herbies offers quality cannabis seeds for sale in Missouri from many international brands.
Until adult use becomes legalized, your best bet is our site. Herbies Seeds carries about 2,000 strains at all times purchased directly through renowned seed banks. Each purchase is guaranteed to germinate, and you even receive free seeds every time you order! Add in our 24-hour customer support team, and you won't find a better supplier.
Discover why we are the trusted choice for pot seeds in Missouri. Find the best strains possible at affordable pricing, complete with stealth shipping.
Best Cannabis Strains to Grow in Missouri
With stiff penalties and powerful storms, you need plants that will hold up. We've chosen seven potent strains that will suit MO growers best – they finish early, before the cold weather in the state steps in, and yield lots of potent cannabis.
Eleven Roses Early Version (Delicious Seeds)
It's hard to beat a sweet-tasting plant that finishes its flowering stage in only 45 days. Eleven Roses Early Version also touts about 25% THC, producing a deep narcotic effect.
It stays resistant to mold, pests, heat, and droughts, which is perfect for Missouri. Alternatively, you can grow it indoors so long as you can filter its odors. Eleven Roses Early Version stays under 150cm (59"), making it great for tight spaces. Yield up to 600g/m2 (1.97oz/ft2) indoors and 2,000g/plant (70.5oz/plant) outdoors.
Auto Skywalker Haze (Dutch Passion)
Auto Skywalker Haze updates a fruity fan-favorite strain from the '90s. Its sweet and citrusy flavor packs up to 26% THC in a Sativa-dominant plant. Enjoy a burst of energy and creativity from these large, frosty nugs. It finishes in about 14 weeks, creating trichome-covered buds before long.
Auto Skywalker Haze grows well inside and stays compact while also getting really tall outdoors (2m/6.56ft). As for its cosmic yields, anticipate up to 550g/m2 (1.8oz/ft2) indoors and double that for outdoor operations.
Blueberry Hill (Herbies Seeds)
Blueberry Hill puts stress and anxiety to rest with its potent 95% Indica genetics. This strain tastes just like it smells, exuding a pungent and earthy blueberry flavor. You're better off waiting closer to bedtime before enjoying this tough plant – it's not only euphoric but also extremely calming.
Blueberry Hill is great for outdoor cultivation, as it's resistant to mold and pests. It stays compact at 70-120cm (27.5-59") and flowers in 55 days. Expect it to yield up to 650g/m² (2.1oz/ft2) indoors and 1800g/plant (56.4 oz/plant) outdoors.
Californian Snow Auto (FastBuds)
California Snow Auto is a highly energetic strain for whenever you need a motivation and creativity boost. This Sativa-dominant strain grows frosty cones that hit 23% THC and also have trace levels of CBD to ease insomnia and stress.
Best of all, it stays compact at 80-130cm (31.5-51.2"). It grows well both indoors and out, flowering in 70 days from seed to harvest. Expect up to 550g/m² (1.8oz/ft2) indoors and 250g/plant (8.8oz/plant) outdoors.
Pure Kush (Original Sensible Seeds)
Pure Kush is dusted with white THC trichomes and locks you into couches and beds. With 100% Indica genetics, it's perfect for sleepless nights and pain relief, or simply for indulging in munchies with friends in front of a TV.
Its Kush lineage keeps this strain resistant to pests, mold, and weather changes. Plus, it prefers drier climates, making Missouri perfect for growing it. Pure Kush finishes flowering in September, topping out at 180cm (71"). Harvest up to 550g/m² (1.8oz/ft2) indoors or 700g/plant (25oz/plant) outdoors.
Jack Herer Auto (Green House Seeds)
Jack Herer Auto is a reinvention of a classic balanced hybrid strain. Consumers get sent into a deep full-body high with its 20% THC. Feel relief and blissfulness take over instantly with a pleasantly earthy and nutty flavor.
Jack Herer Auto is easy for anyone to cultivate in any medium. It grows quickly, finishing in 55 days while staying at 100cm (39") or shorter. Expect about 700g/m² (2.3oz/ft2) indoors and 100g/plant (3.5oz/plant) outdoors.
Golosa (Delicious Seeds)
Golosa is an 80% Indica/20% Sativa hybrid with powerful 26% THC levels. This emerald strain tastes like fruit and creates a strong narcotic-like effect for a hard-hitting high.
This plant is perfect for beginners and flowers in about 60 days indoors or by mid-September outdoors. Check the daily temperatures for fall in your area and make sure Golosa can finish before the lowest temps get to 10C (50F). Golosa is also resistant to mold and pests, keeping it sturdy. Cultivate up to 550g/m² (1.8oz/ft2) indoors and 1500 g (53oz)/plant outdoors.