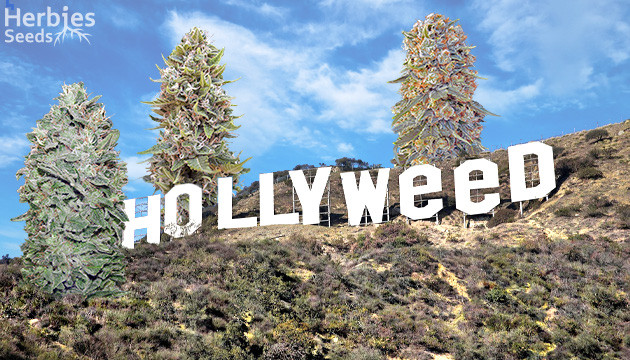 California is one of the globe's central hubs of cannabis cultivation, and the craze extends to Los Angeles, CA. In fact, with an estimated value of $11 billion, cannabis is the largest cash crop in the Golden State. Sure, you can buy weed legally now, but what if you want to cut out the middleman and grow your own supply? If you're new to cannabis, the state, or just aren't up to date, you might be wondering: what are the laws? Can you buy cannabis seeds?
Are Weed Seeds Legal In Los Angeles?
Let's break it down. Cannabis has been legal in California for medical use since 1996. Recreational use was legalized in November 2016 with the Adult Use of Marijuana Act (Proposition 64). Adults over the age of 21 are allowed to buy weed from dispensaries, as well as use seeds to grow their own marijuana on their property for personal use. However, there's a limit on how many plants you can grow at a time – you can have only six cannabis plants at once.
What Are Medical Cannabis Seeds?
Medical marijuana can be prescribed by a doctor as a treatment option for a number of conditions and ailments. Rather than buying cannabis for therapeutic use, however, patients can also simply grow it themselves!
Cultivation rules are a little different for those with a valid medical marijuana recommendation from a qualifying physician. Medical patients are allowed to grow up to twelve cannabis plants at once, six of which can be mature. Growing your own marijuana is a smart choice for anyone who wants to get down and dirty in the garden, save some cash, and enjoy homegrown medicine.
Medical Cannabis Seeds
VIEW ALL
Can You Grow Cannabis In Los Angeles?
First of all, if you want to grow marijuana in Los Angeles, you need to keep things discreet by law. According to state jurisdiction, plants need to be in a locked space that is not visible to the public. It's a good idea to check with your local laws too, since many cities may also have their own limitations on outdoor cultivation or the number of plants you can grow at once. Los Angeles is a large county, after all, with 88 cities!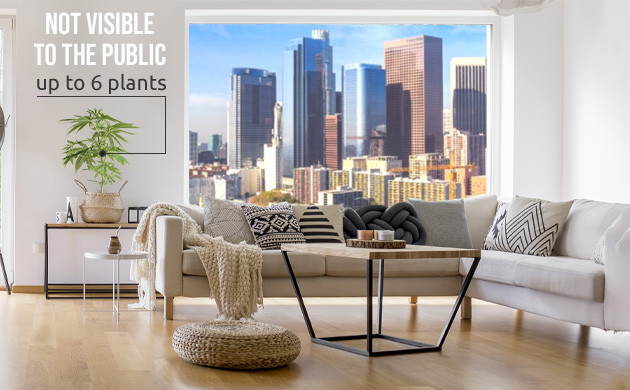 Climate In Los Angeles
It's no secret that California is hella sunny, especially SoCal. Natives to the LA area are used to the almost dangerously hot summer days, when temperatures hover anywhere from between 80-117°F (26-47°C for non-Americans) for days on end.
Luckily, this also means that Los Angeles has the perfect climate type for growing cannabis outdoors. The metro area and surrounding county has a year-round, mostly dry climate that ranges from mild to hot. With long, beautiful, sunny summers, Cali growers are likely able to pull off multiple harvests per year.
The LA area gets very, very little rain (in case you hadn't already noticed). This means that outdoor gardens will definitely need to be watered regularly. On the upside, mold is less of an issue! However, keep in mind that this is a bit of a general description. Coastal cannabis growers will certainly encounter different conditions than those in the valley because of the microclimates present in the Los Angeles area.
Best Marijuana Strains To Grow In LA
It should be clear by now that if you live in LA, you're one lucky stoner! Whether you're a seasoned pot grower or just starting to figure it out, the following strains would all make excellent additions to your beautiful California weed garden.
Café Racer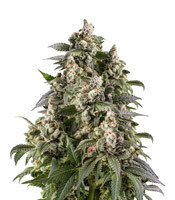 Cafe Racer (BlimBurn Seeds)
Photoperiod

25 - 35 %

450 g/m² indoors
600 g/plant outdoors

Creativity booster
View strain
Blimburn Seeds' Café Racer is a skunky, Indica-dominant hybrid that grows well both indoors and out, with yields of 450g/m² (4.8 oz/ft²) indoors and 450g (1lb) per plant outdoors. Her flavors are equal parts sweet cookies and skunky fuel, which come together in a cerebral high that's euphoric and hard-hitting.
Bruce Banner #3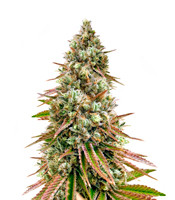 Bruce Banner #3 (Herbies Seeds)
Photoperiod

27 %

Pure euphoric bliss

600 - 800 g/m² indoors
800 - 1200 g/plant outdoors
View strain
One of the most potent strains on earth, Bruce Banner #3 from Herbies regularly clocks in at 27-30% THC. These plants go absolutely wild outdoors with enough area to stretch out. She'll soak up the California sun until harvest time rolls around in October, at which point you'll probably need a ladder to scale her massive frame in order to gather scale-breaking yields of up to 1200g (42oz) per plant!
Strawberry Lemonade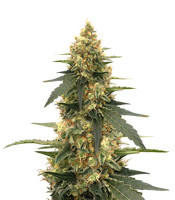 Strawberry Lemonade (Barney's Farm)
Photoperiod

700 g/m² indoors
2500 g/plant outdoors

World of Strawberry relaxation

24 %
View strain
A cross between Strawberry and Lemon OG, Strawberry Lemonade by Barney's Farm is a balanced hybrid strain with massive potential as a cash crop. These ladies get pretty darn tall whether you've got them indoors or out, and for good reason. Indoor grow operations can see yields of 700g/m² (2.3oz/ft2) indoors, while plants enjoying the warm, dry Southern California climate outdoors can reach incredibly heavy harvests of 2.5kg (5.5lb) per plant outdoors. You'll definitely need a ladder for this one too, since these ladies reach 250cm (over 8ft) out in the garden!
Super Critical Bud CBD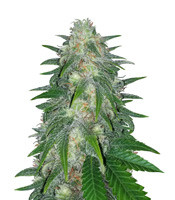 Super Critical Bud CBD (Garden of Green)
Photoperiod

25 %

Heals body and mind

750 g/m² indoors
View strain
Garden of Green Seeds has revolutionized medical cannabis with Super Critical Bud CBD by combining genetics from all over the world for super-sized yields and amazing potency. This strain is perfect for medical marijuana growers due to her nearly 1:1 ratio of THC to CBD. She isn't just any old CBD strain, either; Super Critical Bud CBD has 25% THC and 23% CBD for extreme effectiveness against chronic pain symptoms.
Tangie'Matic Auto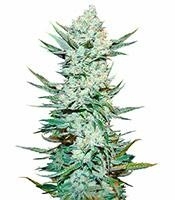 Tangie'matic Auto (FastBuds)
Autoflowering

23 %

400 - 550 g/m² indoors
50 - 250 g/plant outdoors

Euphoria and flight of fantasy
View strain
FastBuds' autoflowering strains are awesome in a sunny, warm garden, and Tangie'Matic Auto is no different. Her Sativa-dominant genetics induce mood-boosting effects that pair perfectly with her citrusy, fruity smoothie flavors. This strain's outdoor yields are moderate, but you can boost your harvest by planting this autoflower during the sunniest days of the year. If planted in a garden with plenty of root space, Tangie'Matic Auto could shoot up to 150cm (5ft) in the average 9 weeks it takes to finish. She could also take a couple of extra weeks though, so pay attention to the maturity of the buds!
Hulkberry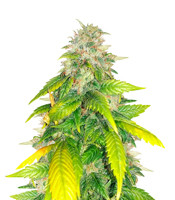 HulkBerry (RQS)
Photoperiod

27 %

Sky-high THC content

400 - 450 g/m² indoors
650 - 700 g/plant outdoors
View strain
Royal Queen Seeds is really showing off with Hulkberry, a balanced Sativa hybrid with supercharged 27% THC content. Just like her namesake from comic books, Hulkberry gets absolutely massive and can reach incredible heights of 140cm (4.5ft) indoors, and even more hulking out in the garden. This cross between OG Kush and Strawberry Diesel has a powerful terpene profile that's equal parts sweet and sour, with spicy diesel and earthy undertones.
Glookies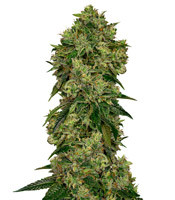 Glookies (Barney's Farm)
Photoperiod

Begin your own mind trip

700 - 800 g/m² indoors
2000 - 3000 g/plant outdoors

25 %
View strain
Another strain from Barney's Farm graces this list: Glookies, an Indica-dominant hybrid that's a cross between Gorilla Glue and Thin Mint Girl Scout Cookies. All-star genetics like this are perfect for the West Coast climate. If you're blessed with the classic long-lasting LA summer, your plants will take those nice temperatures and lots of light and turn it into an early October harvest that will blow your mind at 2-3kg (4.4-6.6lb) per plant.
CBD Auto 20:1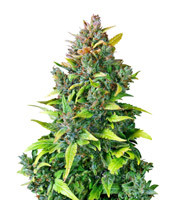 CBD Auto 20:1 (FastBuds)
Autoflowering

Cures body and soul

0.3 - 0.85

350 - 450 g/m² indoors
50 - 170 g/plant outdoors
View strain
For lovers of cannabis who want to avoid its psychoactive effects, FastBuds' CBD Auto 20:1 is an absolute powerhouse of a CBD strain. Both indoor and outdoor growers will celebrate her short, discreet stature characteristic of an autoflowering hybrid. She'll be ready to harvest in record time and, once cured, her fruit and honey flavors will provide sweet relief from pain and tension.
DDoS #33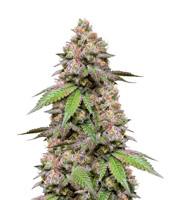 DDoS #33 (Herbies Seeds)
Photoperiod

Straight into a happy headspace

600 - 800 g/m² indoors
1500 - 2000 g/plant outdoors

27 %
View strain
A genetic masterpiece from Herbies, DDoS #33 is an Indica-dominant hybrid crossed from some of the best strains out there: Do-Si-Dos, Sherbet, and GSC. Due to her Indica genetics, the plants are rather compact, but don't let that fool you – outdoors, yields can be up to 1500-2000g (3.3-4-4lb) per plant! She will light up your garden with her lime green hues accented by amethyst-tinted flowers, and will light up your mind with her insane 27% THC.
Durban Poison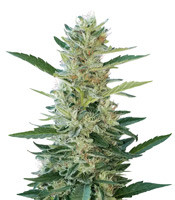 Durban Poison (Dutch Passion)
Photoperiod

Light feeling

16 - 22 %

500+ g/m² indoors
View strain
Dutch Passion's Durban Poison was bred to endure unfavorable environmental conditions, so you can only imagine what she's capable of under that Cali sun! As a durable Sativa strain, Durban Poison will stretch up to a lanky 200-300cm (6.5-10ft) tall, with side branches that are long and chock-full of dense and spicy floral buds. These sticky flowers are also super potent and ultra-resinous, perfect for making concentrates.
Top Marijuana Strains In US
VIEW ALL
Where To Get Cannabis Seeds In Los Angeles
Thanks to Prop 64, California is one of the best places in the world to buy weed seeds and grow your own plants. It doesn't hurt that the weather is so beautiful, either! The most reliable way to get cannabis seeds is to order them online from trusted breeders and seed banks. Herbies Seeds has a wide variety of cannabis seeds for sale that are ideal for the Mediterranean climate found in LA.
And Finally, Free Cannabis Seeds For Your LA Weed Garden!
One of the best parts of ordering seeds from Herbies is that there's always an opportunity to experience something new! Herbies Seeds includes free seeds with every order, allowing you to discover new potent and tasty strains to add to your garden.
Herbies Head Shop expressly refuses to support the use, production, or supply of illegal substances. For more details read our Legal Disclaimer.