Cannabis Seeds in California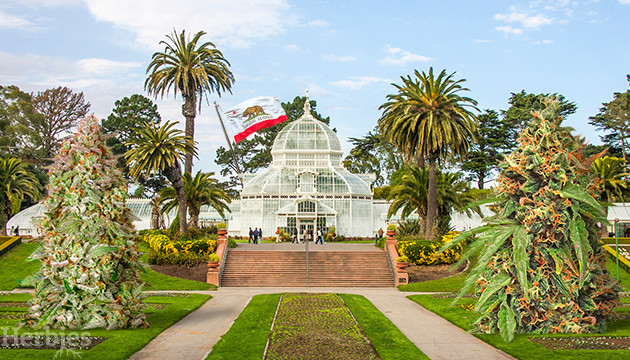 Recently, California has emerged as one of the best places in the world to purchase weed seeds and grow them. In this post, we'll tell you how to take this to the next level by buying the best cannabis seeds in California. We'll also briefly touch on legal issues and climate conditions. Read on.
Is it Legal to Buy Cannabis Seeds in California?
The 2018 Farm Bill says yes, it's perfectly legal to buy cannabis seeds in California and the rest of the USA. The reason is that the bill has effectively legalized hemp, and from the standpoint of botany, hemp is exactly the same as marijuana. The seeds themselves contain no mind-altering chemicals that the DEA would want to control, so you can purchase them as souvenirs, gifts, and collectibles.
Moreover, the political climate has recently changed in many states, so you can buy marijuana seeds online in California with the express purpose of growing them into psychoactive plants, whether for medical or recreational purposes.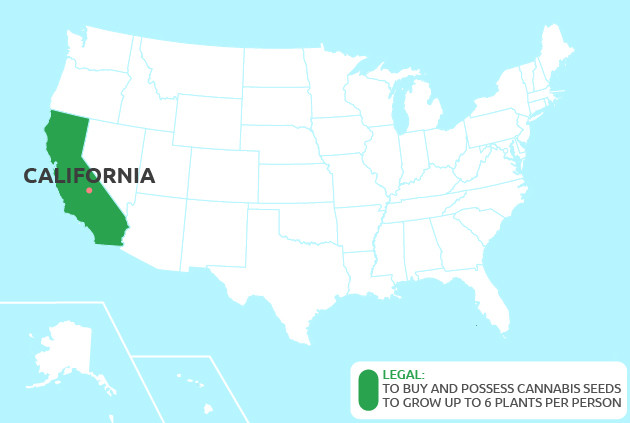 Can You Grow Cannabis in California?
In accordance with Proposition 64, which was passed in 2016, you can grow up to six plants for personal use if you're 21 or older. Please don't forget that the law also allows counties and municipalities to restrict cannabis growing. For example, they may say that only indoor gardens under lock and key are allowed, or that you need a special permit if you want to grow a few plants. So, always be sure to check your local regulations.
If you're a medical patient, meaning you have a recommendation from your physician, you can plant as many medical marijuana seeds in California as necessary to ensure a constant supply of the medicine (as stipulated by Proposition 215).
What to Consider When Buying Weed Seeds in California
When looking for cannabis seeds for sale in California, your only consideration will be whether you want to grow indoors or outdoors. For indoor cultivation, you probably want to choose smaller and faster cultivars, while outdoor growing doesn't limit you in any way.
Climate in California
The fact that the state is home to the famous Emerald Triangle and that pot seeds in California are among the best in the world speaks volumes about how accommodating the local climate is. Unless you live too high in the mountains, any CA zip code gives you an opportunity to grow weed practically all year round.
Just bear in mind that cannabis can tolerate very short forays into below-freezing territory but isn't crazy about them. In general, weed stops growing with temps below 54°F and waits for warmer days. This means that you can start your cannabis indoors in February and plant it outside when it's big and robust.
Between April and November, the weather is perfect, and this allows you to grow even exotic Sativa strains with an extremely long flowering time or have multiple consecutive harvests of autoflowers. And one more thing – for strains that mature in August or September, make sure they get some shade in the afternoon, as flowering plants don't benefit from extreme heat.
Where to Buy Marijuana Seeds in California
Strangely, it may be more difficult to find marijuana seeds for sale in California than to purchase actual buds. Fortunately, there are many seed vendors online, and Herbies is one of the very best. We offer around 2,000 different varieties from virtually every seed bank out there, and you can order and pay for them in minutes and have your package delivered to your doorstep.
Besides a seamless shopping experience, we offer a germination guarantee, free seeds with every order, endless promos and discounts from our partners, a loyalty program, and more. In short, we have everything you'd expect from a modern online mega-mall in a rapidly maturing industry.
Best Cannabis Strains to Grow in California
If you're wondering what the best strains to grow in California are, the short answer is: all of them! Whether you prefer Indicas, Sativas, or their hybrids, you can have them all, and your choice is limitless. In our list below, we're focusing more on the Sativa-leaning genetics because not every climate allows their cultivation, and Californians shouldn't waste their advantage.
Moby Dick
Named after the mythical sea creature, Moby Dick is a whale among cannabis strains, producing up to 700g/m2 (2.3oz/ft²) indoors while her outdoor yields are even more incredible at 3.3-4.4 pounds from each enormous bush. Multiply these numbers by 27% THC (plus 1% CBD) and you'll have an idea of how much potency every plant packs. While bred for productivity, this Sativa-dominant strain became a classic for the quality of her smoke. If you like to guess flavors, you'll be thrilled to catch whiffs of vanilla behind the stronger notes of lemons and pine, and the high is a dream come true for both wake-and-bakers and partygoers.
Za Za OG
Euphoric in the extreme, Za Za OG starts as a surge of happiness in your head and quickly settles in every cell of your body as a tingly and blissful buzz. With a pure Afghani Indica among her parents, you won't be surprised by this weed's 26% THC – enough to make a seasoned smoker melt into the sofa and go green in the face. Beginners should proceed with even more caution, while medical patients with lots of built-up tolerance will find in these frosty buds something that finally works. You'll also love this weed's smell, which features citrus and diesel notes that are characteristic of Kushes and a flavor that's deliciously earthy.
Sour Diesel
If you're one of those people who find the smell of hot diesel exhaust in your weed irresistible, Sour Diesel will become your favorite, as this is the pinnacle of funky, gassy cannabis. The other type of smokers who should have this strain on their bucket list are those who want an outrageously potent, no-punches-pulled, no-ceiling Sativa high that makes you feel like God and places the whole world right at your feet. While people around you will see you as someone firmly anchored in reality, your mind will be in a totally different dimension. This weed grows tall, so it's most convenient to grow it outdoors and get close to 25 ounces from every huge and branchy plant.
Purple Haze Auto
While waiting for your main late-fall harvest, why not grow a few autoflowers to have some fresh bud to smoke throughout summer? Despite her strong Sativa influence, Purple Haze Auto takes no more than 75 days for the entire cycle, so you can have several consecutive grows in one season. You may even decide not to bother with photoperiod plants anymore, as this weed has 17% THC, is full of exquisitely exotic sweet and woody terps, and most importantly, provides an exhilarating head high that's perfect for parties, chilling with friends, or just watching comedies alone.
Forbidden Runtz Auto
Forbidden Runtz Auto is probably the easiest way to get your own buds that are exactly the same as you see on the top shelves of a local rec shop. This autoflowering version of these trendy genetics will finish in 63 days from seed – not enough time to get impatient but quite enough to produce handfuls of candy-like nuggets. You'll be thrilled by the intensity of fruity, juicy aromas and tastes and devastated by the 26% THC. Despite its Indica dominance, the smoke will first go for the head, making you laugh uncontrollably, and only then let you take a rest from all those exhausting belly laughs with a body-melting relaxation.
Critical Kali Mist
Critical Kali Mist is a Sativa-dominant hybrid that combines the tingly euphoria of Skunks with the clear-headed energy and focus of Kali Mist. The result is the perfect daytime smoke that lets you stay functional and productive but have tremendous fun in the process. You're also sure to enjoy this weed's complex aroma with woody, floral, piney, and musky notes, plus occasional whiffs of lemon. The Critical Mass heritage of this hybrid means above-average yields, especially outdoors, where you can harvest up to 2.2 pounds of bud from every medium-sized tree.
Auto Orange Bud
Another perfect weed for California's never-ending summer is Auto Orange Bud with her strong Sativa genetics. Smoke these buds day in and day out to enjoy outdoor activities, beach parties, hikes, workouts, and yes, even work itself, as these buds will provide tons of energy and good mood that'll be enough for everything. The smoke is a mouth-watering citrus extravaganza, with the only drawback being that you can't enjoy it discreetly, as the pungency of this Skunk will travel far and wide. The plant will be just as smelly in your garden, but it's worth enduring because at the end of 10-11 weeks, you'll get generous yields of stinky goodness packing 26% THC.