Cannabis Seeds in Virginia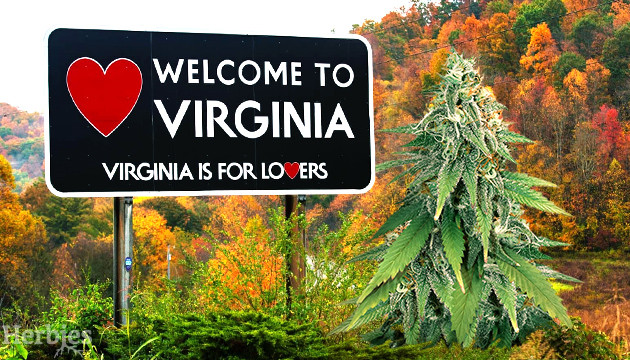 While the Old Dominion is known for tobacco, another crop thrives there as well – many consumers search for cannabis seeds in Virginia, knowing it takes well.
Better still, recreational cannabis, AKA adult use, recently became legal. That makes it even easier to purchase seeds without worrying about the consequences. Herbies carries both recreational strains and medical marijuana seeds at affordable prices. No matter which kind you prefer to order, we have them all.
You can grow potent THC strains and those high in CBD from the comfort of your home – you just need to find the right ones. Keep reading and learn about our best picks for marijuana seeds to grow in Virginia.
Is It Legal to Buy Marijuana Seeds in Virginia?
VA has made a name for itself by being among the few southern 420-friendly states. The new updates to the law make cannabis even more accessible for residents. Although you can freely stockpile seeds anywhere, consumers often can't grow them. Thankfully, in Virginia, you can cultivate up to four mature plants per person.
While there are still restrictions, you can freely buy pot seeds in Virginia. As a state that sees all four seasons, it's a great place to cultivate outdoors all across the state, from Wheeler to Virginia Beach.
Can You Grow Cannabis in Virginia?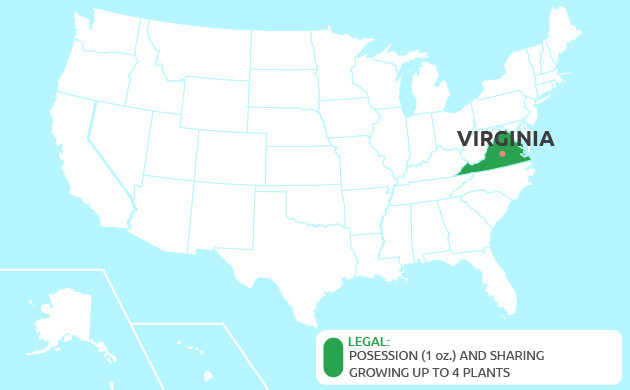 Virginia is among the few southern states that allow you to grow cannabis. Adults 21 and older can harvest up to four mature plants at their residence.
One caveat is that they must remain out of direct sight and away from minors. Label each plant with your name, driver's license number, and a notice observing personal use – you cannot distribute or sell cannabis, only cultivate it for yourself. Although you can't give it away as a gift, adult sharing is also now legal. However, it's against the law to possess more than one ounce at a time. Over one pound of cannabis becomes a felony, so grow with caution.
What to Consider When Buying Marijuana Seeds in Virginia
There are other considerations to think about before you buy cannabis seeds in Virginia. First, remember that it's illegal to sell seeds without proper licensing. Second, remember that cannabis seeds that you purchase for growing have to be suitable for the climate of your area – otherwise, there's a risk of ruining your harvest.
Climate in Virginia
Virginia has always enjoyed a climate that seems perfect for growing crops. However, you must also account for how soon the winter temperatures arrive each year.
Outdoor growers must harvest weed by early October, when autumn winds chill the air. Your best bets are autoflowers and photoperiod strains, which grow faster than others – most of these are Indica-dominant.
Growing indoors does offer the advantage of year-round harvesting and better control. Just make sure you pick up some carbon filters for these plants' odors.
Marijuana Seeds for Sale in Virginia
Of course, you can't settle for just any cannabis seeds for sale in Virginia. You deserve strains tailored to your local climate that produce potent buds. But where can you get the best stuff?
Can You Order Weed Seeds Online?
It doesn't help that there are only a few offline places for weed seeds in Virginia. That means they will likely maintain a limited inventory of only a few strains. Instead, you deserve a better selection of plants that excel in the local climate. Luckily, ordering cannabis seeds online and having them delivered to Virginia is absolutely legal, not to mention how easy and convenient it is.
Where to Get Marijuana Seeds in Virginia
Currently, only licensed banks can share the love. Occasionally, activist groups hand seeds out at specific locations, but not that often. Instead, you need a more reliable option for pot seeds in Virginia.
We guarantee that you won't find a better selection of quality cannabis strains than at Herbies – buy marijuana seeds in Virginia from a brand with two decades of experience and over 2,000 strains in their repertoire. All orders from Herbies utilize stealth delivery packaging to arrive without the attention of wandering eyes, while our 24-hour support team remains available for any problems that might arise.
Shopping at Herbies is one of the simplest ways to buy marijuana seeds in Virginia – there's no traffic, waiting, or limited supply when you choose us. We also offer many payment methods and a complete money-back guarantee for ungerminated seeds.
Free Weed Seeds in Virginia
We believe that everyone should have access to quality cannabis strains. That's why every order from us includes free seeds that you can grow yourself or share, maximizing your order's value.
First, you get a bonus seed each time you shop with us. Second, every £20 (~$26) spent scores you another free one for additional savings. That means at least one complementary nut each time you need weed seeds in Virginia. Enjoy better access to the medicine you need without spending more money.
Best Cannabis Strains to Grow in Virginia
Experienced growers and new cultivators alike need access to quality marijuana seeds in Virginia. You can always rely on us when local seed banks won't do. We carry a variety of brand-new and classic strains known for their potency. Whether you're dealing with stress, anxiety, chronic pain, or other daily concerns or are simply looking for fun times, Herbies has got you covered.
Now, to the best part: here are the top seven cannabis seeds we've hand-picked for our growers in Virginia. These won't disappoint!
Tropicana Poison F1 Fast Version (Sweet Seeds)
Tropicana Poison F1 Fast Version is every bit as potent as it looks. Its vibrant pink color matches its bright and earthy flavor that leaves you relaxed. This balanced hybrid features 60% Sativa and 40% Indica genetics and up to 24% THC.
Growing it is just as enjoyable: it's resistant to mold and pests, ideal for outdoor cultivation in Virginia. Tropicana Poison F1 Fast Version finishes flowering in early September, producing large yields. Harvest up to 600g/m2 (1.97oz/ft2) inside and 650g/plant (23oz/plant) outside.
Girl Scout Cookies Auto (Auto Seeds)
Girl Scout Cookies Auto is an improved version of a strain everyone is familiar with. This unmistakable Sativa strain tastes earthy and spicy, soon leaving you boosted and balanced. Don't let her sweet appearance fool you though – she hits it hard at 24% THC. Even though the plant is Sativa-heavy, it can still couch-lock you at high doses.
Girl Scout Cookies Auto usually grows to 65-100cm (25.6-39"), keeping it compact. Expect up to 650g/m2 (2.13oz/ft2) in about 75 days.
CBD Auto Compassion Lime (Dutch Passion)
CBD Auto Compassion Lime is genuinely the best of both worlds. This unique strain offers up to 15% THC and 10% CBD for both a pleasant, mellow high and instant relief from various symptoms, including headaches and anxiety. This Sativa-dominant plant has a pleasantly pungent and citrus flavor. It grows easily and quickly with a unique aroma, going from seed to harvest in just 11 weeks.
CBD Auto Compassion Lime is a great choice for any medical or recreational consumer to grow. Yield up to 178g/m2 (0.59oz/ft2) indoors and 100g/plant (3.53oz/plant) outside.
Grandmommy Purple (Herbies Seeds)
Grandmommy Purple is Herbies Seeds' crown jewel with an 80% Indica lineage. This unique plant reaches up to 33% THC and tastes sweet and pungent. You'll quickly feel calm, relaxed, blissful, and probably ready for a nap after enjoying it. It's great for insomnia, anxiety, and pain, and you can already use it in September when it finishes growing.
Grandmommy Purple grows between 40-140cm (15.7-55") tall, staying compact wherever it's planted. Anticipate up to 500g/m2 (1.64oz/ft2) inside and 550g/plant (19.4oz/plant) outdoors.
Purple Punch (Barney's Farm)
Purple Punch has a gorgeous purple hue spreading from its buds to the leaves. This 25% THC, 2% CBD, 90% Indica blend leaves you euphoric and relaxed. This strain enjoys a unique fruity and spicy flavor and is resistant to many hazards awaiting outdoor plants – perfect for newbie growers.
It grows to 90cm (35") indoors and 150cm (59") outside. Purple Punch flowers in 60 days or sooner and produces loads of buds. Expect up to 700g/m² (2.29oz/ft2) indoors and 2000g/plant (70.5oz/plant) outdoors.
Tangie'matic Auto (FastBuds)
Tangie'matic Auto has a uniquely fruity and spicy taste with 65% Sativa genetics. This balanced hybrid is popular both for its flavor and potency. It sees up to 23% THC with only trace CBD levels – this strain is pure recreation and fun. Tangie'matic Auto's fans come back to this strain again and again for a long-lasting euphoric cerebral high that improves any day.
It grows to 80-120cm (31-47") in height and finishes in around 70 days, yielding up to 550g/m2 (1.8oz/ft2) inside and 250g/plant (8.82oz/plant) outdoors.
Godzilla Glue #4 (Herbies Seeds)
Godzilla Glue #4 is another Herbies Seeds original that's known for its monstrous 29% THC. These ooey-gooey buds are a true 50/50 hybrid, making it a new favorite with anyone who tries it. The strain blasts away anxiety and pain, replacing it with euphoria followed by enjoyable sedation. Plus, it features a delicious chocolate, fruit, and pine flavor profile that's hard to quit.
Godzilla Glue #4 finishes after 55-65 days in flower and sees huge harvests. Expect up to 800g/m² (2.62oz/ft2) indoors and a crazy amount of 1200g/plant (42.3oz/plant) outdoors.